Obama purportedly to nominate Kerry, sparking speculation about his Senate seat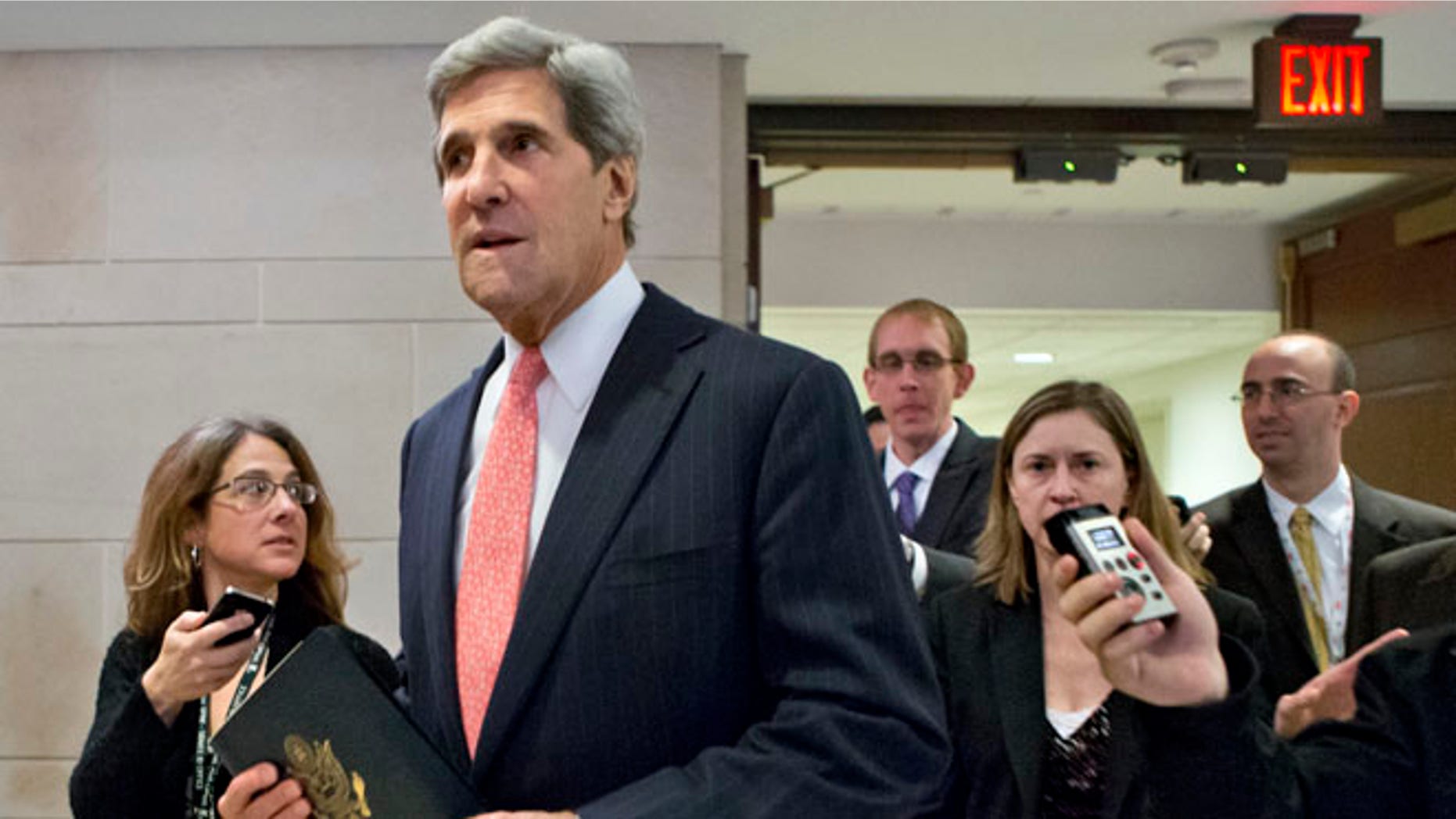 With Massachusetts Sen. John Kerry emerging as the likely next secretary of state, speculation is rising on whether state Democrats can hold onto his Senate seat.
As chairman of the Senate Foreign Relations Committee, Kerry has been a top contender for the spot since Secretary of State Hillary Clinton announced she will not stay during President Obama's second term.
Kerry emerged as the leading candidate after embattled U.S. Ambassador to the United Nations Susan Rice withdrew Thursday from the running.
The speculation about Kerry and the Massachusetts senate sweepstakes intensified Saturday after a source told Fox News that Obama has picked Kerry -- opening the door for a special state election and a potential candidacy for Republican Sen. Scott Brown who lost his reelection bid last month.
It's now basically a done deal," said the source.
Brown would again face a tough challenge, considering Massachusetts is a heavily Democratic state. However, state law calls for a special election, not a gubernatorial appointment, and Brown has pulled off an upset before.
Massachusetts created a law in 2004 that calls for a special election to fill a U.S. Senate seat.
Democratic Gov. Deval Patrick altered the law in 2009, following the death of fellow party member and Sen. Ted Kennedy. The change allowed the governor to appoint an interim senator until the special election. Patrick cited the pressing need for Massachusetts to be part of the then-ongoing national health care debate.
State Democrats would likely have a difficult time changing the law again. And Patrick has indicated that he will name an interim appointee who would promise not to run for the seat, as he did in 2009 with former Kennedy Chief of Staff Paul G. Kirk Jr.
Brown then defeated Democratic Attorney General Martha Coakley.
"I expect to do the same thing I did last time," Patrick told the Boston Globe. "As a practical matter, it's hard for me to imagine how you could serve in the Senate for a four-month period and also run a statewide campaign in a four-month period and do both of them well."
Brown could not be reached Saturday but hinted at a possible third run when he said Wednesday in his Senate farewell speech: "Obviously, we may meet again."
Last month, Brown lost in a hard-fought challenge from liberal Democrat Elizabeth Warren in the most expensive U.S. Senate race in state history. The popular Republican raised roughly $28.5 million compared to Warren's $37 million.
"Brown should certainly consider jumping in the race," said Tyler Harber, Republican strategist and partner in Washington-based Harcom Strategies. "The odds would lean more heavily in Brown's favor in a special or non-presidential election. ... Democrats will struggle to find another candidate like Warren. Brown will likely out raise and out spend anyone who makes it through a crowded Democratic primary.
Former Gov. William F. Weld's name has been mention as a potential Republican candidate should Brown not run.
Kerry's term ends 2014.
Kennedy's widow, Vicki Kennedy, has previously ruled out running for office, but her name has been mentioned as a possible interim appointee.
Other Democrats mentioned are Coakley, University of Massachusetts at Lowell Chancellor Marty Meehan and three-term Rep. Niki Tsongas, whose husband Paul Tsongas held the Senate seat before Kerry.
The Kerry announcement will happen soon, possibly within days. The timetable is not precise because President Obama would like to announce a slate of national security nominees, and all of the picks have yet to be made final, the source also told Fox News.
A second source familiar with the process said Obama doesn't want to make the announcements while the nation is grieving over the tragedy in Connecticut.
One potential trouble spot is the expected nomination of former Republican Sen. Chuck Hagel as the next Defense secretary.
Hagel is facing some possible opposition over his posture toward Israel during his Senate days, though one source who has discussed the issue with Hagel said he still stands a good change of being nominated and passing Senate confirmation.
The slate of nominees is expected to also include the next CIA director, a post vacated by the hasty exit of retired Gen. David Petraeus. Acting agency Director Mike Morrell and White House counter-terror adviser John Brennan are in the running.
Fox News' Ed Henry and Chad Pergram contributed to this report.