Obama preschool plan draws mixed response, questions over cost and effectiveness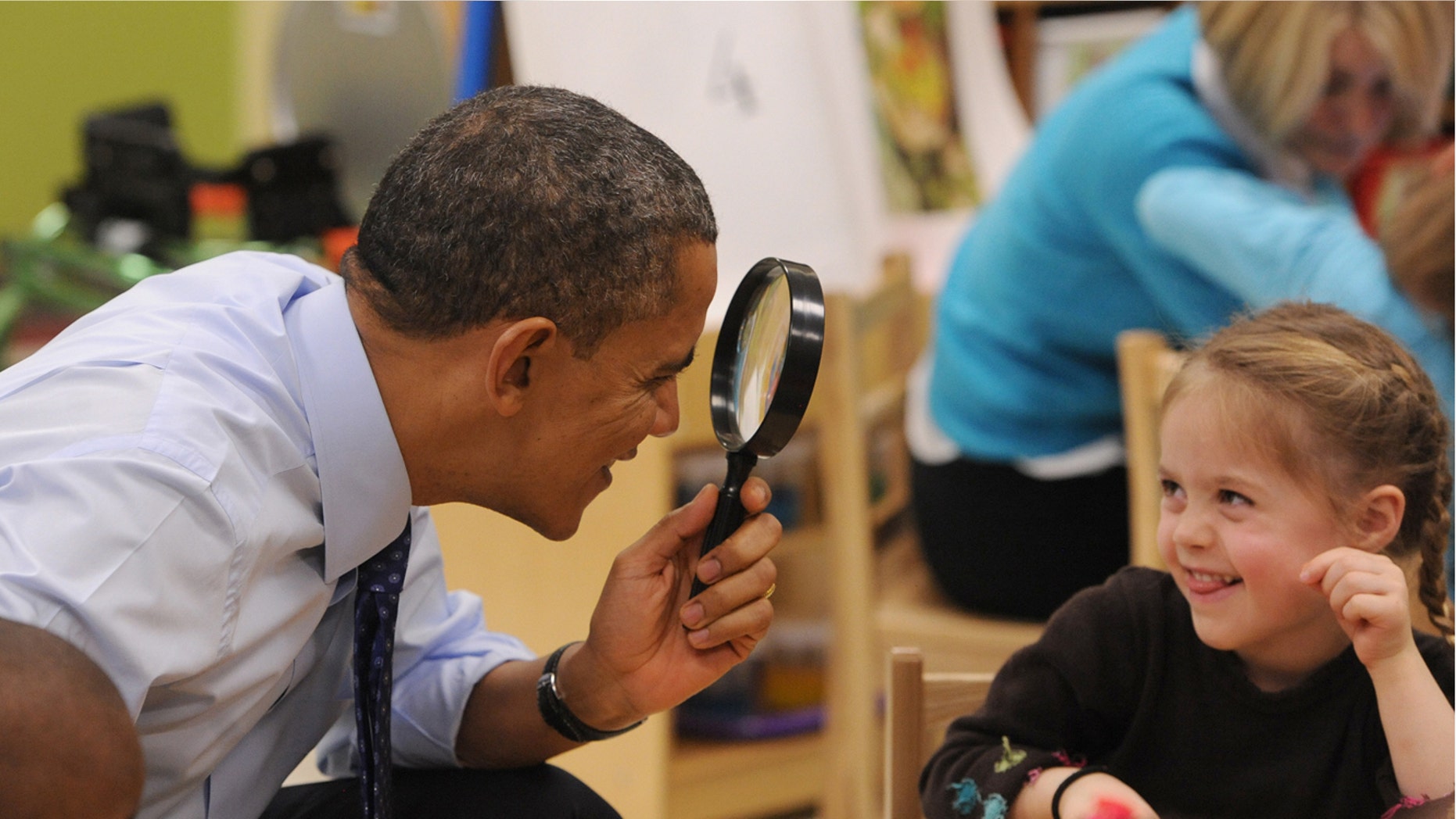 President Obama's plan to provide free, high-quality preschool across the country is getting a mixed response, garnering broad support for helping poor children but raising questions about expanding entitlements and the success of similar programs.
The president announced the plan during his State of the Union address last week, arguing that America must begin preparing its citizens for the new, high-tech economy at the "earliest possible age."
"Study after study shows that the sooner a child begins learning, the better he or she does down the road." However, less than 30 percent of 4-year-olds are enrolled in a "high-quality" preschool program, he said.
Obama argued most middle-class parents cannot afford a few hundred dollars a week for private preschool and that poor children, who need help the most, could be at a disadvantage "for the rest of their lives" as a result of not having access to such education.
While visiting a preschool Thursday in Decatur, Ga., the president provided more details about the plan, saying the federal government would match money spent by states to create high-quality preschool programs for 4 year olds from low- and moderate-income families.
The plan also purportedly would give extra federal money to states that expand their public preschool programs to middle-class families, which would pay tuition on a sliding scale.
Though the cost of the program remains unclear, the president is arguing money invested now in high-quality early education will in fact save Americans by increasing graduation rates and reducing teen pregnancy and violent crime.
Obama pointed to Georgia and Oklahoma where, he said, studies show such programs even help former students keep a job and maintain a stable family.
However, critics argued the country is already roughly $16 trillion in debt and point to a Department of Health and Human Services study that shows limited benefits after third grade for those enrolled in preschools under the $7 billion Head Start program.
"This isn't a liberal or conservative thing," said Kirsten Powers, a Daily Beast columnist and Fox News contributor. "I think everybody wants to help our children do better in school (but) this doesn't seem to be the thing that's doing it."
Andrew J. Coulson, director of the Cato Institute's Center for Educational Freedom, told The New York Times there's a big difference between touting a handful of small pre-K programs that may have had lasting and significant benefits" and replicating such programs on a national level.
The Center for American Progress estimates the Obama plan would cost roughly $98 billion over 10 years.
The liberal-leaning think tank also cited several studies that bolster Obama's argument about the benefits of preschool education and said families making less than $1,500 a month must spend about 53 percent of their income on care for their children 4 years old and younger.
"With all these benefits, universal preschool shouldn't be a partisan issue," the group said. "And indeed, Republican-controlled states such as Oklahoma and Georgia have become national leaders in early childhood education."
However, Georgia Republican Sen. Johnny Isakson told The Wall Street Journal that his state's program, which offers free pre-kindergarten to all 4 year olds, works because it "started locally, is funded locally and doesn't have a dime of federal money."