Obama pledges $90M to help remove US cluster bombs from Laos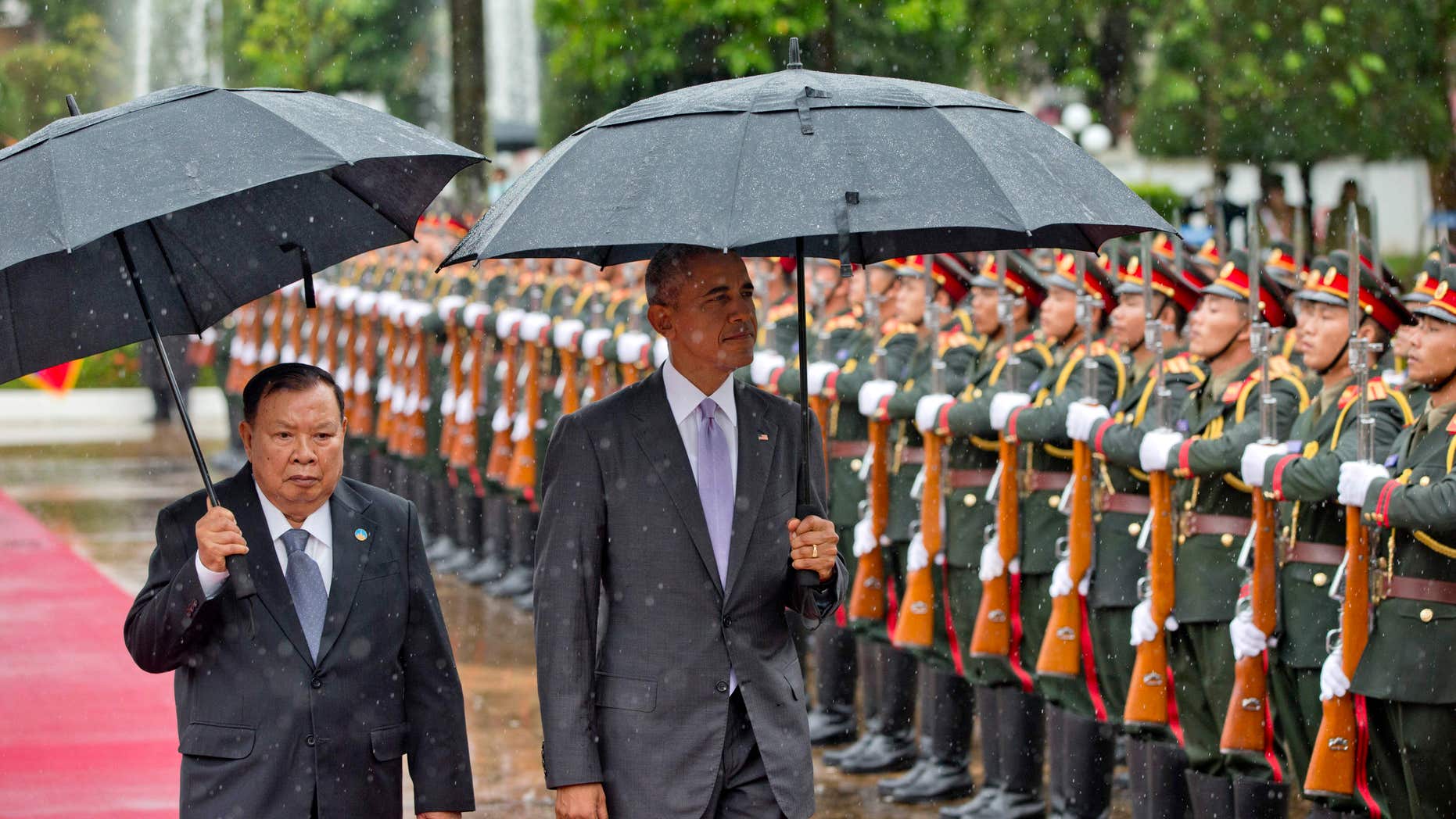 VIENTIANE, Laos – Acknowledging the scars of a secret war, President Barack Obama on Tuesday said the United States has a "moral obligation" to help this isolated Southeast Asian nation heal its war wounds and vowed to reinvigorate relations with a country with rising strategic importance to the U.S.
Making a first visit for a sitting U.S. president, Obama said too few Americans know of the United States' covert bombing of Laos during the Vietnam War and that the campaign and its aftermath are reminders that "whatever the cause, whatever our intentions, war inflicts a terrible toll."
For nine years, the U.S. conducted a punishing, covert bombing campaign on landlocked Laos in an effort to cut off communist forces in neighboring Vietnam. The bombardment left behind deep scars, millions of unexploded cluster bombs across the countryside and decades-worth of cleanup.
Obama is one of several world leaders arriving for a meeting of the Association of Southeast Asian Nations. Taking its turn as the chair of the regional forum, the Laos' communist government is seizing a rare moment in the spotlight.
For Obama, the visit is a capstone to his years-long effort to bolster relations with Southeast Asian countries long overlooked by the United States. The outreach is a core element of Obama's attempt to focus U.S. policy on Asia in order to counter China's dominance in the region and ensure a foothold in growing markets.
As a first sign of a new relationship with Laos, the Obama said his administration would address the legacy of war. Obama announced he would double spending for unexploded ordnance, committing $90 million over the three years. The U.S. has contributed $100 million to the effort in the last 20 years, as annual deaths have fallen from more than 300 to fewer than 50, the White House said.
The Lao government said it would increase efforts to recover remains and account for Americans missing since the Vietnam War.
As he opened a day of ceremony and diplomacy, Obama was greeted by a military band, traditional dancers and a warm, tropical rain. He met with Lao President Bounnhang Vorachit, was feted at a welcome banqueted, where he toasted to a relationship he said would "mean greater progress and opportunity for the people of Laos."
Obama's outreach to those regional powers hit a snag just as he arrived in the region from China. The White House called off a planned meeting Tuesday with Philippine President Rodrigo Duterte, after the brash new leader referred to Obama as a "son of a bitch."
Duterte, who had been expecting Obama to criticize his deadly, extrajudicial crackdown on drug dealers, later said he regretted the personal attack on the president.
In a statement read out Tuesday by his spokesman, Duterte said his "strong comments" to certain questions by a reporter "elicited concern and distress."
"We look forward to ironing out differences arising out of national priorities and perceptions, and working in mutually responsible ways for both countries," the statement said.