Obama pardons Thanksgiving turkeys, no feathers ruffled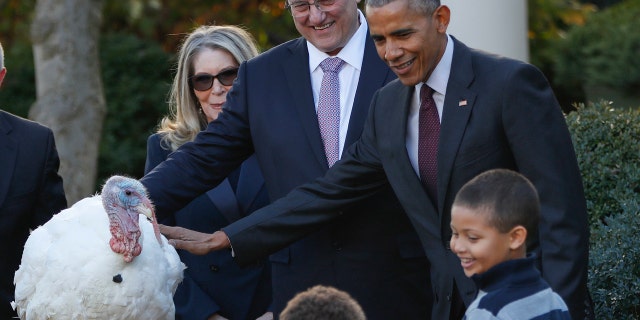 President Obama on Wednesday fulfilled the White House tradition of pardoning a Thanksgiving turkey amid a somber message about second chances and so many bad jokes, he said his two daughters decided to skip it.
"No way I'm quitting this habit cold turkey," Obama said in pardoning a turkey named "Tot," in a Rose Garden ceremony also attended by a backup turkey named "Tater."
"We are people who look out for each other," said Obama, flanked this year by two young nephews. "We have each other's back."
The president, who leaves office in January, also suggested Americans could also be grateful for six straight years of job growth and continued low employment.
And he suggested that helping others also means helping immigrants and refugees.
"I want to express my gratitude," the president said in closing, thanking Americans for their support over his two terms.