Obama Offers Rhetorical Support to Iran Protesters -- Is It Enough?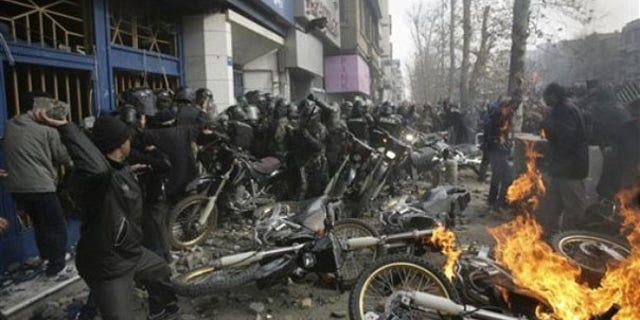 President Obama offered rhetorical support Monday to anti-government protesters in Iran facing a bloody crackdown, but some analysts say the United States should do more than just "bear witness" to the unrest.
Obama, in his first public remarks since arriving in Hawaii on vacation with his family, said the United States joins the rest of the world in "strongly condemning the violent and unjust suppression of innocent" Iranians. State television reported Monday that at least 15 people have been killed in the protests.
Obama's remarks were similar to those given regarding clashes in the wake of Iran's disputed presidential election. Obama said Monday that those "unjustly detained" should be released and called on Iran to respect the rights of its people.
As he did over the summer, Obama made clear that the United States' support for the protesters is in spirit and that he considers the unrest to be an internal issue that will work itself out for the better.
"What's taking place within Iran is not about the United States or any other country. It's about the Iranian people and their aspirations for justice and a better life for themselves," Obama said. "We will continue to bear witness to the extraordinary events that are taking place there. And I'm confident that history will be on the side of those who seek justice."
John Bolton, former U.S. ambassador to the United Nations under the Bush administration, said the United States and its allies should do more than offer words of support - in order to strive toward the ultimate goal of regime change.
"I think the international community needs to do more than just give rhetorical support to the opposition," Bolton told Fox News. "I think we need to give them tangible support. ... I wish we had done more over the last 10 years -- finance, communications, possibly other kinds of support."
Bolton said the persistent and recurring anti-government protests demonstrate how "profoundly unpopular" the regime is in Iran, but said that's no guarantee the regime will crumble.
"If you look at the regime's willingness to use force, there's no indication that they've begun to fragment," Bolton said.
Jordan Lieberman, a political consultant and president of Political World Communications, said he was surprised Obama gave Iran such light treatment in his remarks Monday. He questioned whether pledging to "bear witness" would suffice in the face of a serious and violent crackdown in Iran.
But Jim Walsh, international security analyst with the Massachusetts Institute of Technology, said Obama's playing his cards right. Walsh said Obama can't express too much support for the protesters or else the regime will exploit that to undermine the protesters, claiming they're part of a "foreign plot" to overthrow the government.
"It is wise for Obama to keep some distance even as he establishes the principle (that) this is unacceptable behavior in any country," Walsh said.