Obama Names New Military Leadership Picks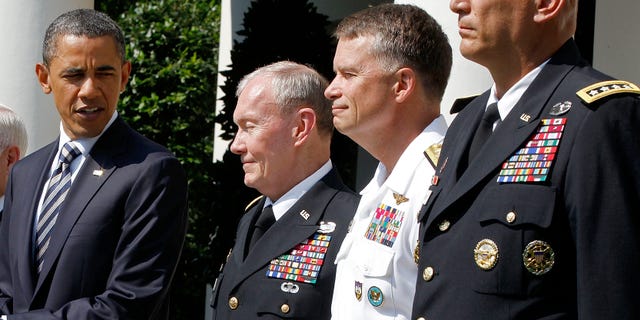 President Obama nominated Army Gen. Martin Dempsey on Monday as his pick to be the next chairman of the Joint Chiefs of Staff, replacing Navy Adm. Mike Mullen, whose term ends Sept. 30.
Dempsey, an accomplished veteran of the Iraq war and the current Army chief of staff who's only been in his post for one month, will need Senate confirmation.
The president also named Adm. James Winnefeld, the commander of Northern Command, to be his vice chairman of the Joint Chiefs, replacing Marine Gen. James Cartwright. While not a household name, sources describe him as a smart officer, who is well-known at the White House. One source described him as "Mullen's guy."
In a Rose Garden announcement, the president said Dempsey is "one of our nation's most respected and combat-tested generals." Obama said both men have had the trust and respect of the troops on the front lines and in Congress.
"Marty, your tenure as chief may go down as one of the shortest in Army history. But it's your lifetime of accomplishment that brings us here today," Obama said.
Obama called America's servicemen and women "the best our nation has to offer, and they deserve nothing but the best in return, and that includes leaders."
The president also named Gen. Ray Odierno to be his Army chief of staff, a position that lives up to a promise by Defense Secretary Robert Gates to give Odierno, who is winding down as the head of U.S. Joint Forces Command in Norfolk, Va., a great job following three key deployments to Iraq.
Obama said Odierno's leadership was critical to U.S.-led coalition success in Iraq.
"He commanded the troops that captured Saddam Hussein, partnered with General Petraeus to help bring down the violence, and then transferred responsibility to Iraqi forces, allowing us to remove some 100,000 American troops and end our combat mission," Obama said.
Dempsey will replace Mullen, who has been widely praised for his role at the top of uniformed leadership in the Pentagon. After the announcement, the Joint Chiefs Twitter page blasted: "Fully support President's nominations of Gen. Dempsey, Adm. Winnefeld and Gen. Odierno. Three great leaders who will do great things."
Before his departure, Mullen said he expects a busy four months.
"There's still a lot to do between now and the 1st of October," Mullen told Fox News . "I expect a very busy and challenging four months."
Appearing in several interviews Monday morning, Mullen said part of his job as chairman has been to try and "close the trust gap" between the United States and Pakistan, which has built up over many years. He and Secretary of State Hillary Clinton recently traveled there to "show the strength in terms of our commitment."
"Certainly we're going through a difficult patch right now after the (Usama) bin Laden operation," Mullen said.
But he told another network that he's encouraged that the Pakistani government is launching a major offensive on militants in the North Waziristan area near the border with Pakistan. "It's a very important fight and a very important operation," he said.
Asked if a change of guard at the Joint Chiefs means a change of strategy in Afghanistan, he replied, "We obviously have added these forces ... and we've really seen progress on the security side. ... We will sustain losses as we have in the last few days. ... That said, I am confident that by the end of the year, we'll be in a much, much better position."
Speaking on Memorial Day, Mullen said that he hopes the public understands "the depth of sacrifice" made by servicemen and women. He added that for those who paid the "ultimate sacrifice," he wants their families to know they will never be forgotten.
"They represent the best of the best of our country. They do it so we can be free ... they do it so we can live our lives ... We are blessed as a country to have them, and it is something we will always remember," he told Fox News.
Immediately after the announcement, the president headed to venerable Arlington National Cemetery where he placed a wreath at the Tomb of the Unknowns on this Memorial Day and paid respects to all who have been killed in war.