Obama: I'd Quit If I Were Weiner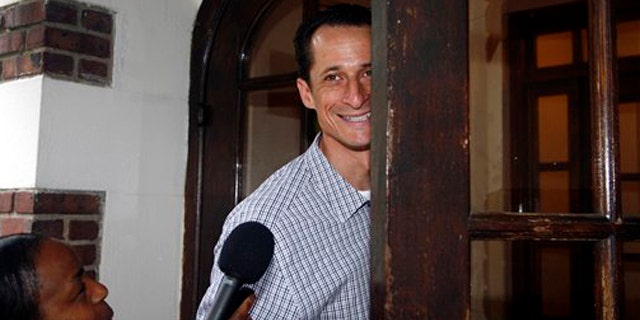 NEWYou can now listen to Fox News articles!
President Obama, in a TV interview Monday, fell short of calling for disgraced Rep. Anthony Weiner to resign after the married congressman admitted to inappropriate communications with several women he met online -- but Obama said he would quit if he were in the same situation.
"I can tell you that if it was me, I would resign," Obama said in an interview with NBC.
Weiner, a New York Democrat, has faced a barrage of calls to resign from lawmakers on Capitol Hill, including from within his own party, and House Democratic Leader Nancy Pelosi has asked for an ethics committee investigation.
Weiner has refused so far to step down, though he was granted a paid two-week leave of absence Monday while seeking professional help. A source told Fox News that Weiner is waiting until his wife -- Huma Abedin, an aide to Secretary of State Hillary Clinton -- returns from her trip to Africa with Clinton before making a decision.
Obama questioned whether Weiner can still do his job with the scandal hanging over his head.
"When you get to the point where, because of various personal distractions, you can't serve as effectively as you need to, at the time when people are worrying about jobs, and their mortgages, and paying the bills -- then you should probably step back,'' Obama said in the interview, to air Tuesday on the "Today Show."
Weiner admitted at an emotional news conference last week to sending racy photos and messages to six women he met through social networking websites over the past three years, though he said he never met any of them in person.
His decision to seek treatment followed his acknowledgement that he had exchanged online messages with a 17-year-old girl in Delaware, first revealed by FoxNews.com. Weiner and the girl's family attorney said nothing improper had passed between the two of them, and a spokesman for the New Castle County government told the Associated Press that investigators had concluded their probe.
However, sources close to the investigation told FoxNews.com that the investigation is ongoing.
Democratic leaders were expected to discuss Weiner's fate when they met late Monday afternoon in the Capitol. The leaders' meeting comes ahead of a full House Democratic Caucus meeting Tuesday morning. Members of the party are weary of discussing the scandal -- a fact that showed as top Democratic brass on Saturday called for Weiner to resign after two weeks of relative silence.