Dem Party Leaders Discuss Weiner's Fate as Congressman Weighs Options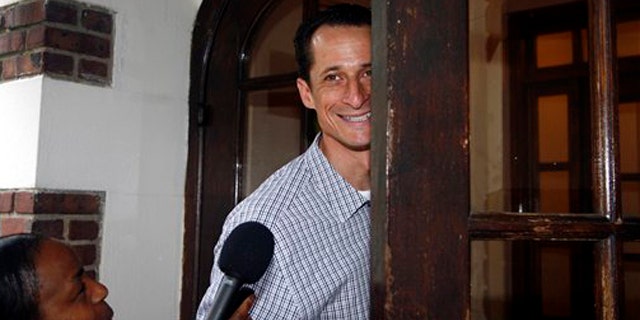 NEWYou can now listen to Fox News articles!
With members of Congress returning to Washington and the Anthony Weiner sexting scandal poised to stretch into its third week, pressure is building on the embattled congressman to promptly resign.
The scandal has dominated coverage and conversation in Washington, as more lurid pictures and chats emerge by the day. After a new pictorial of a nearly nude Weiner in the gym emerged over the weekend, reports surfaced claiming the New York Democrat is finally considering stepping down.
But a source told Fox News that Weiner is waiting until his wife -- Huma Abedin, an aide to Secretary of State Hillary Clinton -- returns from her trip to Africa with Clinton before making a decision.
For the time being, Weiner claims he is merely seeking "treatment," and the House on Monday granted his request for a two-week paid leave of absense to fix himself up. According to his office, he left to seek professional help Saturday morning at an unnamed location, and he wasn't seen Monday in the nation's capital.
Democratic leaders were expected to discuss Weiner's fate when they met late Monday afternoon in the Capitol. The leaders' meeting comes ahead of a full House Democratic Caucus meeting Tuesday morning. Members of the party are weary of discussing the scandal -- a fact that showed as top Democratic brass on Saturday called for Weiner to resign after two weeks of relative silence.
The caucus could decide to kick Weiner out of their ranks or strip him of committee assignments, putting even more pressure on the incumbent to leave. Another route leaders are pursuing is an ethics committee probe, but that could take months to resolve.
White House Press Secretary Jay Carney, who previously had avoided commenting on the controversy, said Monday that President Obama finds the issue to be a distraction. Without saying whether Weiner should resign, Carney said the president believes Weiner's actions and dishonesty were "inappropriate."
Obama suggested Monday in an interview with NBC that Weiner will have a tough time doing his job with the scandal hanging over his head.
"I can tell you that if it was me, I would resign," Obama said.
Though politicians have resigned over lesser scandals, Weiner apparently was buoyed by polls indicating his constituents are willing to forgive him. Voters demonstrated both for and against him outside his Queens office Sunday. Whenever confronted by reporters, Weiner claims he's not resigning and is going back to work.
While party leaders call on Weiner to leave, his mentor Sen. Charles Schumer backed his decision to seek help.
"I am heartbroken. For those of us who are longtime friends of Anthony Weiner his wrongful behavior is distressing and saddening. It's clear he needs professional help and I am glad he is seeking it," Schumer, D-N.Y., said in a statement Sunday night.
On Sunday, TMZ released 11 new pictures of the congressman, taken from what appears to be the House gym, a background which sets off more questions about the congressman's use of congressional facilities for less than official purposes. The pictures were taken by Weiner using the camera on his phone and a mirror.
Weiner's decision to seek treatment followed his acknowledgement that he had exchanged online messages with a 17-year-old girl in Delaware, first revealed by FoxNews.com. Weiner and the girl's family attorney said nothing improper had passed between the two of them, and a spokesman for the New Castle County government told the Associated Press that investigators had concluded their probe.
However, sources close to the investigation told FoxNews.com that the investigation is ongoing.