Obama Getting Mileage Out of Economic Proposals on Fundraising Stump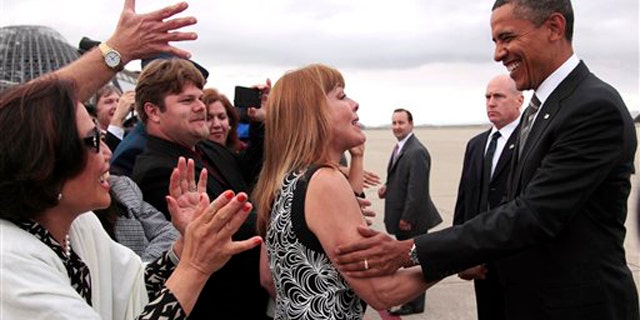 President Obama's jobs and deficit-reduction proposals might be a tough sell in Congress.
But the president is getting mileage out of them all the same, increasingly using them on the stump to drum up campaign cash ahead of a key filing deadline at the end of the month.
The president's frantic fundraising schedule this week reflects a reality he's downplayed for the past several weeks. After introducing his jobs plan this month, he stressed that the country can't wait until the next presidential election to act on the economy. But presidential politics overhangs the entire debate -- and the president's economic proposals have fit snugly into his campaign pitch.
Obama told a crowd in San Jose, Calif., Sunday night that the next election will be a "contest of values." Later talking up his deficit-reduction plan, he described it as "common sense," not class warfare.
"We have to remind ourselves ... the reason we're successful is because somebody made an investment in us," he said. "We didn't do all of this on our own."
At an earlier fundraiser in Seattle, Obama pressed Republicans to help pass his latest economic plan, saying it's a choice between his approach or the nation going back to the "same ideas the other side is peddling -- old, worn-out ideas from last decade" that gave the upper hand to the wealthiest corporations and individuals.
By the end of the day Monday, Obama will have attended at least nine fundraisers and political events since delivering his jobs plan overview to Congress Sept. 8.
He's got three fundraisers scheduled Monday in Democrat- and electoral-vote-heavy California.
Obama will finish up the three-day tour Tuesday in Denver.
The stops come ahead of the Sept. 30 filing deadline for campaigns. Democratic officials are looking to raise about $8 million from the first two days' events alone.
In Seattle on Sunday, tickets for a brunch with the president were going for nearly $36,000 a couple.
Tickets to a fundraising dinner Sunday night at the home of a Facebook executive went for the same amount.
Obama has also made several non-campaign visits in recent weeks to vital swing states, including Ohio, Virginia and North Carolina.
The president is taking his case to the public, and to donors, as he faces a reluctant Congress.
After pitching a $447 billion jobs bill, he proposed paying for it with tax increases. Then he lumped those proposals in with a total of $1.5 trillion in proposed tax hikes as part of a 10-year deficit reduction proposal he submitted to the bipartisan deficit-reduction committee in Congress.
He was met with a chorus of criticism from Republican leaders who accused the president of playing "class warfare" by proposing more taxes on the wealthy.
But Democratic strategist Bob Beckel said the president's fundraising tour and rhetoric on the stump is merely a product of the resistance Obama's met in Congress.
"It's reflective of what the base of the Democratic Party believes. There were those of us, including me, that thought compromise with the Republicans was a good idea. But it's very clear to me now that we were wrong," he said.
Obama adviser David Plouffe told "Fox News Sunday" the president will keep pushing for "tax reform," while asking the wealthy to pay their "fair share."
"He is going to continue, as he has throughout his presidency, push to cut taxes for the middle-class folks so that they obviously can weather this economy turn better, but also allows them to help the economy by being able to consume more," Plouffe said.
"The American people are screaming out, saying it's unfair that the wealthiest, the largest corporations who can afford the best attorneys, the best accountants, take advantage of these special tax treatments that the lobbyist have, along with lawmakers, have cooked in the books here," he said.