Obama Faces Backlash From Left Amid Economic Uncertainty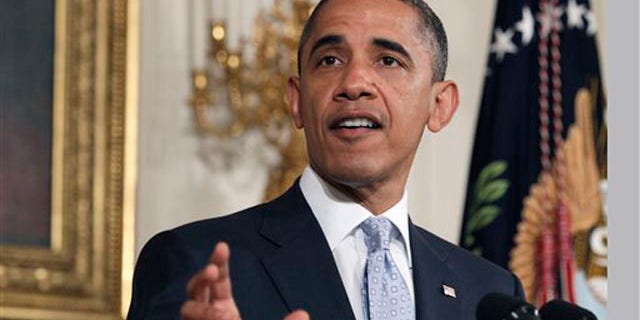 NEWYou can now listen to Fox News articles!
President Obama is facing a storm of criticism from his usual supporters as his administration tries to navigate the debt debate in Washington and the economic tumult on Wall Street.
The bipartisan deal to raise the debt ceiling, while loathed by the Tea Party, was likewise panned by the left. That discontent grew after Obama emerged in the middle of a raucous afternoon on Wall Street Monday to offer some vague words of encouragement to a skittish economy.
"Anyone hungering for a robust vision to invigorate the economy and increase employment is still hungry," The New York Times declared in its editorial Tuesday, asking the president for a "broader vision" beyond his proposed extensions of prior proposals. The Times said the payroll tax cut extension and unemployment aid he touts are "useful but only as a start."
Progressives who make up the president's base have long harbored doubts about his commitment to some of their causes, pointing to his hesitant positions on gun control and gay marriage, his lack of progress on immigration reform and his willingness to negotiate away Republican demands like last year's short-term extension of the Bush-era tax cuts.
Obama also has made the left jittery by talking about entitlement reform. He said Monday that a new bipartisan committee tasked with finding deficit savings should take on the tax code as well as programs like Medicare.
MoveOn.org Director Justin Ruben warned that if Obama accepts a form of tax reform that asks "relatively little" of the wealthy, "it will be clear that the White House learned nothing from the recent debt fight." Ruben urged Obama to put forward a "bold, progressive plan" for the economy.
Don't look to Obama for that, said Cenk Uygur, host of liberal Internet talk show The Young Turks.
"After yet another unconditional surrender in the debt ceiling talks, he's hit his tipping point," he wrote on The Huffington Post.
Uygur claimed a profound discontent on the left with the direction of Obama's administration and his handling of negotiations with Republicans. That feeling could explain why Sen. Bernie Sanders, I-Vt., arguably the most liberal senator in Congress, suggested last month that Obama face a primary challenger next year.
A broader criticism has been that the president has had trouble articulating his vision.
Washington Post columnist Dana Milbank, after observing Obama's brief remarks in the middle of a 600-plus-point dive for the Dow Jones Industrial Average Monday, wrote that "the most powerful man in the world seems strangely powerless, and irresolute, as larger forces bring down the country and his presidency."
But the Obama administration is trying to stay above the chaos on Wall Street and the credit rating downgrade by Standard & Poor's that preceded Monday's selloff.
"Markets will rise and fall, but this is the United States of America. No matter what some agency may say, we've always been and always will be a triple-A country," Obama said Monday, pointing to "economic factors that we can't control" like earthquakes and oil prices and economic sputtering in other parts of the world.
As the left grumbles, conservatives continue to try luring him to their way of thinking on deficit reduction.
Senate Republican Leader Mitch McConnell said Monday that he agrees with Obama that the newly formed joint committee should "focus on entitlement reform."