Obama Eyes Tax Increases in Debt Plan, Faces GOP Opposition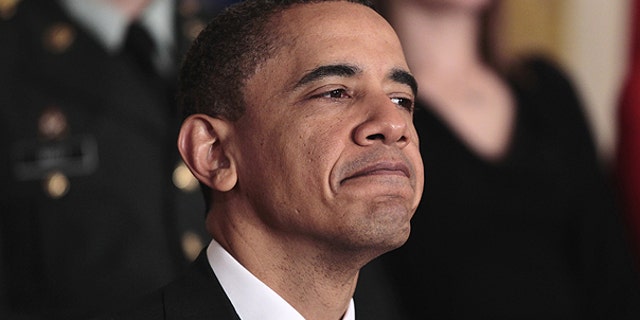 NEWYou can now listen to Fox News articles!
President Obama will meet with congressional leaders Wednesday morning in a preview of his much-anticipated speech aimed at taking the reins of the fierce debate on the nation's debt.
The president's plan, which will be delivered in a speech from Washington in the afternoon, will call to reduce Medicare and Medicaid spending, lower defense costs and raise taxes on the wealthy.
A White House official said Obama will build off his 2012 budget proposal and "borrow from" the recommendations of his deficit reduction commission, which produced a report last year that never got a vote in Congress.
"The president will advocate a balanced approach to controlling out of control deficits and restoring fiscal responsibility while protecting the investments we need to grow our economy, create jobs, and win the future," the official said. "His vision is one where we can live within our means without putting burdens on the middle class and seniors or impeding our ability to invest in our future."
The official said the president's plan would outline four steps: "keeping domestic spending low, finding additional savings in our defense budget, reducing excess health care spending while strengthening Medicare and Medicaid, and tax reform that reduces spending in our tax code."
Republicans have already warned Obama they won't consider any plan that includes tax increases.
"We don't have deficits because Americans are taxed too little, we have deficits because Washington spends too much," House Speaker John Boehner said Tuesday. "And at a time when the American people face skyrocketing prices at the pump, energy tax hikes are a particularly bad idea."
"If the president is willing to offer serious proposals that grow our economy, preserve and protect programs such as Medicare and Medicaid, and set us on a path to pay down the national debt, we're open to hearing them," Boehner said.
Boehner is expected to be at the White House preview meeting, along with Senate Republican Leader Mitch McConnell, House Majority Leader Eric Cantor, Senate Majority Leader Harry Reid and House Democratic Leader Nancy Pelosi.
McConnell said, "Hopefully the president will put forward a plan that doesn't just pay lip service to the commitments we've made to seniors and the poor, but which acknowledges the unique problems that this generation and a rising generation of Americans face."
Cantor said Obama's plan to raise taxes is not only the "wrong move in the current economic environment, but it locks in the Democrats' status-quo agenda to keep spending taxpayer dollars on duplicative big-government programs."
Members of the bipartisan Gang of Six, a group of senators under the gun to craft a 10-year debt-and-deficit-reduction package, are feeling more pressure with Obama planning to outline his vision for getting the nation's fiscal house in order.
"It's a mixed blessing," a senior state GOP aide close to the Gang of Six talks told Fox News. "We're glad he's taking some kind of position, but it's definitely adding to the pressure. It's not terribly helpful."
One member of the Gang of Six, Sen. Tom Coburn, R-Okla., said he doesn't feel rushed – even though he was visibly perturbed the more he talked about the group's work, saying several times it had nothing for the president to highlight Wednesday.
Coburn said the group won't have anything to offer until after the two-week Easter recess, which starts Monday.
Obama's speech comes on the heels of a Treasury Department report showing the federal deficit soared 15.7 percent in the first six months of fiscal 2011. From October to March, the deficit reached $829 billion compared with $717 billion in the previous year despite a revenue increased 6.9 percent.
A Treasury official told Fox News that the figures don't tell the full story.
"There were a number of one-time transactions that impact the year-over-year comparison," the official said, referring to a $115 billion reduction in funds spent on the Troubled Asset Relief Program (TARP), and a $46 billion reduction in money spent on a prepaid FDIC assessment. Excluding those reductions in 2010, the deficit for the first six months of fiscal 2011 would have declined by about $49 billion.
The president's speech also is aimed at countering a Republican proposal from Rep. Paul Ryan that would seek to cut $6.2 trillion in spending over the next decade, built around a drastic reshaping of Medicare and other federal safety-net entitlement programs, and would lower the tax rate for the nation's top payers.
"The point is that balance is essential," White House Press Secretary Jay Carney said. "What is not acceptable in the president's view -- and we believe in the American people's view -- is a plan that achieves serious deficit reduction only by asking for sacrifice from the middle class, seniors, the disabled and the poor, and while providing substantial tax cuts to the very well off."
Sen. Jay Rockefeller is enlisting the help of fellow senators in a letter to Obama urging him not to cut Medicaid coverage.
"The federal government has always made good on a simple promise – that we should make it possible for states to pay for the basic health care needs of some of our most vulnerable citizens," Rockefeller said in a statement. "Slashing this program or placing an arbitrary, hard cap on funding would undermine our commitment to the American people."
Fox News' Trish Turner and Mike Emanuel contributed to this report.