Obama exploits domestic crises but falls back on foreign affairs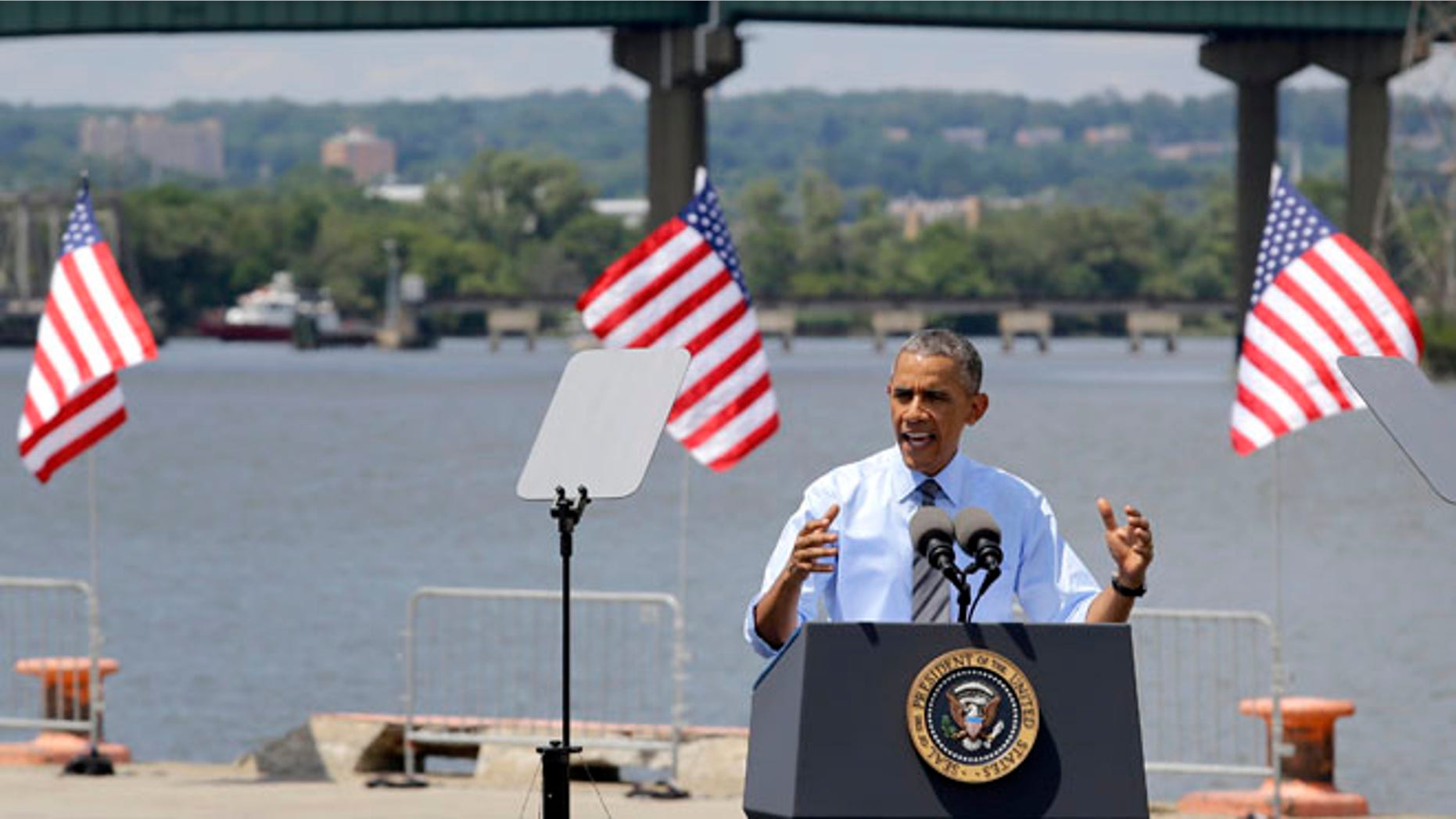 **Want FOX News First in your inbox every day? Sign up here.**
Buzz Cut:
• Obama exploits domestic crises but falls back on foreign affairs
• Warren takes spotlight in Detroit as Hillary skips
• Jeb's venture raises 2016 doubts
• Power Play: Fear and loathing on the campaign trail
• The car wash sounds like a cooler place to work
OBAMA EXPLOITS DOMESTIC CRISES BUT FALLS BACK ON FOREIGN AFFAIRS
A president famous for exploiting domestic crises takes the opposite approach when it comes to international troubles. At home, it is "You never want a serious crisis to go to waste." With national security, though, it is "Don't do stupid s--t." There are plenty of explanations, positive and negative, for why President Obama is audacious on domestic policy and political theater but prefers to play a prevent defense on the world stage. But the difference is certainly stark. Why?
The president has been known to cancel trips and remake his schedule because of fights over spending and taxes, but not so on foreign policy matters. Thursday's remarkable three-way split screen of the wreckage of the jetliner downed in Ukraine, tanks rolling in Gaza and there, in the third box, the president holding photo-ops in Delaware before heading to fundraisers in New York was the latest and most astonishing example. But it is standard procedure for this president. Whether it was the Fort Hood shooting, the Benghazi attacks, the border crisis or now this, Obama has often declined to alter his schedule when it comes to confronting major domestic or international concerns.
The president's defenders say that it is because he is trying to project unruffled, resolute and cool leadership. That he won't be dictated too. Fine. But acting nonchalant doesn't necessarily send the right messages to people who wish to harm us. Whatever it does to international optics, though, there is a deliberate domestic angle. For a president who has so often been criticized for a confused and ineffective foreign policy, he does not want to give his rivals the satisfaction of making him react to their barbs. In the ongoing border crisis, the president's team has boasted that Obama would not have his schedule dictated by his critics and be forced to visit the U.S.-Mexico frontier.
After last week, there can be little doubt about Obama's motives in slogging through his public schedule and campaign events on Thursday. Having come under blistering criticism from both parties for refusing to do inconvenient photo ops or making lots of time for politically useful appearances, one would have to suppose that this choice was rooted in stubborn defiance of his detractors. Isn't it ironic? The president is in his own way being dictated to by others since he denies himself the seemingly appropriate and politically advantageous responses in order to spite his critics. Perhaps the president has become a prisoner of his own brand.
A PATTERN OF BEHAVIOR
Fort Hood - In November of 2009 after reports surfaced of a deadly attack at Ft. Hood, Texas, President Obama proceeded with remarks at an Interior Department meeting of American Indian tribal leaders. Obama famously did not make mention of the attack until after three minutes of jovial remarks.
Benghazi – On the day four Americans, including the U.S. ambassador, were killed in Libya, President Obama appeared at a Las Vegas fundraiser at which he devoted about four minutes to the raid. Before he started his prepared remarks, similar to Thursday's speech, Obama took a brief moment to acknowledge "the tough day we had today" saying "We are mindful of their sacrifice…We want to send our heartfelt prayers to their loved ones." Obama continued his campaign tour with a trip to swing state Colorado and a speech the following day.
Syria - Immediately following President Obama's decision in September to scrap airstrikes against the regime of Syrian despot Bashar al-Assad as a punishment for gassing civilians, the president played a round of golf at Fort Belvoir.
Illegal immigrant influx - Last week, amid the calls for action for the president to address the influx of illegal immigrants crossing the border, he side stepped the pleas during a Texas fundraising swing. Although President Obama did decide to meet with Gov. Rick Perry, R-Texas, about the current situation, immediately after the meeting the president headed to a Democratic Congressional Campaign Committee fundraiser in Dallas and then a Democratic National Committee event in Austin.
KELLY FILE: REAGAN WAITED, SPOKE WITH AUTHORITY AFTER SOVIETS DOWNED JETLINER
How did President Ronald Reagan handle a similar situation in the summer of 1983? Watch Megyn Kelly and Chris Stirewalt discuss that incident and its lessons for today. One takeaway: Reagan didn't speak publicly on the subject for four days and spoke with gravity from the Oval Office in a primetime address when he did. "[President Obama's] endless talking, his endless fundraising, his endless effort to control every 15 minutes of every news cycle saps him of the ability to speak with authority and resolution when he needs to," Stirewalt said.
SET YOUR SUNDAY SCHEDULE
"Fox News Sunday" - Host Chris Wallace welcomes Chairman of the Senate Committee on Foreign Relations Sen. Robert Menendez, D-N.J., and Senate Committee on Foreign Relations Ranking Member Sen. Bob Corker, R-Tenn., and Sen. Ted Cruz, R-Texas.
"#mediaBuzz"- Host Howard Kurtz welcomes Sen. John McCain, R-Ariz.
WITH YOUR SECOND CUP OF COFFEE...
Thomas Edison changed history when he recorded the human voice for the first time 137 years ago today. Science Magazine delves into a new voice recognition software that is helping with understand birds. "A new approach to automatic classification of birdsong borrows techniques from human voice recognition software to sort through the sounds of hundreds of species and decides on its own which features make each one unique. Collectors of animal sounds are facing a data deluge. Thanks to cheap digital recording devices that can capture sound for days in the field, 'it's really, really easy to collect sound, but it's really difficult to analyze it,' say Aaron Rice, a bioacoustics researcher at Cornell University, who was not involved in the new work…. Most methods for classifying birdsong rely on a human to define which features separate one species from another. For example, if researchers know that a chickadee's tweet falls within a predictable range of frequencies, they can program a computer to recognize sounds in that range as chickadee-esque. The computer gets better and better at deciding how to use these features to classify a new sound clip, based on 'training' rounds where it examines clips with the species already correctly labeled."
Got a TIP from the RIGHT or LEFT? Email FoxNewsFirst@FOXNEWS.COM

POLL CHECK
Real Clear Politics Averages
Obama Job Approval: Approve – 41.8 percent//Disapprove – 52.8 percent
Direction of Country: Right Direction – 25.3 percent//Wrong Track – 64.3 percent
Generic Congressional Ballot:  Democrats – 41.4 percent// Republicans 40.2 percent

WARREN TAKES SPOTLIGHT IN DETROIT AS HILLARY SKIPS
She insists that she's not running, but the darling of the Democrats' liberal base, Sen. Elizabeth Warren, D-Mass., will have hearts thumping with dreams of 2016 at the Netroots National annual event in Detroit today. Warren will deliver the gatherings' keynote address after spending the past week stumping for Democratic Senate candidates while pushing her populist agenda. The Massachusetts Democrat's fundraising prowess for the blue team has jumped as she woos a left wing faithful disillusioned with President Obama and wary of 2016 frontrunner Hillary Clinton. And while many Democrats see Clinton as their best potential candidate two years hence, that hasn't stopped supporters from launching a 'Ready for Warren' counter punch to the pro-Hillary machine. As Politico reports, "Even Vice President Joe Biden — another potential 2016 contender — nodded to her in his speech on Thursday. He said that Warren, President Barack Obama, himself and attendees at Netroots all shared similar values. Her name was met with applause." Clinton, who was booed over her support for the Iraq war when she appeared at the event in 2007, declined to attend the conference.

Hillary cites grandchild in announcement delay - Democratic frontrunner Hillary Clinton appeared on "Charlie Rose" Thursday night saying that it would be "wholly personal" if she decided not to run for the Democrat bid. "You know, I'm about to have my first grandchild, which I'm thrilled about," Clinton told Rose. "I can't wait. I want to see what that feels like. I'm not going to skip over it. I want to really be present, as I meet this, you know, new person in our family."
[The National Archives will release some 1,000 pages of Clinton White House documents this afternoon. The pages are expected to cover topics including Usama bin Laden, and Hillary Clinton's health care initiatives.]
McCain: Long list can beat Hillary if - Time: "Arizona Sen. John McCain said Thursday that he believes Republicans can defeat former Secretary of State Hillary Clinton in 2016, but only if they pass immigration reform. 'She's the odds-on favorite right now,' McCain said of Clinton at the 'Politics on Tap' event hosted by CNN and National Journal. 'But I think we have a long list of people who could defeat Hillary Clinton.' McCain suggested New Jersey Gov. Chris Christie, former Florida Gov. Jeb Bush, and Ohio Gov. John Kasich by name as potential Clinton vanquishers."

Not so 'Ready' in Iowa – A head honcho at Ready for Hillary super PAC says Clinton needs to focus on Iowa if she wants a 2016 bid. "I think she should compete everywhere," friend of the Clinton's Craig Smith told Politico, when asked about how she should handle Iowa after failed efforts in 2008. "There are delegates everywhere — we need them all."
Bubba's got a grudge - Washington Examiner: "Bill Richardson, energy secretary and U.N. ambassador under former President Bill Clinton, revealed that his former boss has held a six-year grudge against him for endorsing Barack Obama, not Hillary Clinton, in the 2008 Democratic presidential primaries. Speaking to Larry King on Ora.tv, Richardson said, 'He's still mad at me, you know, he's had differences with some of his former staffers, but so far he hasn't forgiven me.' While personal breaches…sometimes take a while to heal, Richardson said, 'This one has been unusually long, but if he wishes to keep it separate and a breach, then so be it. I'm not uncomfortable. I'm not begging. I'm fine. I'm happy.' Richardson said the rift with Hillary Clinton is still a problem too, and offered a chance to endorse her for president, he declined."

RAND MIXES LIBERTARIAN IDEAS WITH TECH IN SILICON VALLEY
San Francisco Chronicle: "GOP Sen. Rand Paul of Kentucky - considered a potential White House contender in 2016 - will be the keynote speaker at a gathering of 'conservatarian' tech insiders this weekend in San Francisco. Paul will be the star speaker at the Lincoln Labs Reboot 2014 gathering Friday through Sunday at the W Hotel….The conference will reach out to libertarian and conservative activists, nonprofit leaders, campaign consultants and digital strategists …. It won't be Paul's first visit to the Bay Area. The Kentucky Republican appeared earlier this year at UC Berkeley, where he got a standing ovation from a crowd of several hundred mostly young people."
JEB'S NEW VENTURE RAISES 2016 DOUBTS
In a move that raises new questions about whether he'll make a run in 2016 former Florida Gov. Jeb Bush has teamed up with a group of bankers to create a private equity investment firm. WaPo: "Bush spokeswoman Kristy Campbell confirmed the creation of the entity, Britton Hill Holdings LLC, which was first reported Thursday by Bloomberg. It was created in 2013….Campbell said Bush 'is still weighing whether or not to pursue the presidency.'… Bloomberg reported that Bush teamed with former bankers from Credit Suisse Group AG and Lehman Brothers Holdings Inc. to create a Florida-based investment firm. The firm has made investments tied to the oil and gas industries. The private equity industry became a focal point in the 2012 campaign. Democrats repeatedly painted Republican nominee Mitt Romney's private equity career in a negative light, in an effort to portray him as out of touch with the concerns of ordinary Americans. If Bush runs for president in 2016, he could face similar attacks."

CHRISTIE SAYS HE SUPPORTS HOBBY LOBBY DECISION
The Des Moines Register: "A crowd of Iowans at a cafe here swooned over Chris Christie on his debut Iowa trip of the season today, saying his force-of-nature personality would be the perfect fit for the Oval Office… As Christie made his way through the crowd, one man asked him if he backs the recent U.S. Supreme Court ruling allowing Hobby Lobby to restrict its offering of contraception insurance coverage. 'Do I support the Supreme Court's decision in the Hobby Lobby case? I do,' Christie said, according to a video posted Thursday evening by Democratic super PAC American Bridge on its YouTube channel."

POWER PLAY: FEAR AND LOATHING ON THE CAMPAIGN TRAIL
Big political donors like Charles and David Koch have been the target of top Democrats, including Senate Majority Leader Harry Reid. And David Drucker has reported that fears of political targeting by the Obama IRS has further frightened conservative donors. Power Play host Chris Stirewalt sits down with Republican consultant Ron Bonjean and Democratic strategist Chuck Rocha to weigh in.  Watch the "Political Pros" here.

Another polar vortex in the forecast - John Hinderaker looks ahead to what he says is another chill warning for conservative donors in Senate hearings next week as Democrats take up a bill requiring advocacy groups to release donor information: "This is what the IRS scandal is all about: the Democrats were enraged because Republicans had found a way to engage in politics without risking retribution from the Obama administration, so the IRS, acting on suggestions from Democratic Senator Sheldon Whitehouse and others, tried to drive them out of business. That effort had considerable success, as many Tea Party groups and other conservative organizations were sidelined for the 2012 election. But it eventually ran into trouble when the IRS's lawless conduct became public knowledge. Now, the Democrats are attempting a frontal attack on 501(c)(4)s. They have proposed a bill they call the DISCLOSE Act."
Kochs max out in Iowa race - The Hill: "Conservative billionaire Charles Koch and his family have maxed out to Iowa state Senate candidate Joni Ernst (R), a sign of the Koch brothers' particular interest in helping her campaign. Koch, his wife, his son and daughter-in-law each gave the legal maximum contribution of $2,600 to Ernst in late June, according to newly filed documents with the Federal Election Commission. Koch Industries also made a $5,000 contribution to her campaign. She's just the second candidate all four Kochs have maxed out to this year. Sen. Tim Scott (R-S.C.) is the other…. Democrats have been looking to tie Ernst to the billionaires and their financial interests, but her campaign pointed fingers back at [opponent Rep. Bruce Braley's, D-Iowa,] donors, too."
Vets group touts Braley on Social Security - Sioux City Journal: "A left-leaning veterans group is up with a new television advertisement praising Democrat Bruce Braley on Social Security, a major issue in Iowa's U.S. Senate campaign. Votevets.org said Thursday it is spending $250,000 on the ad, which features James Marren, a Vietnam War veteran from Des Moines. In the ad, Marren says, 'when some in Washington tried to cut Social Security, Congressman Bruce Braley stood his ground.' He also praises Braley for backing the Renewable Fuels Standard, the federal requirement that a certain amount of renewables be blended into the nation's gasoline supply. 'He stands up for Iowans,' Marren says of Braley."

LAND'S PERSONAL DONATION RAISES QUESTIONS
Detroit Free Press: "GOP Senate candidate Terri Lynn Land has given her own campaign nearly $3 million this year and last, but nowhere in her financial disclosure form has she listed any bank accounts or other assets in her control worth that much. Her campaign says it's an oversight, claiming Land — who enforced election laws while she was Michigan's secretary of state — inadvertently failed to disclose a joint account she has with her husband, Dan Hibma."

Peters pulls ahead in Michigan - Detroit Free Press: "[T]he gap has widened by three points in the race for the U.S. Senate, according to a new statewide poll from EPIC-MRA of Lansing….In the race for Michigan's open U.S. Senate seat, the new poll shows U.S. Rep. Gary Peters, a Bloomfield Township Democrat, leading former Michigan Secretary of State Republican Terri Lynn Land, by 9 points, 45%-36%. The May EPIC-MRA survey showed Peters leading Land 44%-38%."

TREADWELL TIED TO COMPANY THAT GOT STIMULUS FUNDING
Washington Times: "Alaska Lt. Gov. Mead Treadwell has made opposition to the 2009 stimulus part of his campaign for a Republican Senate nomination. But he also served on the board of a company that took stimulus funds. Treadwell served a six-year stint as a board member for Ellicott Dredges, a company that manufactures dredging equipment, starting in 2003. Toward the end of his tenure in 2009, the company received a $1.76 million dollar grant for training and equipment upgrades, and in 2010, after he had left the board, the federal government used stimulus funds to buy a hydraulic dredge from the company for $4.1 million. Running as a fiscal conservative, Treadwell has mocked the stimulus law. In February, his campaign released a cheeky statement 'wishing [incumbent Democratic Sen. Mark Begich] a happy anniversary' on the five-year anniversary of his vote for it….Peter Bowe, the CEO of Ellicott Dredges, said the company's receipt of stimulus money shouldn't undermine Treadwell's bona fides as a fiscal conservative…Treadwell is running against Dan Sullivan, former Alaska attorney general, and Joe Miller, who ran unsuccessfully against Sen. Lisa Murkowski in 2010. Sullivan has been leading and Miller has consistently taken third place in the polls."

Perez poses for Begich - Alaska Dispatch News: "U.S. Secretary of Labor Thomas Perez this weekend is taking an official trip to Alaska, where he'll advocate for an increase of the national minimum wage and also headline a joint fundraiser for Democratic U.S. Sen. Mark Begich and the Alaska Democratic Party. Perez will be in the state Saturday through Monday, with official appearances at local businesses and job-training centers in Fairbanks, Palmer and Anchorage, said Xochitl Hinojosa, the press secretary for the labor department… Perez will also appear at the fundraiser for Begich, which is being held Sunday at an Anchorage home with several local labor leaders including Vince Beltrami, president of the Alaska AFL-CIO. A labor group also is expecting Perez to make an appearance at a campaign kickoff event in Anchorage on Monday evening….[Hinojosa] referred questions about the fundraiser to Begich's campaign but added that any of Perez's political activity on the trip would comply with the Hatch Act, which governs the political conduct of federal employees. The act — which was approved in 1939 and is also known as An Act to Prevent Pernicious Political Activities — permits federal employees to appear at political rallies and at candidate fundraisers, as long as they don't ask for money."

POLL SHOWS KINGSTON ON TOP IN GEORGIA GOP RUNOFF
Senate hopeful Rep. Jack Kingston, R-Ga., tops his GOP opponent businessman David Perdue by five points according to a new poll. Forty-six percent of respondents supported Kingston, while 41 percent backed Perdue, according to the InsiderAdvantage/Fox5/Morris News survey of likely voters. Another 13 percent of respondents are undecided. The two GOP hopefuls face each other in Tuesday's GOP primary run-off. The winner will go on to face Democratic candidate Michelle Nunn to succeed retiring Sen. Saxby Chambliss, R-Ga.
PICK SIX
Republicans have their sights set on six seats to win back control of the Senate from Democrats. So which seats are most likely to flip from blue to red? The current consensus among Fox News First readers: Arkansas, Louisiana, Montana, West Virginia, South Dakota and North Carolina.

Share your top six picks. Email them – just your top six, please – to FOXNEWSFIRST@FOXNEWS.COM or tweet @cstirewalt.

POLL: MASS. GUBERNATORIAL RACE A VIRTUAL TIE
Boston Globe: "Democrat Martha Coakley has seen her edge over Republican Charlie Baker nearly erased in the last several weeks and is now virtually tied with Baker in a potential general-election matchup, according to a new Boston Globe poll. Coakley leads Baker 39 percent to 36 percent in a hypothetical November contest. The 3-point edge is within the survey's margin of error of plus or minus 4 percentage points. Four weeks ago, Coakley held a nine-point advantage over Baker. The gap between the two is now the narrowest it has been in the seven weeks since the Globe began polling."
THE CAR WASH SOUNDS LIKE A COOLER PLACE TO WORK
Colorado pot-puffing tourists' eyes are bigger than their pipes. Because the Denver International Airport does not allow pot aboard out-of-state flights, many ganja enthusiasts visiting the Mile High City have to drop their dope before leaving the heading hazily home. Since legalization, car rental companies say visitor "frequently" leave a stash of leftover pot after dropping off vehicles, reports KCNC. Various national chains report say car renters leave behind the extra weed between every couple of days to a few times a day if it is a weekend. All employees interviewed claim they just "throw it away" or turn their findings over to supervisors. One employee said, "We try not to let it get to the car wash bay, because those guys will take it."
AND NOW A WORD FROM CHARLES…
"He's had no reaction to anything that I can tell in last 6 months. Look, it isn't as if we're going to go to war with Russia, but we have denied Ukraine lethal weaponry on the grounds that we don't want to escalate the conflict. The rebels and the Russians are killing Ukrainians in large numbers by shooting them out of the sky. The least the President can do is to make a damn decision for once in his life, announce that we are now going to supply lethal weapons to assist the Ukrainians in defending themselves and in completing the offensive that is now going on in Eastern Ukraine to actually destroy the rebel insurgency." –Charles Krauthammer on "Special Report with Bret Baier" Watch here.

Chris Stirewalt is digital politics editor for Fox News. Want FOX News First in your inbox every day? Sign up here.