Obama Announces Non-Binding Climate Agreement, Progress Will 'Take Some Time'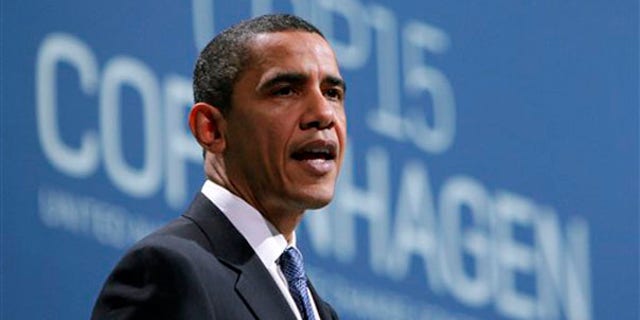 NEWYou can now listen to Fox News articles!
COPENHAGEN — President Obama announced a "meaningful and unprecedented breakthrough" in talks with China and three other countries on the final day of a climate change summit here -- but the deal included no binding mandates to reduce emissions, and even Obama admitted the result fell short of expectations.
A legally binding treaty "is going to be very hard, and it's going to take some time," Obama said at the close of the 193-nation, two-week U.N. summit on global warming. "We have come a long way, but we have much further to go."
The president said there was a "fundamental deadlock in perspectives" between big, industrially developed countries like the United States and poorer, though sometimes large, developing nations. Even so, he said this week's efforts "will help us begin to meet our responsibilities to leave our children and grandchildren a cleaner planet."
The deal as described by Obama reflects some progress helping poor nations cope with climate change and getting China to disclose its actions to address the warming problem.
But it falls far short of committing any nation to pollution reductions beyond a general acknowledgment that the effort should contain global temperatures along the lines agreed to at a conference of the leading economic nations last July.
If the countries had waited to reach a full, binding agreement, "then we wouldn't make any progress," Obama said. In that case, he said, "there might be such frustration and cynicism that rather than taking one step forward we ended up taking two steps back."
Under the agreement, which includes a method for verifying reductions of heat-trapping gases, each country will list the actions it will take to cut global warming pollution by specific amounts. The deal reiterates a goal that eight leading industrialized nations set earlier this year on long-term emission cuts and provides a mechanism to help poor countries prepare for climate change.
Obama addressed reporters traveling with him after racing from one impromptu meeting to another in snow-covered Copenhagen and delivering an animated plea for compromise on the final day of a 193-nation United Nations summit focused on curbing global warming.
The president had planned to spend only about nine hours in Copenhagen as the summit wrapped up after two weeks. But, as an agreement appeared within reach, he extended his stay by more than six hours to attend a series of meetings aimed at brokering a deal.
Details remain fluid about how much and how rapidly developed and developing nations would seek to reduce their own carbon-based pollution. Enforcement and verification measures are equally unclear.
But the senior official confirmed a final text was being prepared for final review. A core group of top economic nations -- including the U.S. European nations and others unknown -- are due to vote informally on the text before presenting it to the full plenary session of 193 represented nations.
One of the major sticking points to reaching a climate deal was China, which balked at agreeing to verification requirements of its carbon cuts.
Obama held two one-on-one meetings with Chinese Premier Wen Jiaboa in hopes of sweeping aside some of the disputes that have barred a final deal.
Without mentioning China specifically, Obama addressed Beijing's resistance to making its emissions-reduction pledges subject to international review.
"I don't know how you have an international agreement where we all are not sharing information and making sure we are meeting our commitments," Obama told representatives of the 193 nations in attendance. "That doesn't make sense. It would be a hollow victory."
China is the only nation that emits more heat-trapping gases than the U.S. Officials said the two leaders took a step forward in their first set of talks and directed negotiators to keep working.
Secretary of State Hillary Clinton's announcement Thursday that Washington would press the world to come up with a climate aid fund amounting to $100 billion a year by 2020, was quickly followed by an offer from China to open its reporting on actions to reduce carbon emissions to international review.
But Obama, seemingly acknowledging failure by referring to an emerging political deal as a "framework" rather than an "agreement," admitted the wide divide that exists between the world's haves and have-nots meant that "no country would get everything that it wants."
House Republican lawmakers attending the summit on Friday said no viable agreement can be reached if third-world countries are not transparent, and stressed that "no deal is better than a bad deal."
"I respect the president -- it's not his fault that he couldn't work his personal magic," said Rep. Joe Barton, R-Texas and ranking member of the House Energy and Commerce Committee.
"The goals (of the countries), if they're not irreconcilable, they're almost that," he said during a press conference with reporters.
"I don't think anything beneficial is going to come from this conference," added Rep. John Sullivan, R-Okla., who said no agreement should be drawn from what he called "corrupt" scientific data.
Seeking to quell dissatisfaction with the current deal — which calls for the world's wealthier nations to transfer about $30 billion over the next three years to developing countries to help them cope with the effects of climate change, increasing to about $100 billion a year by 2020 — Obama said: "There are those developing countries that want aid with no strings attached, and who think that the most advanced nations should pay a higher price. And, there are those advanced nations who think that developing countries cannot absorb this assistance, or that the world's fastest-growing emitters should bear a greater share of the burden.
"But here is the bottom line: we can embrace this accord, take a substantial step forward, and continue to refine it and build upon its foundation," he said, clearly showing frustration over his administration's apparent inability to provide a stage from which it could declare a significant victory — and world leadership — in the battle against the effects of climate change.
Following his address, Obama met with leaders from a host of small nations, including Bulgarian Prime Minister Boyko Borisov, Kenyan President Mwai Kibaki, Czech Republic Prime Minister Jan Fischer and Georgia President Mikheil Saakashvili. The president also spoke with Canadian Prime Minister Stephen Harper and Israeli President Shimon Peres during the afternoon luncheon, according to the White House.
Because the deal is not legally binding, it is expected to be seen by many as a setback, following two years of intense negotiations to agree on new emissions reductions and financial support for poorer nations.
Obama's visit was politically risky. On the left, critics will say his targets are not aggressive enough and carbon offset projects in developing nations could limit the right of indigenous people to their native lands.
On his right, critics will say the so called "cap and tax" bill will put U.S. businesses at a competitive disadvantage to those in China and India, and more manufacturers are likely to offshore their production. In climate circles, the term is "leakage" — that high-polluting industries will avoid the costs of carbon taxes by relocating to countries where there are no limits.
As with many of these deals, the real economic pain is postponed, in all likelihood until the president has left office. The $100 billion global relief fund comes from many sources, public and private, and may include monies already allocated elsewhere. Still, American taxpayers will pay more than their fair share, and at a time when many don't feel climate change is the nation's No. 1 priority.
Fox News' Major Garrett, William La Jeunesse and The Associated Press contributed to this report.