Obama announces new $7 billion power initiative for Africa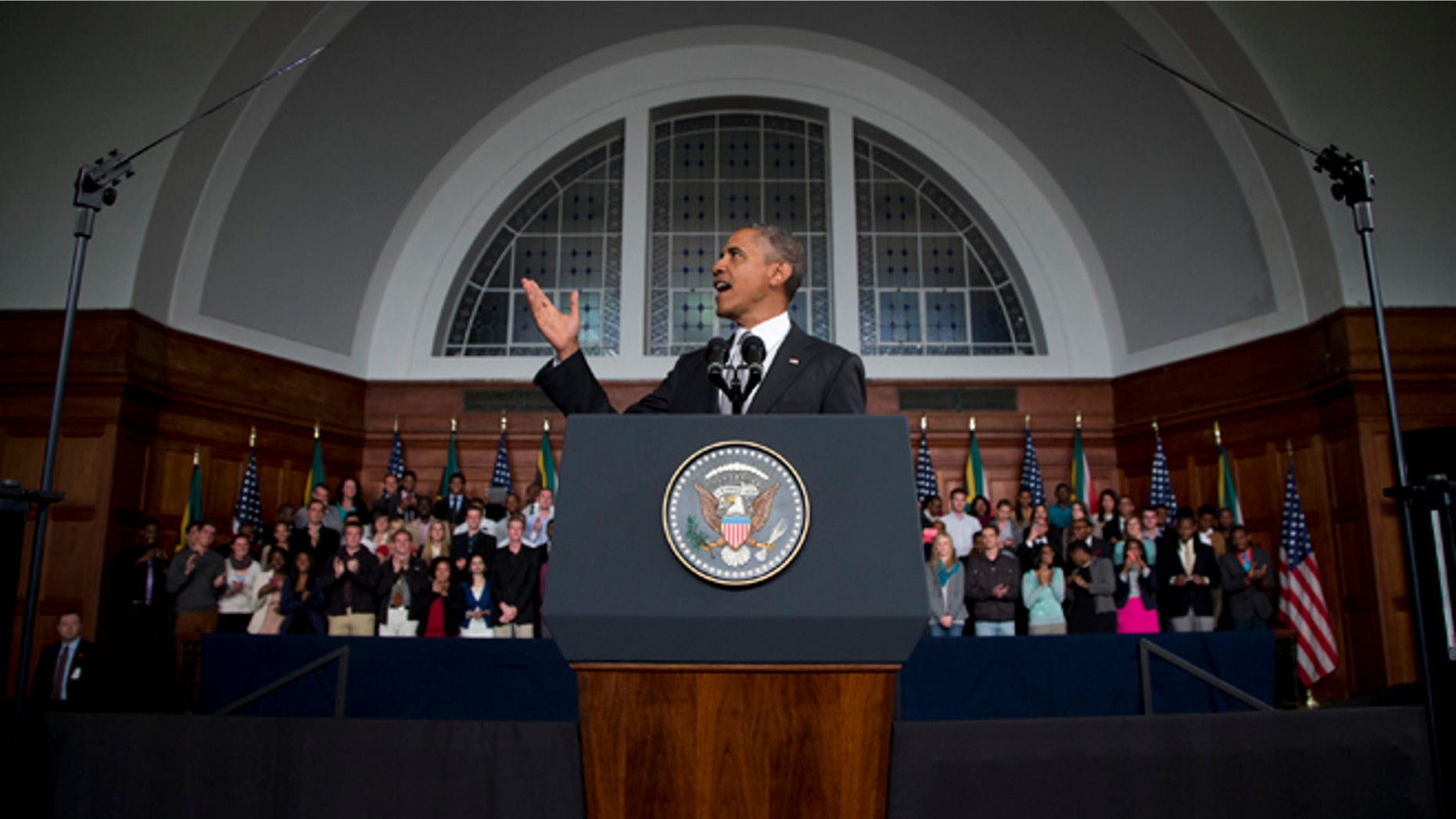 President Obama, calling for the U.S. to "up our game" when it comes to Africa, on Sunday announced a $7 billion government-backed initiative to increase access to electric power in sub-Saharan Africa.
He unveiled the plan during a speech to students at the University of Cape Town in South Africa, a major stop on the president's tour of the continent.
Obama said the U.S. government would spend at least $7 billion toward the goal of doubling access to electric power, bolstered by investments from private sector partners.
Obama, painting a portrait of a rising Africa, argued that the U.S. should get more involved in its success -- for its own benefit.
"My own nation will benefit enormously if you reach your full potential," he said.
Obama, who flew from Johannesburg to Cape Town on Sunday, was also paying tribute to the ailing 94-year-old Nelson Mandela throughout the day. The president and his family visited Robben Island, where the anti-apartheid leader spent 18 years confined to a tiny cell, including a stop at the lime quarry where Mandela toiled and developed the lung problems that sent him to the hospital for most of the month.
The White House said Obama's guide during the tour was 83-year-old South African politician Ahmed Kathrada, who also was held at the prison for nearly two decades and guided Obama on his 2006 visit to the prison as a U.S. senator. The president also saw the prison courtyard where Mandela planted grapevines that remain today, and where he and others in the dissident leadership would discuss politics, sneak notes to one another and hide writings.
"On behalf of our family, we're deeply humbled to stand where men of such courage faced down injustice and refused to yield. The world is grateful for the heroes of Robben Island, who remind us that no shackles or cells can match the strength of the human spirit," Obama wrote in the guest book in the courtyard, his U.S. Secret Service agents standing watch in the old guard tower above.
During the tour, which took place under sunshine and clear, blue skies, Obama, first lady Michelle Obama and daughters Malia and Sasha took in the expansive view of the quarry, a huge crater with views of the rusty guard tower from where Mandela was watched. Obama commented on the "hard labor" Mandela endured and asked Kathrada to remind his daughters how long Mandela was in prison.
After the tour, Obama visited retired archbishop Desmond Tutu at a youth center run by his HIV foundation before delivering what the White House billed as the signature speech of the president's weeklong trip.
Obama used his address to unveil the "Power Africa" initiative, which includes an initial $7 billion investment from the United States over the next five years. Private companies, including General Electric and Symbion Power, are making an additional $9 billion in commitments with the goal of providing power to millions of Africans crippled by a lack of electricity.
Gayle Smith, Obama's senior director for development and democracy, said more than two-thirds of people living in sub-Saharan Africa do not have electricity, including 85 percent of those living in rural areas.
The U.S. and its private sector partners initially will focus its efforts on six countries:  Ethiopia, Ghana, Kenya, Liberia, Nigeria and Tanzania, where Obama will wrap up his trip later this week. Former President George W. Bush, who supports health programs throughout the continent, will also be in Tanzania next week, and the White House did not rule out the possibility that the two men might meet.
Obama also highlighted U.S. efforts to bolster access to food and health programs on the continent. His advisers said the president sees reducing the poverty and illness that plague many parts of Africa as an extension of Mandela's example of how change can happen within countries.
The former South African president has been hospitalized in critical condition for three weeks. Obama met Saturday with members of Mandela's family, but did not visit the anti-apartheid icon, a decision the White House said was in keeping with his family's wishes.
Obama's weeklong trip, which opened last week in Senegal, marks his most significant trip to the continent since taking office. His scant personal engagement has come as a disappointment to some in the region, who had high hopes for a man whose father was from Kenya.
Obama spoke at the University of Cape Town nearly 50 years after Robert F. Kennedy delivered his famous "Ripple of Hope" speech from the school. Kennedy spoke in Cape Town two years after Mandela was sentenced to life in prison.
The Associated Press contributed to this report.