Obama, allies try to revive gun control push despite Senate defeat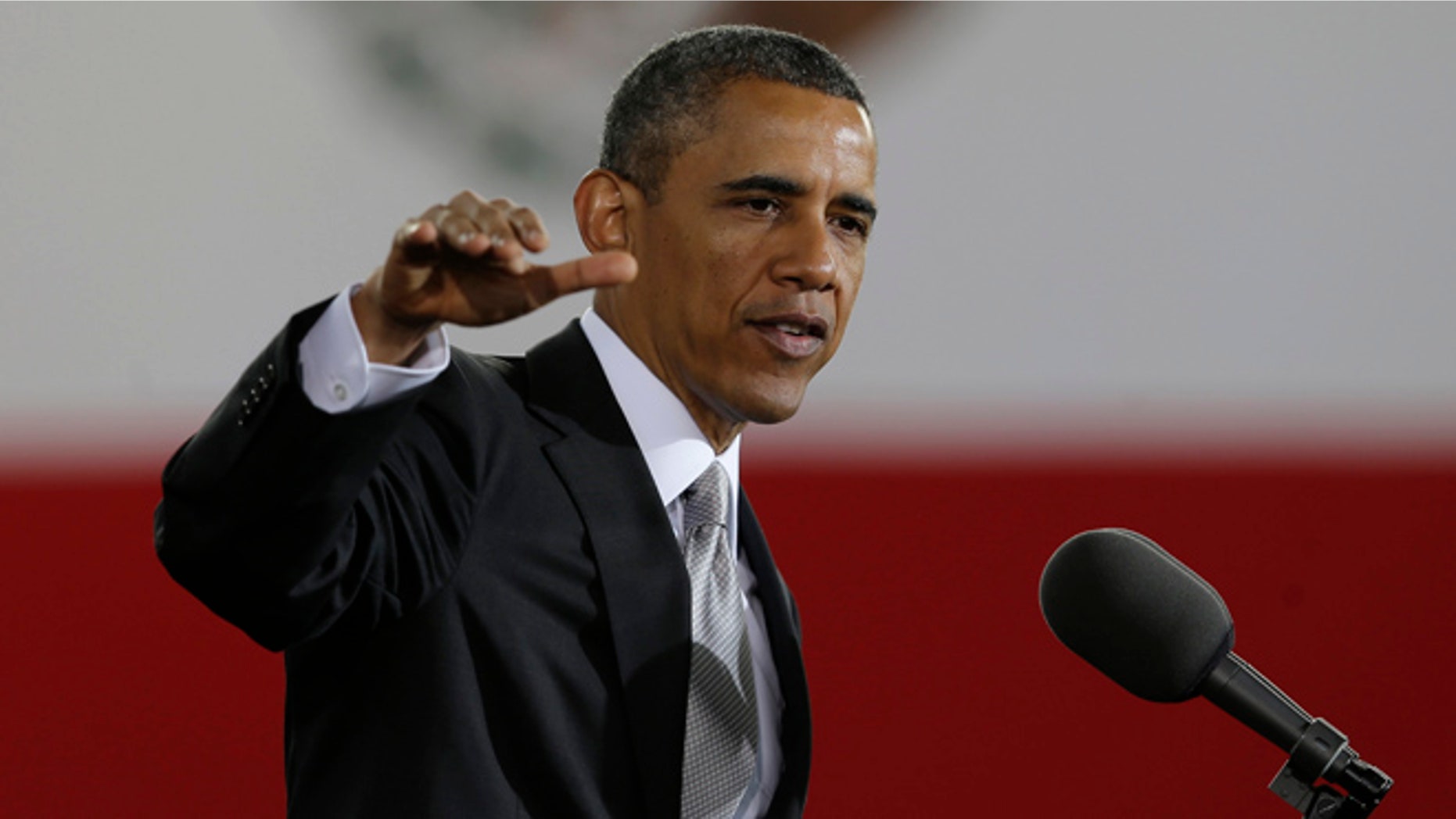 In Washington, it may seem like Congress has moved beyond gun control.
After Democrats' highly touted background check bill was defeated in a Senate procedural vote last month, lawmakers immediately turned their attention to other matters, like immigration legislation, the budget and -- in light of the Boston terror attack -- security.
But President Obama and his allies do not plan to let up, with Vice President Biden reportedly preparing to launch a new push for gun legislation and Obama's campaign arm trying to enlist the public to support the cause.
As opponents of stricter gun laws rallied Friday in Texas for the National Rifle Association's annual convention, Obama himself used a speech during his visit to Mexico to once again sound the call for new regulations.
"Most of the guns used to commit violence here in Mexico come from the United States," Obama told the crowd. "I think many of you know that in America, our Constitution guarantees our individual right to bear arms. And as president, I swore an oath to uphold that right, and I always will. But at the same time, as I've said in the United States, I will continue to do everything in my power to pass common-sense reforms that keep guns out of the hands of criminals and dangerous people.
"That can save lives here in Mexico and back home in the United States," he said.
While an inordinate number of crime guns in Mexico are ultimately traced to the United States, the remark is sure to agitate critics of the failed Fast and Furious operation -- which allowed weapons to "walk" across the Mexican border as part of an anti-trafficking sting but ended up fueling violence in the process.
Obama, though, is trying to renew focus on gun violence after the Senate bill failed last month -- he vowed at the time that the debate was only "round one" in a longer battle.
Republicans concerned that any new laws will be an ineffective way to reduce crime -- and a threat to the Second Amendment -- are adamant that round two will not be successful either.
At the NRA conference Friday, Republican Texas Sen. Ted Cruz warned "the fight is not over."
"President Obama and Vice President Joe Biden have come out and said they intend to come back at it," Cruz said. "The Constitution matters. All of the Constitution. It's not pick and choose."
Cruz invited Biden to "engage in an hour-long conversation and debate" on how to stop crime.
Biden has not commented on the invitation. But the remark comes after a Politico.com report said Biden told law enforcement officials Thursday that he's preparing to launch a new gun control push.
According to Politico, he's planning more trips to talk about the need for expanded background checks and tougher gun-trafficking laws, though he reportedly hadn't "really discussed" this with Obama.
Asked about the report Friday, White House Press Secretary Jay Carney said Biden continues to play a leading role in the gun control effort. He reiterated that the administration would continue to press for legislation and suggested lawmakers who opposed the last version would feel public pressure.
"In the end, senators who voted against the overwhelming will of their constituents may reconsider if they hear from those same constituents and hear how important these common-sense measures are to them," he said.
The Obama-supporting Organizing for Action is working hard on the sidelines to apply that pressure. That group's home page, as of Friday afternoon, featured a sign-up for a petition supporting legislation.
The lead post on the page claimed that poll numbers for lawmakers who opposed the legislation last month have dropped.
"Want proof that what OFA volunteers are doing is working? The senators who voted against expanding background checks are getting their poll numbers back since that vote-and they're not subtle," OFA claimed.
But even Sen. Pat Toomey, who was a critical supporter of the compromise amendment that ultimately failed last month, claims Congress does not have the stomach for gun legislation any time soon.
The Pennsylvania Republican had teamed up with moderate West Virginia Democratic Sen. Joe Manchin to offer the background check amendment, which would have expanded checks to gun shows and Internet sales while exempting family and other personal transactions.
But according to the Philadelphia Inquirer, he said after the vote that he's turning his attention to "fiscal and economic matters."
"The Senate has had its vote. We've seen the outcome of that vote. I am not aware of any reason to believe that if we had the vote again that we'd have a different outcome," Toomey said.
Manchin was more optimistic, telling "Fox News Sunday" that he thinks the measure could come back.