North Korean ex-spy chief dines with Pompeo in NYC
North Korea's longtime spy chief and Secretary of State Mike Pompeo had dinner together in New York City on Wednesday night as the rogue nation's shadowy official tries to salvage a potential summit between the two countries' leaders.
Kim Yong Chol, Kim's infamous right-hand man and a vice chairman of the ruling Workers' Party, met with Pompeo after he arrived at JFK International Airport around 2 p.m. Wednesday.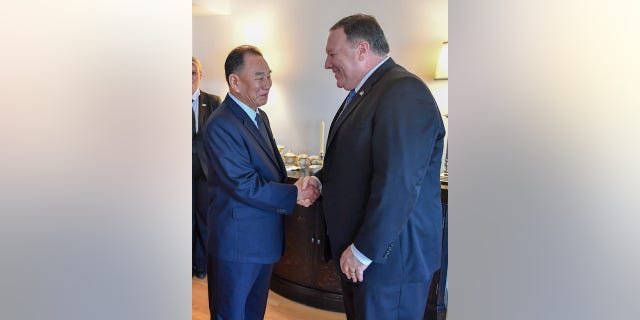 The North Korean is the highest-ranking official from the communist nation to visit the U.S. since 2000.
Kim and Pompeo sat together for more than an hour, and planned a "day full of meetings" for Thursday, the White House said.
The secretary of state tweeted the two had a "good working dinner" that featured "Steak, corn, and cheese on the menu."
Trump tweeted Tuesday about Kim's impending visit, which comes ahead of a possible June 12 summit between the North and the U.S. "We have put a great team together for our talks with North Korea," Trump wrote. "Meetings are currently taking place concerning Summit, and more."
KIM'S GULAGS: NORTH KOREA HOLDING UP TO 120,000 POLITICAL PRISONERS, STATE DEPARTMENT REPORT SAYS
Kim, believed to be 72, and Pompeo's talks will largely focus on rescheduling the summit, which Trump canceled last week following hostile rhetoric from the North.
Pompeo on Wednesday tweeted that he was "Looking forward to meeting with" Kim to discuss a possible summit, and noted the State Department is "committed to the complete, verifiable, and irreversible denuclearization of the Korean Peninsula."
Fox News' Katherine Lam and The Associated Press contributed to this report.