Democratic candidate Phil Murphy was elected governor of New Jersey on Tuesday, replacing Republican Gov. Chris Christie after eight years. Christie is the only governor to serve two full terms since Tom Kean in the 1980s.
Murphy led his Republican opponent, Kim Guadagno, by about 13 percentage points -- or 55.4 percent to 42.5 percent.
Guadagno faced an uphill battle partly because of her ties to Christie-- leading political experts to predict Murphy's win long before New Jerseyans headed to the polls on Tuesday.

Here's what you need to know about Murphy and Guadagno.
Phil Murphy, Democrat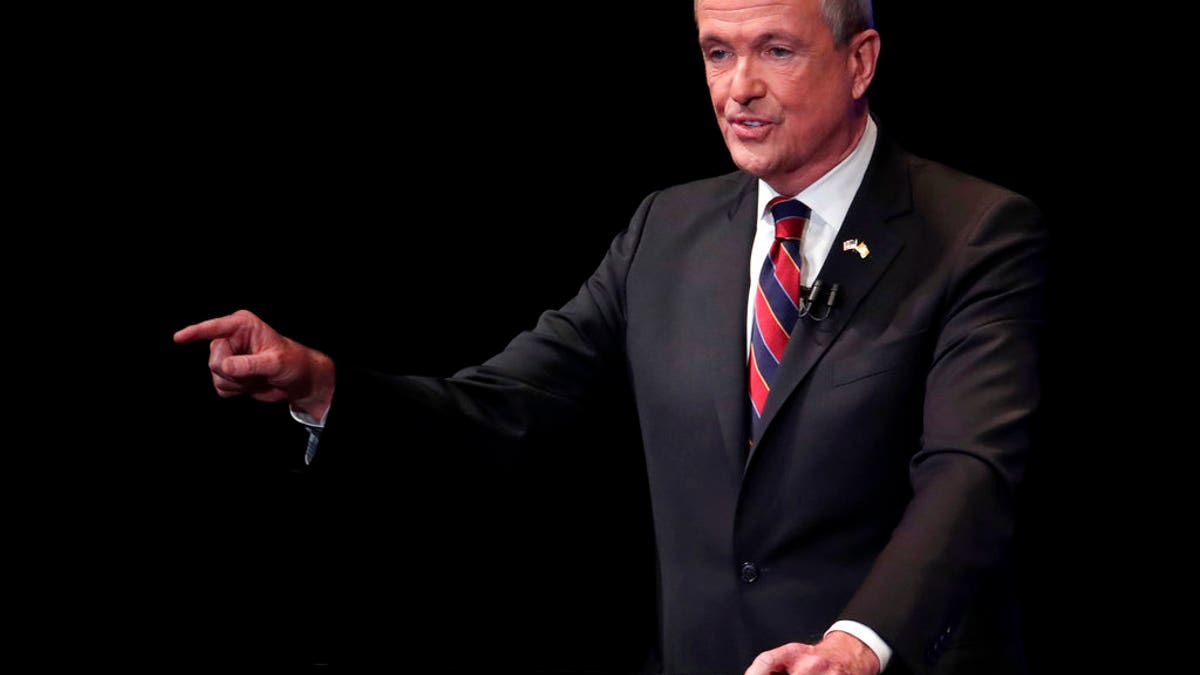 Phil Murphy, 60, is a former Goldman Sachs executive and U.S. ambassador to Germany. Prior to serving as ambassador, he was the Democratic National Committee's finance chair.
Murphy was born to a family in Boston who lived "paycheck to paycheck," according to Murphy's campaign website. He graduated from Harvard in 1979 with a degree in economics and later received his MBA from the Wharton School of Business at the University of Pennsylvania.
Murphy, who is married with four children, has never held elected office. However, the Democrat was the unexpected front-runner in the race partly because of Christie's approval rating, which hit 15 percent in June -- the lowest of any governor in the state's history. Christie's ratings have dropped due to the Bridgegate scandal and his time spent out of state to prepare for the 2016 presidential election, Ross Baker, a professor of American politics at Rutgers University, told Fox News.
As a result, political experts favored Murphy to win the election.
"Where we stand now, he's the presumptive favorite. The public is looking for someone different," Benjamin Dworkin, director of the Rebovich Institute for New Jersey Politics at Rider University, said.
According to a Fox News poll from Oct. 17, Murphy led his Republican opponent 47 to 33 percent. Additionally, a recent Suffolk University and USA Today poll found that Murphy had a 16-point lead on his opponent prior to the election.

What's more, the state's changing demographics also increased Murphy's chances of winning, Dworkin said. To give that some context: In 2007, there were 200,000 more registered Democrats in New Jersey than Republicans. By 2017, there were 800,000 more, according to Dworkin.
"The state has become much more democratic since Christie was first elected," he said.
OBAMA RETURNS TO CAMPAIGN TRAIL IN NEW JERSEY, VIRGINIA
The results of the 2016 presidential election also helped Murphy succeed. Some voters who don't agree with the current administration "want to go out there and send a message to Washington -- and this is how they're going to do it," Dworkin said.
The Democratic front-runner has been gobbling up endorsements from elected officials, faith leaders and various organizations. An extensive list of Murphy's endorsements can be found here. But some of the most notable include: Former Vice Presidents Joe Biden and Al Gore, Sen. Cory Booker, D-N.J., and Sen. Robert Menendez, D-N.J.
Additionally, former President Bill Clinton campaigned for Murphy at a labor union in Paramus. Former Secretary of State Hillary Clinton showed her support for Murphy at a closed-door fundraiser in Harrison. And former President Barack Obama, who named Murphy to his ambassador position, began campaigning for Murphy on Oct. 19.
During the Paramus event, Bill Clinton said Guadagno is "trying to scare the living daylights out of people" to get her base to show up at the polls on Nov. 7., Politico reported. His comment alluded to an immigration ad that Guadagno recently released that said Murphy would have the "backs of deranged murderers."
Murphy ran on a promise to better New Jersey infrastructure, make housing in the state more affordable, tackle the opioid epidemic, crack down on gun violence and open a state-run bank that would be owned by New Jersey taxpayers, among other proposals.
NEW JERSEY GUBERNATORIAL CANDIDATES DEBATE FRUIT, VEGGIES, TAXES
The bank -- which would be the second of its kind in the U.S. -- would give some state tax money to community banks. The community banks would then give loans to small business owners, infrastructure projects in the state and student loans. The profits would be returned to the people of New Jersey as non-tax revenue.
"Jump starting the economy-- that's his play," Dworkin said. "It's an intriguing idea- but that's it. It's not something that's galvanized voters."
Kim Guadagno, Republican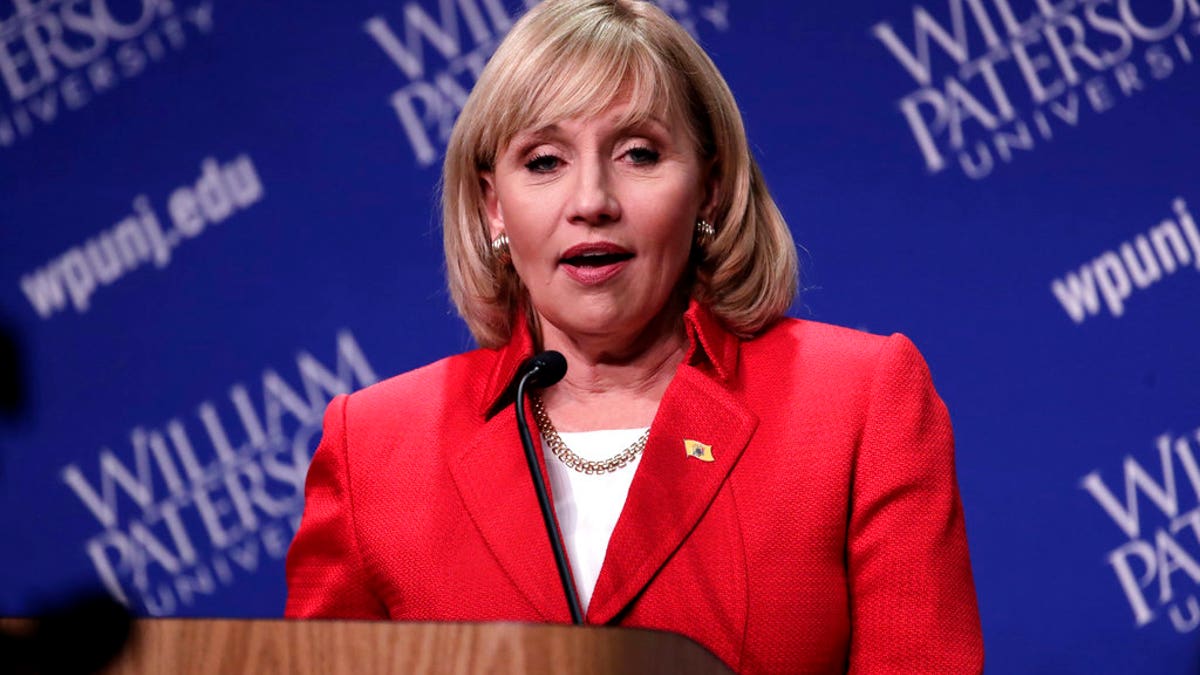 The Republican candidate congratulated her Democratic opponent on Tuesday, calling her supporters to do the same as she conceded.
"Never forget what we were fighting for," she said. "We will continue that fight for lower taxes and a safer New Jersey. We may have lost battle but we will win war."

Kim Guadagno, 58, served as Christie's lieutenant governor during both terms. Prior to that, she worked as an assistant United States attorney for the District of New Jersey in Newark before accepting the role of assistant attorney general for the State of New Jersey.
Guadagno was born in Waterloo, Iowa, and is the middle of five children. She obtained a political science degree from Ursinus College before graduating in 1983 from the American University College of Law. She is married with three children, according to her campaign website.
Guadagno repeatedly tried to distance herself from Christie, attempting to "run as her own person," Dworkin said. But her ties to Christie hurt her.
Indeed, a Quinnipiac University poll found that 54 percent of New Jersey voters had a negative opinion of her because she served as Christie's lieutenant governor.

"She's a talented and qualified candidate, but this race is a tremendously uphill battle for her."
DEMS' EFFORTS TO TIE GOP CANDIDATE TO CHRISTIE COULD BACKFIRE
"She's a talented and qualified candidate, but this race is a tremendously uphill battle for her," Dworkin said.
Unlike Ed Gillespie, the Republican candidate in Virginia's gubernatorial race this year, Guadagno was never endorsed by President Trump -- which possibly hurt her chances of getting ahead.
"Trump wants to stay away from the Republican Party in New Jersey right now, which is dragged down by the Christie brand name, and the administration thinks it has a better chance to swing things in Virginia," Julian Zelizer, a professor of history and public policy at Princeton University, told NJ.com.
In a recent interview with Fox News, Guadagno acknowledged the low poll numbers. But she did note that her campaign is starting to gain traction.
"We've cut his lead in more than half, my internal polls show that we are literally at his heels and I think you're beginning to feel this momentum in New Jersey," she said.
Guadagno ran on the promise to end the opioid epidemic, fix New Jersey transportation, grow jobs in the state, fix pension and health benefits, make the state more military and veteran-friendly, and cut property taxes by as much as $3,000. New Jersey's property taxes are the highest in the nation.
If elected, Guadagno said she wouldn't run for re-election if she can't lower property taxes in her first term. But only 23 percent of voters believed her promise, according to the Quinnipiac poll.