New fears for Hillary Clinton's health after 'twisted ankle' or 'broken toe' derails book tour
Hillary Clinton apparently fell and injured her foot on Monday during her overseas book tour, prompting her to cancel or delay interviews with British journalists -- before resurfacing on a BBC program.
As with previous Clinton health scares, the details are a bit unclear.
As one host called out Clinton for missing an interview, her spokesman initially said she "twisted her ankle." He tweeted a picture of Clinton wearing a special boot during a separate appearance on the BBC's "Graham Norton Show."
But in that appearance, Clinton said she actually broke her toe -- after apparently running down the stairs in heels and falling backward.
The status of Clinton's foot was the subject of much speculation in the British media world all day. She had been slated for interviews with multiple British news programs, including BBC "Woman's Hour" and ITV's "This Morning."
But according to a Snapchat from "This Morning" host Philip Schofield, Clinton cancelled.
"Supposed to be interviewing Hillary Clinton…but she's fallen over and hurt her foot!! Gutted," Schofield posted to Snapchat, complete with a 'crying face' emoji and a picture of her book "What Happened" sitting by itself on a couch.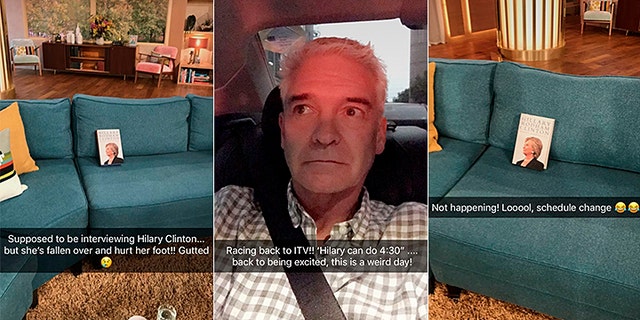 A few hours later, Schofield posted again, with a change of plans.
"Racing back to ITV!! 'Hilary can do a 4:30'…back to being excited, this is a weird day!" Schofield posted, with a selfie.
Within the hour, he posted again: "Not happening! Looool, schedule change."
Another British journalist, Jane Garvey, a host of BBC's "Woman's Hour," reportedly apologized to listeners.
"Hillary Clinton has been delayed this morning, as I've already said. It does look like she's not going to make it before the end of the program. I'm really, really sorry about that. I think you can understand just how sorry I am," Garvey said on the hour-long radio show, according to the Daily Mail. "We're working very, very hard to get this interview rescheduled and Hillary Clinton is very apologetic…so what can I say? That's the situation."
Garvey later tweeted a photo of Clinton's 2016 campaign memoir and apologized to listeners.
"I'd read the book and everything. Apologies. #HillaryClinton #BBCWomansHour," Garvey posted on Twitter.
Clinton's Communications Director Nick Merrill responded to questions over the cancelled Garvey interview on Twitter, saying it had been rescheduled.
"We just had to move it a bit later in the day. She's taping it now for tomorrow morning!" Merill replied to a follower. 

But Clinton, who is about to turn 70, was able to make it to her interview on "The Graham Norton Show," sporting a foot brace.
"HRC on The Graham Norton Show, joking about how she caught her heel on some steps & twisted her ankle earlier today. Back to the book tour!" Merrill posted with a photo on Twitter Monday.
The show's account tweeted another photo of Clinton in the brace, saying: "On this week's show, @HillaryClinton chats to @grahnort about What Happened after breaking her toe this morning #TheGNShow."
Merrill did not immediately respond to Fox News' request for comment on the incident or on Clinton's condition.
Clinton's health was a topic of conversation throughout the 2016 presidential election, after having public coughing spells and stumbling during the Sept. 11 memorial service in New York City last year.
Last September, the Clinton campaign released a "comprehensive update" on the Democratic nominee's medical condition and information, describing her illness as a mild and non-contagious pneumonia.
Clinton's physician, Dr. Lisa Bardack, released the report and called her "healthy and fit to serve."
Prior to the incidents on the campaign trail, when she was secretary of state, Clinton fell, hit her head and sustained a concussion in 2012. Aides, at the time, blamed the fall on a stomach virus and said that she became dizzy. Weeks after the fall, doctors reportedly found a blood clot in Clinton's head that was dissolved through medication.