New England states fight Black Friday retail creep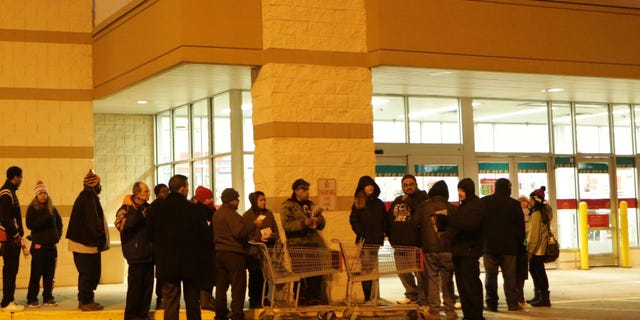 WASHINGTON – Three New England states are fighting back against the holiday retail creep – the extra-early Black Friday sales which have some stores opening their doors as early as 4 p.m. Thanksgiving Day.
Maine, Massachusetts and Rhode Island aren't letting the lure of $9 toasters lead to abandoning their Puritan past and are relying on decades-old blue laws which legally prohibit stores from opening on Turkey Day.
Blue laws, which stretch back as far as the 1600s, were initially designed to restrict Sunday activity for religious reasons.
Since then, many of the country's blue laws have been challenged but the U.S. Supreme Court has repeatedly held up their validity.
The country's first blue law, enacted in 1617 in Virginia, made church attendance mandatory and even compelled militias to enforce it. Since then, the laws have been tweaked, changed and in some states repealed.
In 1982, the Arkansas Supreme Court ruled that the state's blue laws were unconstitutional. In 2010, the state repealed its ban on Sunday alcohol sales. It was also the same year Indiana changed its law to permit carry-out alcohol sales.
In Maine, the ban extends to convenience stores, gas stations, restaurants, pharmacies and bowling alleys.
The only retailer given a free pass in the state is L.L. Bean. The outdoor equipment and clothing store, which was founded in Freeport, Maine, uses a loophole in the 1963 law that exempts establishments primarily selling boats, boating equipment, sporting equipment, souvenirs and novelties."
All retailers are shut out in Massachusetts. No retail stores, with exceptions for food stores, are allowed to open on Thanksgiving. Businesses caught breaking the law are fined $1,000 per violation. Repeat offenders could have criminal charges brought against them.
But those ready to get their shop on only have to wait until midnight. Macy's opens its doors at 12:30 a.m.; Target follows at 1 a.m. while Wal-Mart shoppers have a 4 a.m. start.
The only stores allowed to open in Rhode Island are pharmacies, bakeries, florists, video-rental stores and businesses have a maximum of six employees per shift. Residents of Rhode Island can go online to seek out early Black Friday deals.