Nevada Gov. Brian Sandoval announces he's not running for Reid's open Senate seat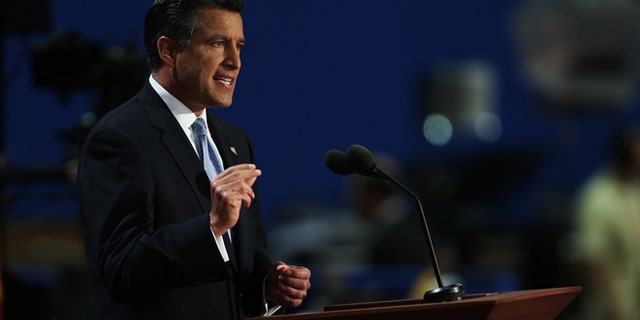 NEWYou can now listen to Fox News articles!
Nevada Gov. Brian Sandoval announced Tuesday that despite wide support and a high popularity rating in the Silver State, he will not run for the Senate seat being vacated by longtime Democratic lawmaker Harry Reid.
"I have said many times that it is an honor and a privilege to serve as Nevada's Chief Executive and that I love my job. My heart is in my responsibilities as governor and continuing to build the New Nevada," Sandoval said in a statement. "My undivided attention must be devoted to being the best governor, husband and father I can be. For these reasons, I will not seek the United States Senate seat that will be available in 2016."
Sandoval easily won his second term as governor last year – polling particularly well with the state's growing Latino voters – but earlier this year he appeared skeptical about making a Senate run after announcing a number of major plans for his time in office.
"Do you really think … I would propose the things that I proposed last night, thinking I might be on a ballot?" Sandoval asked Jon Ralston, a Reno Gazette-Journal columnist, after he released a new tax proposal and an ambitious education overhaul plan back in January.
Sandoval, who has been mentioned a strong contender for vice president in 2016, was widely expected to be the frontrunner in the senate race. His announcement to remain in Carson City allows other Republican politicians in the state vie for the seat. Other Republican candidates have been waiting for Sandoval, who enjoys a 70 percent approval rating in his state, to make a decision on whether or not to run before declaring whether they'd step into a race.
The GOP frontrunner now appears to be Nevada Rep. Joe Heck – who represents the state's 3rd District – as the party prepares for a tough race in a state that leans Democrat, according to a recent Rothenberg & Gonzales Political Report.
On the Democratic ticket, Reid endorsed Catherine Cortez Masto, a former state Attorney General, who announced her candidacy shortly after the current senator said he would be retiring. Rep. Dina Titus, a Democrat, announced earlier this year that she is not running for Reid's seat.