Nebraska senator compares police to ISIS, suggests he'd shoot a cop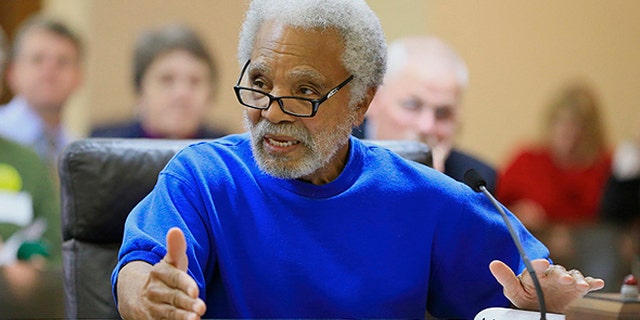 NEWYou can now listen to Fox News articles!
A Nebraska state senator compared American police to Islamic terrorists and suggested he'd shoot a cop if only he had a weapon.
State Sen. Ernie Chambers said during a legislative hearing on March 20 that you don't have to go halfway around the world to find an ISIS mentality. It can be found in America because police terrorize blacks every day.
He was referring to the Islamic State of Iraq and Syria, which has beheaded journalists and brutally executed Westerners and others.
"My ISIS is the police," Chambers, an independent, said, adding police can get away with shooting people if they "think" they're going to do something -- like pull a weapon.
"The police are licensed to kill us -- children, old people," he said.
Nebraska's longest serving senator, Chambers represents north Omaha, a high-crime area where racial tension simmers and sometimes erupts after encounters with police. In March 2013, for example, police threw a man to the ground and pummeled him while 32 police officers stormed a home across the street, in response to a parking complaint. Four police officers were fired amid allegations of excessive force, evidence tampering and a police cover-up.
"I wouldn't go to Syria, I wouldn't go to Iraq, I wouldn't go to Afghanistan, I wouldn't go to Yemen, I wouldn't go to Tunisia, I wouldn't go to Lebanon, I wouldn't go to Jordan, I would do it right here," Chambers, who is black, said. "Nobody from ISIS ever terrorized us as a people as the police do us daily."
Chambers then added fuel to the fire, saying if he had a gun, he would use it on police, not his political opponents.
"If I was going to carry a weapon, it wouldn't be against you, it wouldn't be against these people who come here that I might have a dispute with. Mine would be for the police," he said. "And if I carried a gun I'd want to shoot him first and then ask questions later, like they say the cop ought to do."
Click for more from Watchdog.org.