MS-13 crackdown wins praise for Trump ahead of NY gang summit
NEWYou can now listen to Fox News articles!
The Trump administration's crackdown on the violent MS-13 gang has been working, say residents of the Long Island communities in New York that have witnessed the gang's crimes too many times.
President Donald Trump is heading to the area Wednesday for a forum at the Morrelly Homeland Security Center in Bethpage, N.Y., where he is expected to highlight the progress as he doubles down on calling MS-13 criminals "animals."
Trump previously visited Long Island in July to decry the "bloodstained killing fields" overrun by illegal immigrants and promise to "dismantle" and "eradicate" gangs, drawing applause from police officers positioned behind him.
In 2017, federal authorities arrested 796 MS-13 gang members nationwide, and numerous cities have joined the Trump administration's lawsuit targeting so-called "sanctuary city" policies that shelter illegal immigrants.
After Trump's "animals" remark last week, several media organizations took the president's comment out of context, making it appear that he was referring to all illegal immigrants rather than to members of violent gangs such as MS-13, which has a history of beheading its enemies and even tearing out their hearts.
TUCKER: 'BUFFOONS' ON THE LEFT LECTURE AMERICANS AFTER TRUMP CALLS MS-13 ANIMALS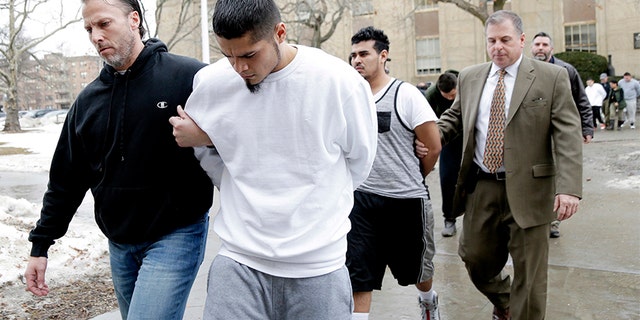 The White House on Monday seemed unfazed by the criticism, releasing a fact sheet titled "WHAT YOU NEED TO KNOW ABOUT THE VIOLENT ANIMALS OF MS-13." For his part, Trump vowed to "always" use the word to describe gangs like MS-13.
Residents of Brentwood, N.Y., have praised law enforcement for cracking down on MS-13 violence, which has struck close to home in recent years.
"It feels a lot better and safer."
"It feels a lot better and safer," longtime Brentwood resident Melissa Early, 40, told Newsday. "I'm not sure if they've moved on or they just know people are gunning for them."
Two teenage girls were brutally slaughtered in a residential neighborhood in Brentwood near an elementary school on Sept. 13, 2016.
In December, police said they foiled an MS-13 kidnapping and murder plot when they saw the intended 16-year-old male victim being coerced into a van.
Jesica Granados, 26, told Newsday that increased police checkpoints in Brentwood have eased tension in the area.
"It used to be ... people afraid to walk around," she said. "Now it's all different. The police are really on top of things."
MS-13 MEMBER KNOWN AS 'ANIMAL' SENTENCED TO 40 YEARS IN KILLING OF 15-YEAR-OLD BOY
Jacqueline Burks, 55, a newcomer to Central Islip, told Newsday that the situation has "gotten better" but that she still feels unsafe walking alone at night.

Meanwhile, in anticipation of Trump's visit, anti-Trump protests were held in Nassau County on Tuesday, with protesters chanting "No more hate" and "No, Trump, no," according to local reports and social media posts.
In a statement, Nassau County Executive Laura Curran, a Democrat who took office in January, struck a conciliatory note in welcoming the president.
"It is a unique opportunity," Curran said, "to directly seek more federal funds and assistance for law enforcement to combat gangs and gain resources for community groups to keep our youth from joining gangs."