Military assessment says Iraqi units infiltrated by ISIS, Iran-backed militiamen, report claims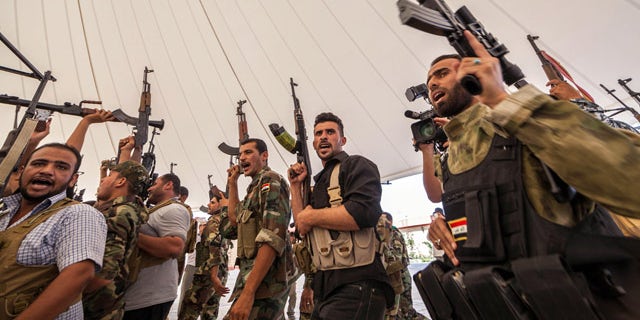 A Pentagon draft assessment of Iraq's security forces has concluded that only approximately half of the country's military units are capable of being advised by American commandos, and many units have been infiltrated by either Sunni insurgent informants or Shiite militia members backed by Iran, according to a published report.
The New York Times reported that the assessment warns that Iraqi forces loyal to embattled Prime Minister Nouri al-Maliki are so dependent on the Shiite militias, as well as advisers from Iran's paramilitary Quds Force that American advisers could face safety risks if they are assigned to train certain units.
According to The Times, the assessment was prepared by six teams of Special Operations forces last month, as the Sunni militant group Islamic State in Iraq and the Levant (ISIS) swept across northern and western Iraq, seizing the key cities of Mosul and Tikrit in the process.
Among the other conclusions reached in the draft assessment, the paper reported, was that Iraqi forces may not be able to defend Baghdad if the militants attacked the capital in large numbers. The Times also said that the report concluded that Iraq forces were not capable on their own of reversing gains made by ISIS, a conclusion noted by Gen. Martin Dempsey, the chairman of the Joint Chiefs of Staff in public comments earlier this month.
The Times reported that the draft report was being reviewed Gen. Lloyd J. Austin III, the head of Central Command. A final report was expected to be presented to Defense Secretary Chuck Hagel and other Pentagon officials later this week.
The report, and the recommendations developed from it by Central Command and the Joint Staff, are expected to influence the Obama administration's decision about whether or not to send more advisers, weaponry, and surveillance systems to aid Iraq's army against ISIS.
The United States spent an estimated $25 billion on training and equipping the Iraqi army prior to the withdrawal of American troops in 2011. In the intervening years, the level of training and equipment upkeep have reportedly declined, while al-Maliki has increased tension in the ranks by promoting officers based on political loyalty.
Earlier this month, the Pentagon decided to send 200 troops, as well as six Apache helicopter gunships and Shadow surveillance drones, to the Baghdad airport after receiving a classified intelligence assessment that the airport was vulnerable to an attack by ISIS.
Click for more from The New York Times