Michelle Obama, Laura Bush to Speak at Ceremony for Flight 93 Victims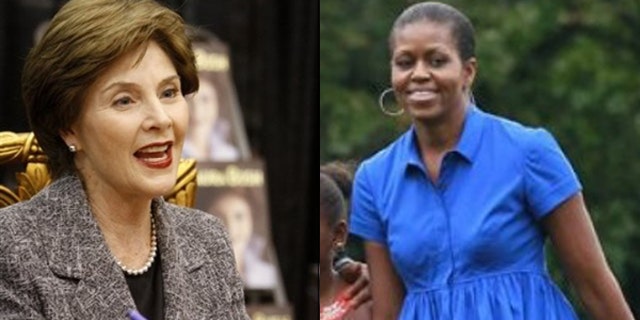 NEWYou can now listen to Fox News articles!
Despite calls for George W. Bush to throw President Obama a lifeline in the ongoing Ground Zero mosque debate, so far the latest show of bipartisanship is coming from first lady Michelle Obama and her predecessor.
Officials confirmed Monday that at a ceremony next month in Shanksville, Pa., Obama will join former first lady Laura Bush as a keynote speaker.
The past and present first ladies plan to speak at a ceremony Sept. 11 at the future site of the Flight 93 National Memorial, a project meant to honor the 40 passengers and crew members who died on the flight in the Sept. 11, 2001, attacks. Pennsylvania Gov. Ed Rendell and Interior Secretary Ken Salazar also plan to attend.
Neil Mulholland, president of The National Park Foundation, said the national parks charity group was "deeply honored" to have Obama and Bush at the same event.
"Their show of support honors the lives and memories of these 40 heroes and everyone we lost on Sept. 11, and serves as a valuable reminder of how important this memorial is to preserve and share their story," he said in a written statement.
The ceremony will be held at the site where the media reported on the crash, according to The National Park Foundation. A temporary memorial to the victims stands there, but organizers are raising money with the goal of completing the permanent memorial for dedication by Sept. 11, 2011.
The event comes amid a heated debate over a proposed Islamic center near Ground Zero in lower Manhattan. Republicans have criticized Obama for initially appearing to endorse the project, while the Council on American-Islamic Relations has called for former President Bush to step in, with the expectation that he, too, would endorse the proposal.
The Bush family has stayed mostly off the radar since leaving the White House. Laura Bush, though, in May released her book, "Spoken from the Heart," about her time in and out of the White House.