Michael Flynn pleads guilty to false-statements charge in Russia probe
NEWYou can now listen to Fox News articles!
Former National Security Adviser Michael Flynn pleaded guilty Friday to making false statements to the FBI – as part of a deal that involves his full cooperation with investigators in Special Counsel Robert Mueller's Russia probe.
Court documents show Flynn has acknowledged to investigators that at least two Trump transition members were involved in his outreach to Russian officials – though he initially gave false statements about those discussions.
The documents say that in late December 2016, Flynn called a senior transition official (identified as the "PTT official") to ask what to communicate to the Russian ambassador about sanctions. That official and Flynn discussed how they didn't want Russia to "escalate the situation," something Flynn immediately told the ambassador in a phone call.
A source with full knowledge of the investigation told Fox News on Friday that the "PTT official" named in the document is in fact K.T. McFarland, who was Flynn's deputy at the time and previously was a Fox News national security analyst.
The documents also say that in mid-December, a "very senior member" of the Trump transition team directed Flynn to contact foreign governments including Russia over a United Nations vote regarding Israeli settlements. Flynn in turn contacted the Russian ambassador.
The Associated Press reports the "very senior" official was Trump son-in-law Jared Kushner.
A source with knowledge of the investigation, however, told Fox News that this was part of an effort involving several transition officials making numerous calls. The source claimed Kushner did not specifically direct Flynn to call Russia, though did get the ball rolling on the phone calls in general.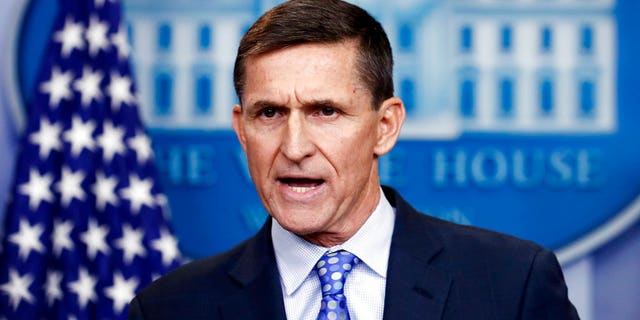 President Trump himself also was said to be involved in directing outreach to other countries. A former senior intelligence officer with knowledge of Trump transition activities told Fox News on Friday that then-President-elect Trump directed Flynn as well as McFarland during that period to contact the Russians -- while also directing the team to contact 12 other countries.
"The transition team felt that the Obama White House had completely abandoned any coherent foreign policy and had to fill the vacuum," the former official told Fox News.
The purpose of the calls, according to the source, was to assure the other nations that the incoming administration would soon be in place and not to overreact to last-minute actions taken by the Obama team.
In a statement, White House lawyer Ty Cobb said "nothing" about the plea implicates anyone other than Flynn.
According to the plea document, Flynn has agreed to "cooperate fully, truthfully, completely and forthrightly" with the probe, with sentencing delayed until those efforts "have been completed."
Flynn, a retired Army lieutenant general, becomes the first Trump ex-White House official charged in the special counsel probe.
His tenure at the White House was brief -- he was fired for similar conduct, pertaining to undisclosed discussions with the Russians -- and Flynn had been under investigation even before the special counsel probe over lobbying work for Turkey and other issues. The fact that he faced just one count prompted immediate speculation that Flynn was cooperating and offering information to Mueller's team.
In a written statement, Flynn said "it has been extraordinarily painful to endure these many months of false accusations of 'treason' and other outrageous acts."
However, he said, "I recognize that the actions I acknowledged in court today were wrong, and, through my faith in God, I am working to set things right. My guilty plea and agreement to cooperate with the Special Counsel's Office reflect a decision I made in the best interests of my family and of our country. I accept full responsibility for my actions."
A source close to Flynn said financial and emotional pressure helped lead to the decision to plead guilty, rather than endure a drawn-out court battle.
In his statement, White House lawyer Cobb said: "The false statements involved mirror the false statements to White House officials which resulted in his resignation in February of this year. Nothing about the guilty plea or the charge implicates anyone other than Mr. Flynn."
Flynn entered the plea at a federal court in Washington, D.C., shortly after Mueller's office released a one-count charging document. The false-statements charge pertains to Flynn's interactions with the Russian ambassador in late December -- specifically discussions about sanctions and other matters he apparently claimed never happened.
Flynn was accused of "willfully and knowingly" making the false statements to the FBI while serving in the Trump administration.
According to the charging document, those false statements were that:
"On or about Dec 29, 2016, FLYNN did not ask the Government of Russia's Ambassador to the United States ... to refrain from escalating the situation in response to sanctions that the United States had imposed against Russia that same day; and FLYNN did not recall the Russian Ambassador subsequently telling him that Russia had chosen to moderate its response to those sanctions as a result of his request."
"On or about December 22, 2016, FLYNN did not ask the Russian Ambassador to delay the vote on or defeat a pending United Nations Security Council resolution; and  that the Russian Ambassador subsequently never described to FLYNN Russia's response to his request."
The latter statement appears to refer to the body's vote a day later to condemn Israeli settlements in the West Bank.
In a striking rupture with past practice, the Obama administration refrained from vetoing the condemnation, opting instead to abstain. The rest of the 15-nation council, including Russia, voted unanimously against Israel. At the time, Israel was lobbying furiously against the resolution and President-elect Trump's team spoke up on behalf of the Jewish state.
Democrats, meanwhile, used Friday's development to up the pressure on Republicans to give the investigation into Russian meddling in the 2016 election space to proceed.
"This time, the president can't get away with claiming these charges aren't about his inner circle's contacts with Russia, and he can't dismiss Michael Flynn as some low-level aide," Democratic National Committee Chairman Tom Perez said in a statement.
Flynn is the fourth person charged in connection with Mueller's investigation.
Mueller's team announced charges in October against three other Trump campaign officials: former chairman Paul Manafort and his business associate Rick Gates, and a former foreign policy adviser, George Papadopoulos.
A Flynn plea deal had been rumored ever since his attorneys informed President Trump's legal team they could no longer discuss the investigation.
Flynn, who was interviewed by the FBI just days after Trump's inauguration, was forced to resign in February after White House officials said he had misled them about whether he had discussed sanctions with the ambassador, Sergey Kislyak.
Fox News' Catherine Herridge, Jake Gibson, Brooke Singman, John Roberts and Alex Pappas and The Associated Press contributed to this report.