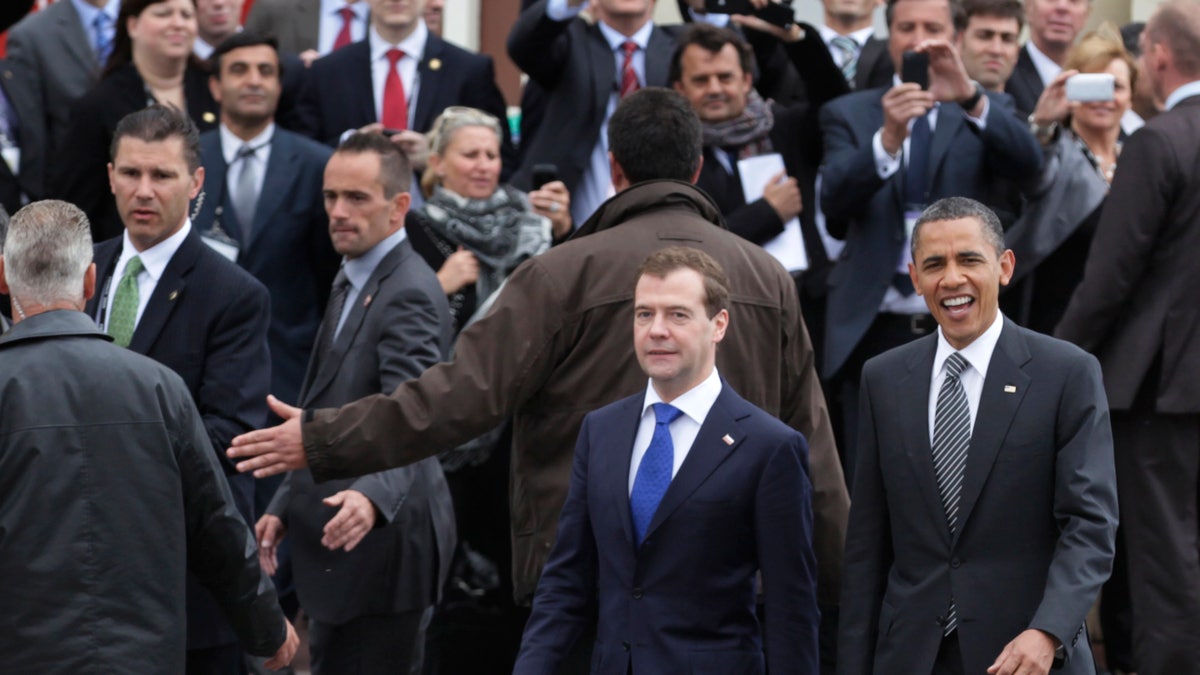 President Obama had just finished touting the "outstanding relationship" he and Dmitry Medvedev have built between themselves and their nations – the American leader even used the "reset" button metaphor again – when the Russian president turned to the thorny issue of Washington's plan to upgrade its missile defense shield, and uncorked a stunner.
"I have told my counterpart, Barack Obama, that this issue will be finally solved in the future," Medvedev told reporters in Deauville, France, "like, for example, in the year 2020."
It wasn't merely that Medvedev had chosen a date almost comically far into the future to suggest when the two nations might come to terms; the particular date he chose carried special meaning. 2020 is the year when the State Department has estimated the U.S. will deploy the SM-3 Block IIB, a missile still on the drawing board but being designed to intercept medium- and intermediate-range missiles that might be launched from the Middle East.
Since the Russians purport to see the Block IIB as a threat to Moscow's own ballistic missile arsenal, Medvedev's reference to the projected date of its deployment, in an otherwise cordial photo-op with the American president on the sidelines of an international summit, sent an unmistakable signal.
"He puts that marker out there," explained Michael McFaul, the senior director for Russian and Eurasian Affairs at the National Security Council, "to say that we have to have cooperation [on missile defense] before then, because if we don't, then we're going to have to think about these more dire scenarios."
In a briefing with reporters after the two presidents spoke, McFaul said the Russians are "wrong" to express concern about American intentions or capabilities with respect to the Block IIB. "First of all, let's just be clear, this is a concept -- it doesn't exist," McFaul said. "This is way in the future….Their argument is, 'That's what you have today. That's your technological abilities today. We don't know what your technological capabilities will be in 2020.'…What we say, and what the president said again today, is: 'Cooperate with us, work with us, get into our system. You get into our system and cooperate, you'll have much better visibility and much better understanding about our real capabilities and these fictitious ones.'"
The mini-summit occurred on a day when the U.S. House of Representatives passed – almost unanimously – a half-trillion-dollar defense spending bill that threatens to delay implementation of the START II nuclear arms reduction treaty between the U.S. and Russia. The accord was just finalized in February, and Obama cites it as a major foreign policy accomplishment.
One provision of the bill forbids the use of federal funds to retire a nuclear warhead unless the heads of the Departments of Defense and Energy certify that the remaining U.S. nuclear arsenal is being modernized. Another bars the commander in chief from adopting a new nuclear targeting strategy, or from removing certain weapons systems from Europe, without notifying Congress. The White House has threatened to veto the bill if those provisions remain in the final version of the legislation that reaches the president's desk.
Aides to the president argued that the personal dynamic between the American and Russian presidents can serve to assuage concerns in their respective legislatures back home.
"I think what we've seen happen is they can drive the relationship and they can push, frankly, their own governments who have habits, I think, of mistrust," said Deputy National Security Adviser Ben Rhodes, while traveling with the president.
Another divisive issue the two nations – and their legislatures – will have to work out is how much sensitive technology relating to missile defense they should share. A group of 39 Republican lawmakers, led by Sen. Mark Kirk of Illinois, wrote to Obama in April, demanding written assurance he would not provide to Moscow "early warning, detection, tracking, targeting, and telemetry data, sensors or common operational picture data, or American hit-to-kill missile defense technology."
The White House never responded to the letter.
A former Soviet military officer contacted by Fox News dismissed such concerns as evidence of residual Cold War distrust that is both unnecessary and unwise.
"It's really obsolete thinking, archaic," said Dmitri Trenin, now director of the Moscow center for the Carnegie Endowment for International Peace. "I think the Pentagon, because it very much reflects the view of the uniformed military, is less interested in missile defense cooperation with Russia than is the political leadership. For the political leadership, this is a project that could change the political relationship….And I would say the same thing applies to Russia. The Kremlin may be more eager to get an agreement with the United States, whereas people at the Ministry of Defense of the Russian Federation would be more interested in having more money flowing their way, to build missile defense against the United States."
"It's Russia that's locked in the Cold War mentality," Kirk countered in an interview with Fox News. "I think Russia wants to achieve by agreement what it cannot achieve by espionage, that with this data-sharing it would learn the most sensitive aspects of our missile defenses."