McMahon Knocks Out Opponents in GOP Senate Primary, Eyes Blumenthal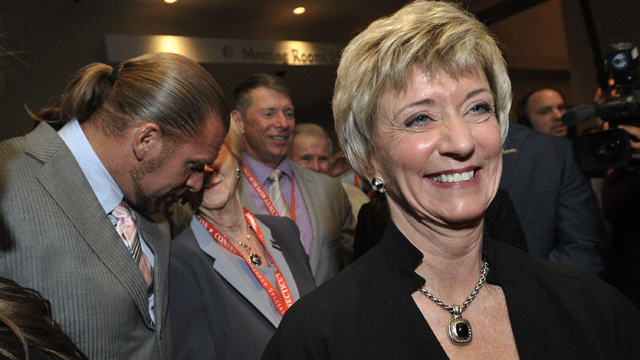 Linda McMahon, the former CEO of World Wrestling Entertainment, was the last woman standing Tuesday in a battle royal – this time in the political arena.
McMahon won the GOP primary in Connecticut, crushing money manager Peter Schiff and former Rep. Rob Simmons, the one-time favorite who suspended his campaign months ago but recently ran an ad reminding voters his name remained on the ballot.
McMahon will face State Attorney General Richard Blumenthal, who was unopposed for the Democrats' Senate nomination, in November to succeed retiring Sen. Chris Dodd, also a Democrat.
"Tonight, I am honored to have earned the support of Republicans around Connecticut," McMahon said in her victory speech, adding that she will be a voice of change.
"This election is about jobs. The American Dream is threatened, but Washington continues its reckless spending, massive debt, and tax increases," she said. "Washington is suffocating small businesses and killing jobs. This is not only threatening our well-being, but also the well-being of our children and grandchildren. It's time for something different."
The general election attacks soon followed from both sides.
"Tonight we saw what $25 million buys: the Republican Senate nomination from Connecticut," said Sen. Robert Menendez, the chairman of the Democratic Senatorial Campaign Committee.
"As the former WWE CEO, McMahon built an empire peddling violent, sexually explicit material that glorified the exploitation of women, and the mentally disabled," he said. "Yet, it's McMahon's record outside the ring that is raising the most serious questions -- including steroid abuse running rampant under her watch."
The National Republican Senatorial Committee by contrast portrayed McMahon as a "self-made businesswoman who helped grow her company from a modest 13-person endeavor to a successful international corporation" and Blumenthal as a dishonest politician.
"Just as we've seen in numerous other states, there's no doubt that Dick Blumenthal will attempt to reinvent his positions and distance himself from these unpopular policies between now and November," the committee said. "But unfortunately, he has demonstrated an unwillingness to tell Connecticut voters the truth. Whether he is lying about his military service or denying his recent travels to Canada to raise money from the the trial lawyer lobby, Dick Blumenthal has simply not been honest with voters."
With Republican Gov. Jodi Rell retiring, Connecticut voters also settled a pair of contested gubernatorial primaries.
GOP contenders included Lt. Gov. Michael Fidele; Tom Foley, a businessman and former U.S. ambassador to Ireland, and business executive Oz Griebel.
In other Connecticut races, former Stamford Mayor Dan Malloy defeated businessman Ned Lamont in the Democratic primary for governor, overcoming a better-known and better-funded opponent in the final weeks of the campaign.
For Malloy, the primary victory was a redemption of sorts for his loss in the 2006 Democratic gubernatorial primary against New Haven Mayor John DeStefano. This time, Malloy said it was easier to differentiate himself from Lamont, a Greenwich businessman best known for challenging Sen. Joe Lieberman in 2006.
Malloy will face the winner of a three-way Republican primary.
Lamont spent more than $8.6 million in the losing effort.
State Sen. Sam Caligiuri held off challenges from two other Republicans to win the party's nomination in the 5th congressional district.
Caligiuri entered the race late last year after dropping out of the contest for U.S. Senate, then won the party's endorsement at its May convention.
He was challenged by Justin Bernier, a veteran who served in Afghanistran, and Mark Greenberg, a Litchfield real estate developer.
Caligiuri, who also served as acting mayor of Waterbury following the arrest of Mayor Philip Giordano on child sex charges, will face U.S. Rep. Chris Murphy in November.
Caligiuri currently holds the state Senate seat vacated by Murphy when he was elected to Congress in 2006.
The Associated Press contributed to this report.