McConnell: 'Inappropriate to politicize' Las Vegas massacre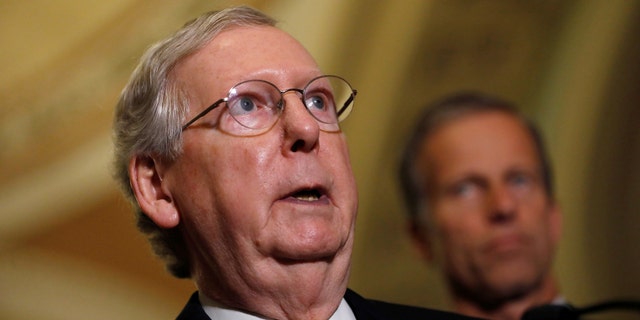 NEWYou can now listen to Fox News articles!
Mitch McConnell, the Senate majority leader, called it both "inappropriate" and "premature" to discuss whether Congress should consider gun control legislation in the wake of Sunday's massacre in Las Vegas, where 59 people were killed and more than 500 were injured by a crazed gunman who shot concertgoers from a high-rise casino hotel room.
"Look the investigation has not even been completed, and I think it's premature to be discussing legislative solutions, if there are any," McConnell told reporters, when asked if he could support new gun restrictions in response to the country's deadliest mass shooting.
Pressed on the issue, McConnell said the Senate's priority is still on passing tax reform.
"I think it's particularly inappropriate to politicize an event like this," the Kentucky Republican said. "It just happened in the last day and a half."
Democrats are calling on Congress to take action. On Monday morning, just hours after the shooting, 2016 Democratic presidential nominee Hillary Clinton called for the defeat of a National Rifle Association-backed bill in Congress that would ease regulations on gun silencers.
"The crowd fled at the sound of gunshots," Clinton tweeted. "Imagine the deaths if the shooter had a silencer, which the NRA wants to make easier to get. Our grief isn't enough. We can and must put politics aside, stand up to the NRA, and work together to try to stop this from happening again."
Likewise, Connecticut Democratic Sen. Chris Murphy, an ardent proponent of gun control, blasted what he referred to as "legislative indifference" on guns.
"It's time for Congress to get off its ass and do something," he said.
On Tuesday, President Trump wouldn't discuss whether he thought there should be new gun control measures, but suggested he's open to a debate about gun laws in the United States at a later date.
HILLARY CLINTON SLAMMED FOR STATEMENT ON GUNS AFTER LAS VEGAS SHOOTING
"Look, we have a tragedy," the president told reporters at the White House. "What happened is, in many ways, a miracle. The police department, they've done such an incredible job. And we'll be talking about gun laws as time goes on."
White House Press Secretary Sarah Sanders said Monday it's too early to discuss policy changes when authorities still haven't gathered all the facts of the shooting.
"There's a time and place for a political debate, but now is the time to unite as a country," Sanders said. "There is currently an open and ongoing law enforcement investigation. A motive is yet to be determined."