McCarthy shreds Biden's budget proposal: 'Completely unserious'
President Biden's budget calls for $2 trillion in new taxes on the wealthy and a 25% minimum tax on billionaires
House Speaker Kevin McCarthy, R-Calif., trashed President Biden's 2024 budget proposal as "completely unserious" shortly after it was released by the White House on Thursday, cementing it as dead on arrival.
For weeks, the White House has been calling the president's budget a statement of values, reflecting their understanding that Congress will not pass it as written. Instead, presidential budgets are largely symbolic, showing the executive branch's spending priorities and setting the parameters for spending debates in Congress.
This year's budget comes as Biden and House Republicans are in a standoff, each waiting for the other to cave before this summer's deadline to raise the debt ceiling passes.
Biden is seeking higher taxes to lower the deficit, which McCarthy has flatly rejected. The president's budget calls for $2 trillion in tax hikes on individuals making more than $400,000 to keep Medicare solvent, as well as a 25% minimum tax on billionaires.
BIDEN AIMS TO CUT TAX BREAKS FOR OIL, GAS COMPANIES IN BUDGET BLUEPRINT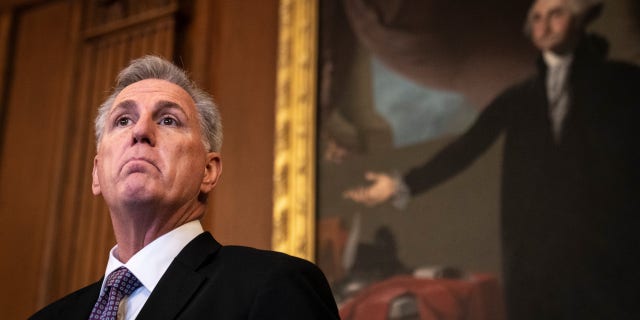 "President Biden just delivered his budget to Congress, and it is completely unserious," McCarthy tweeted on Thursday. "He proposes trillions in new taxes that you and your family will pay directly or through higher costs. Mr. President: Washington has a spending problem, NOT a revenue problem."
In response to Republican demands to cut spending, the White House has accused the GOP of wanting to cut popular social programs including Social Security, Medicare and Medicaid. Democrats are demanding a "clean" debt ceiling increase, and Biden has refused to negotiate with Republicans, demanding that they put forward their own budget proposals first.
Republican lawmakers have adamantly denied they plan to touch Social Security or Medicare — but Politico reported Wednesday they're considering adding new work requirements to Medicaid and repealing Obamacare's Medicaid expansion, which Democrats say would leave millions of Americans uninsured.
Some lawmakers, including Rep. Jim Jordan, R-Ohio, have said cuts to military spending should be on the table, but McCarthy faces fierce opposition to such talk from defense hawks in his conference.
GOP READIES BUDGET PLAN IN 'COMING WEEKS' IN RESPONSE TO BIDEN'S 'OUT-OF-CONTROL SPENDING'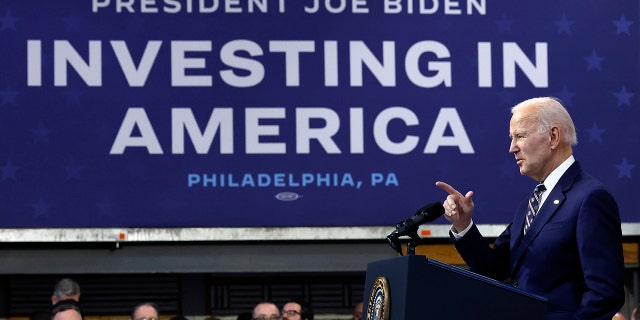 Congressional Budget Office Director Phillip L. Swagel briefed House members on Wednesday on the agency's budget and economic outlook for the next 10 years ahead of the release of Biden's budget. After the briefing, McCarthy told reporters Biden was harming the economy by delaying negotiations on spending.
A join statement released by House GOP leaders on Thursday that slammed Biden's budget echoed points he had made.
"President Joe Biden's budget is a reckless proposal doubling down on the same Far Left spending policies that have led to record inflation and our current debt crisis," the Republicans said.
"We must cut wasteful government spending. Our debt is one of the greatest threats to America and the time to address this crisis is now," their statement read. "Yet, President Biden is proposing out of control spending and delaying debt negotiations, following his pattern of shrugging and ignoring when faced with a crisis."
BIDEN PITCHES SOAK-THE-RICH TAX PLAN: HERE'S WHAT'S IN IT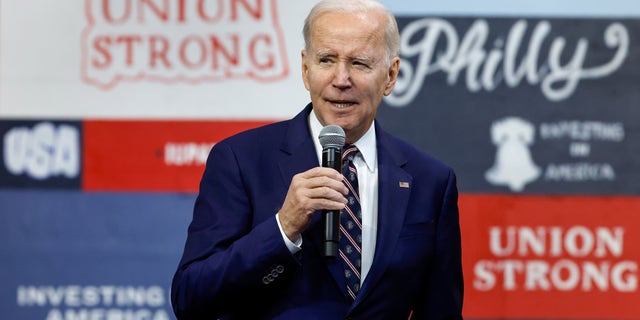 Democratic leaders were dismissive of the GOP complaints.
"If they want to have a conversation, as they're lecturing America, show us your plan. Put it into the public domain. Take your plan out of the witness protection program," House Minority Leader Hakeem Jeffries, D-N.Y., said at a press conference Thursday morning.
Senate Majority Leader Chuck Schumer, D-N.Y., praised Biden's budget for "presenting a realistic blueprint for lowering the deficit without cutting benefits Ameriacns rely on."
CLICK HERE TO GET THE FOX NEWS APP
"Speaker McCarthy—Come clean and spell out what cuts you're planning and how it will put pain on families," Schumer said.