McCain book blasts Benghazi response as bureaucratic 'a-- covering,' hits Trump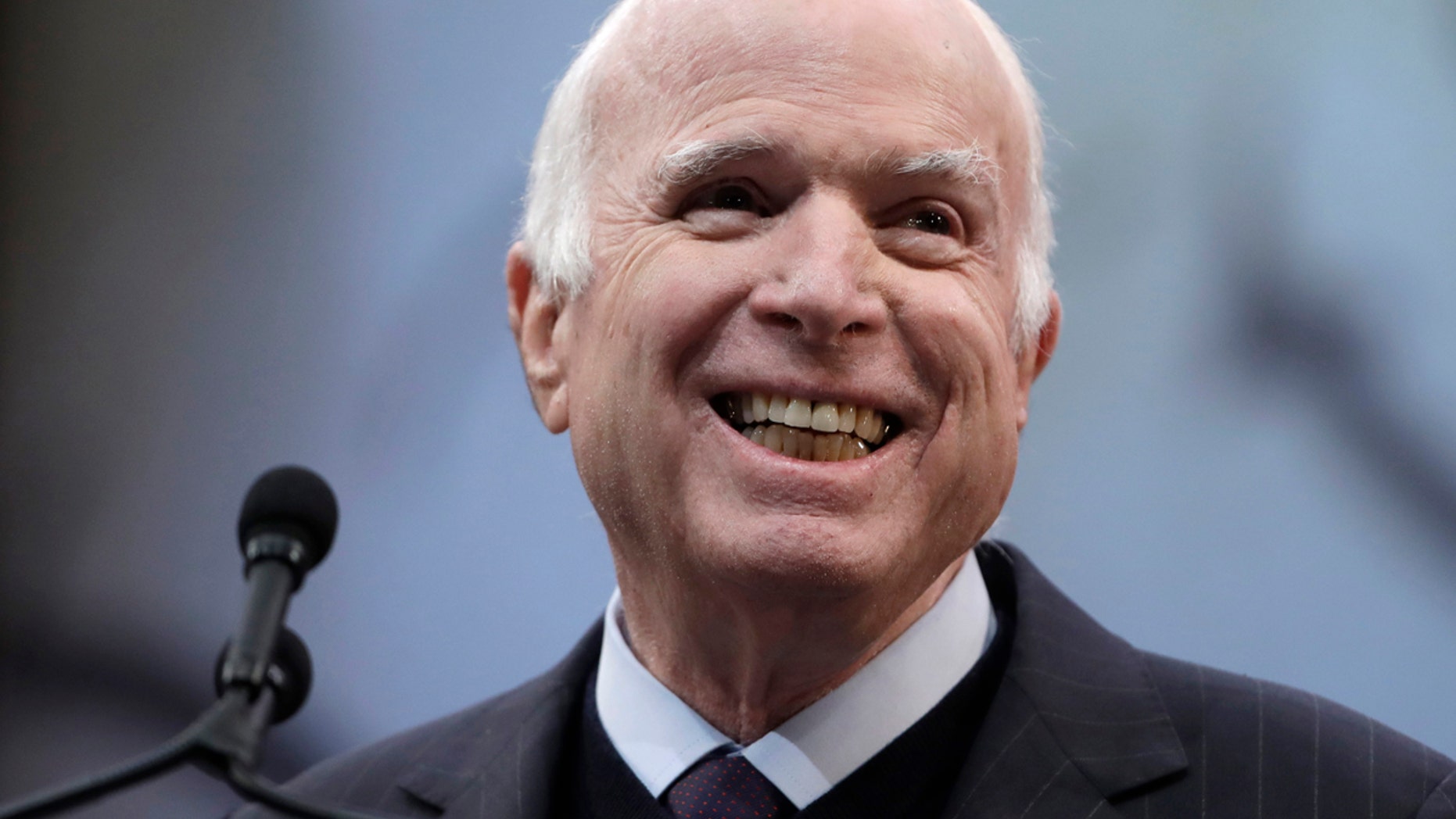 Sen. John McCain blasted the Obama administration's response to the 2012 Benghazi attack as "bureaucratic incompetence" and "a-- covering," in his new memoir set to be released later this month.
Fox News obtained an advance copy of "The Restless Wave: Good Times, Just Causes, Great Fights, and Other Appreciations" written by McCain, R-Ariz., and Mark Salter, who has collaborated with McCain on all seven of his other books.
McCain devotes a chapter to the "Arab Spring," detailing his visits to Libya and praising U.S. Ambassador Chris Stevens -- who was killed in the September 2012 attacks -- as "a talented diplomat, and an exceptional human being."
"He believed in what he was doing, supporting the Libyan people's rights to freedom and justice, and helping them build an open society, and he was effective," McCain wrote. "... I miss him very much."
The attack -- in which U.S. Foreign Service Officer Sean Smith, and Navy SEALs Glen Doherty and Tyrone Woods, were killed -- was the subject of extensive investigations from congressional Republicans during the Obama administration.
McCain, in his book, reiterated a central criticism: "Chris had asked the State Department for more security for the Benghazi mission [before the attack], but it had been denied."
McCain said he was "terribly saddened" by the news, but "wasn't angry with the administration" -- at first.
"I started to get angry when it appeared administration officials were knowingly misleading us about the attack, attributing it to a video that some idiot had made mocking Islam that incited a spontaneous mob that turned violent," McCain wrote. "It took more than a week for the White House to acknowledge it had been a planned terrorist attack. The uproar that ensued became a lasting political controversy that's still debated."
MCCAIN SAYS TRUMP SHOULD SKIP HIS FUNERAL
McCain, throughout the memoir, spoke favorably of his "friend" Hillary Clinton, who at the time of the attack was secretary of state. But the Clinton State Department was faulted for ignoring security concerns in the run-up to the attack, contributing to the poor defense at the post. The Accountability Review Board that examined the tragedy concluded there were, "Systemic failures and leadership and management deficiencies at senior levels" at the department.
At the time, McCain was an outspoken critic, calling the administration's response "willful ignorance or abysmal intelligence" and "a massive cover-up or incompetence."
'In the end, all it established is what could have been presumed at the beginning, bureaucratic incompetence and a---covering, two common conditions in Washington."
"In the end, all it established is what could have been presumed at the beginning, bureaucratic incompetence and a-- covering, two common conditions in Washington," McCain wrote. "Anger subsides, politics moves on, but sadness remains. Chris Stevens deserved better from all of us."
The Benghazi segment is just a piece of the 400-page book, which seems to avoid the kind of scorching score-settling found in other recently released political memoirs—but McCain does reserve harsh criticism for President Trump and to a lesser extent Senate colleague Rand Paul.
McCain questioned Trump's "convictions," saying he has "appeared to be more than merely a realpolitik adherent" who seems "to mock the idea that America has any business at all in promoting its values abroad."
"I don't know if that is sincerely his view or if he believes that global progress of democracy and the rule of law should be only a distant, notional goal of American statecraft," McCain wrote, noting that Trump "threatened to deliberately kill the spouses and children of terrorists, implying that an atrocity of that magnitude would show the world America's toughness."
McCain criticized Trump's "lack of empathy" for "refugees, innocent, persecuted, desperate men, women and children" as "disturbing" and "appalling."
McCain also criticized Trump's usage of the term "fake news," saying it is "copied by autocrats who want to discredit and control a free press."
"The appearance of toughness or a reality show facsimilie of toughness seems to matter more than any of our values," McCain wrote. "Flattery secures his friendship, criticism his enmity."
He added: "It's hard to know what to expect from President Trump, what's a pose, what's genuine."
McCain underscored the importance of "supporting the rights of others," and said that deserting that mindset would be "an abdication of moral responsibility." McCain accused Trump of showering "praise" on the "world's worst tyrants."
McCain also took a shot at Sen. Rand Paul, R-Ky.
"I've been to crazy town before, and I've seen how impervious to reason, facts, and common sense these delusions can be," McCain wrote. "Rand Paul believed the unsubstantiated charge that I had met with representatives of ISIS during my brief visit to Syria, and he said so publicly."
McCain's book is being released to the backdrop of questions about his health. The 81-year-old Arizona senator underwent surgery for an intestinal infection recently and was diagnosed last summer with glioblastoma, an aggressive brain cancer.
"I don't know how much longer I'll be here. Maybe I'll have another five years. Maybe, with the advances in oncology, they'll find new treatments for my cancer that will extend my life. Maybe i'll be gone before you read this. My predicament is, well, rather unpredictable," he wrote. "But I'm prepared for either contingency, or at least I'm getting prepared. I have some things I'd like to take care of first, some work that needs finishing, and some people I need to see. And I want to talk to my fellow Americans a little more if I may."