Martin O'Malley makes Latino voters one of his main targets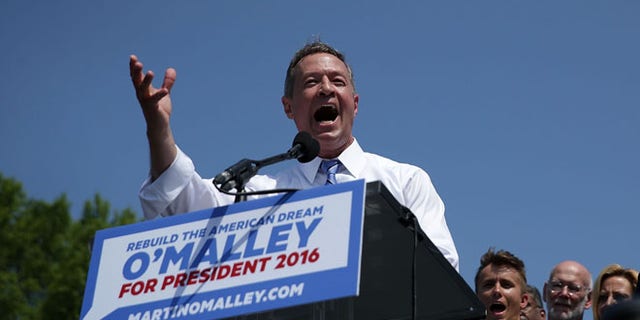 NEWYou can now listen to Fox News articles!
Between appearances on Spanish-language television, a speaking engagement Wednesday at the Hispanic Chamber of Commerce and spelling out his immigration policy to anyone who will listen, former Maryland Gov. Martin O'Malley in his first week on the campaign trail is letting Latinos know that he wants to be their candidate.
O'Malley, a Democrat who announced his presidential bid last Saturday in Baltimore, is attempting to separate himself from Democratic frontrunner Hillary Rodham Clinton, who while recently dropping in the polls still holds a commanding lead in the small Democratic field.
"I believe that one of the greatest strengths of our country is our diversity," O'Malley said at the chamber on Wednesday. "That's part of my DNA, that's part of my make-up."
O'Malley's record with Latinos in Maryland is something he and his campaign staff are actively trying to push when speaking to Latino voters.
During his time as governor of Maryland, the state implemented its own version of the DREAM Act, which granted in-state tuition benefits at public universities and colleges to certain undocumented immigrants, and also adopted a two-tiered immigration system that permitted undocumented immigrants to get limited driver's licenses. O'Malley also won high praise from Latinos in Maryland when he increased the state's minimum wage from $7.25 to the $10.10 an hour that will begin in 2018 and raised state procurement awards to Latino business by 150 percent when he was in office.
"The experience that we have had with him in Maryland is amazing," Gustavo Torres, the executive director of the immigrant aid group CASA de Maryland, told Fox News Latino. "He is very invested in our community and he will be a formidable candidate and he will have a huge appeal with Latino voters."
This support that O'Malley has with the Latinos in Maryland is something that, early in his campaign, he is actively trying to expand to Latinos nationwide.
Besides his media blitz and speaking engagements, O'Malley picked Jonathan Jayes-Green, the son of undocumented immigrants from Panama, to introduce him when he made his presidential bid announcement.
During his question-and-answer session at the chamber, O'Malley laid down his plan for immigration reform if elected president, which he said included passing some type of legislation within the first 100 days in office, taking executive action if needed and focusing on keeping undocumented immigrant families together.
"We need to talk about immigration as essential for our economy, for our national security and for our country as a whole," he said.
O'Malley's biggest challenge is getting people to know who he is in a Democratic race that has so far has been dominated by news coverage of Hillary Clinton – from the scandal surrounding her emails during her time as Secretary of State to her sweeping immigration reform proposals. The Clinton coverage has left O'Malley and Vermont Sen. Bernie Sanders, the only other Democratic candidate who has so far declared his candidacy, to fight for second billing.
"Latinos in Maryland know him and love him," one O'Malley campaign staffer told FNL. "And the effort now is to get Latinos across the nation to know him because nobody can make it to the White House without the Latino vote."
Both observers and O'Malley staffers say he has his best shot of gaining some ground on Clinton if he focuses on Latino issues and shapes the Democratic debates around issues they care about.
He already went up against the Obama administration last summer over how to handle the surge of migrant children coming over the U.S.'s southern border, accusing the White House of being too ready to send them home. He peppered his speeches during that time with references to the Statue of Liberty, his own family's Irish immigrant experience and his favorability among Latinos while governor.
"I am the only one with 15 years of executive experience and one of the greatest judges of what a person can do is what they do in the past," O'Malley said. "I intend to pursue this conversation throughout the entire election season."
Clinton has typically had strong Latino voter support. In the 2008 Democratic primaries, Latinos supported her over then Sen. Barack Obama by an overall margin of almost 2 to 1. In Nevada, which is shaping up to be a critical battleground state, Latinos were among her most enthusiastic supporters, preferring her over Obama in the state's primary 64 to 26 percent.
The Clinton campaign has also made an effort to hire Latinos, including Amanda Renteria, who is Clinton's national political director. Latino voter support will be critical during the election season because two Republican presidential candidates, Florida Sen. Marco Rubio and Texas Sen. Ted Cruz, are Hispanic, and another candidate, former Florida Gov. Jeb Bush, is married to a Mexican-American.
Even so, O'Malley's staffers are touting him – ahead of candidates on both sides of the political divide – as the Latino candidate for 2016.
"His record makes him the most effective Latino candidate in this election," the O'Malley staffer said. "No other candidate – Democrat or Republican – can say that they have done more. He is the only one who has the record of getting things done."