Lois Lerner ripping 'crazies' on right: Why some media folks don't care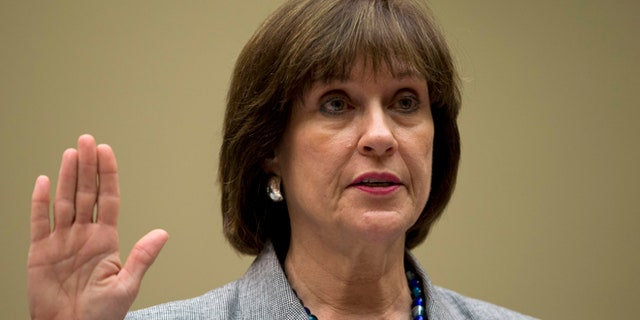 NEWYou can now listen to Fox News articles!
The new batch of Lois Lerner emails may or may not be a smoking gun. But they're something of a Rorschach test for the media.
For the former IRS official to be branding conservative commentators as "crazies" and "a--holes" is a telling moment in this scandal—but some in the media could care less.
To be sure, this investigation has dragged on a long time without proving a link between the White House and the Cincinnati office's targeting of advocacy groups, especially on the right, for special scrutiny of their tax-exempt status. Critics say that conservative outlets such as Fox have tried to keep the story alive.
But the administration has done a decent job of bringing the story back to the headlines. The IRS acknowledged that it could not find two years' worth of lost emails written or received by Lerner, who pleaded the Fifth when summoned by Congress. And the commissioner, William Koskinen, sounded downright arrogant when he showed up on the Hill.
Now the Republicans have found three emails in which Lerner disparaged conservatives.
What did the New York Times give the story? One measly paragraph, written by the AP, in a roundup column.
How much airtime did the story get that night on ABC's "World News"? None.
The messages don't prove that Lerner deliberately targeted Tea Party groups for special scrutiny, or that higher-ups knew about it. But they reveal a whole heckuva lot about her state of mind.
To give it short shrift suggests a certain eye-rolling attitude toward the IRS story, or perhaps a tacit view that some conservatives are kinda nuts.
Imagine a swirling controversy about a Bush administration official who was alleged to be out to get liberal groups. Emails surface in which the person rips, say, pundits on MSNBC or other liberal activists. Wouldn't the press go crazy that such a biased individual was in charge of investigations? Wouldn't there be analyses and op-ed columns and followup stories?
The Washington Post did a modest piece and, like most news outlets, chose not to publish the A-word:
"Former Internal Revenue Service official Lois Lerner once used an offensive term to describe conservatives who criticize the direction of the country, according to emails released Wednesday by House Republicans.
"Lerner, a central figure in the IRS's targeting controversy, referred to right wing firebrands as '__holes.' She also suggested that they could threaten the nation's future, saying: 'So we don't need to worry about alien terRorists [sic]. It's our own crazies that will take us down.'"
Politico reflected each point of view:
"Lerner, through her lawyer, maintains her innocence, and the new seemingly personal exchange does not prove that she allowed bias to infiltrate her job, merely that she had a number of opinions. Earlier emails released by the panel suggested she was a Democrat…
"Republicans say the new emails further their argument that Lerner — whose division singled out tea party groups seeking tax breaks for additional scrutiny — was biased, arguing in a news release that the exchange 'directly demonstrates Ms. Lerner's deep animus towards conservatives.' Democrats have called the relentless focus by the GOP a partisan witch hunt."
While "World News" blew off the story, NBC and CBS did not.
At "NBC Nightly News," Brian Williams nailed it, saying "the investigation into a partisan scandal at the I.R.S. has now just come to new life in a graphic way. Emails were released today by a House committee investigating former I.R.S. official Lois Lerner, who is accused of targeting the Tea Party and other conservative political groups for special scrutiny. The emails attributed to her may say a lot about political motivations."
Kelly O'Donnell then reported: "Lois Lerner has long refused to cooperate with Congress....But her harsh words, apparently aimed at conservative talk radio, contained in just-released I.R.S. emails, are drawing new fire."
On the "CBS Evening News," Chip Reid said: "Congressional Republicans have long argued that former I.R.S. official Lois Lerner was hostile to conservatives. Now, they believe they have a smoking gun."
All in all, a mixed performance by the MSM.
It's worth dwelling on the wording to get a sense of the culture at the IRS.
Lerner was having an exchange in 2012 with another official, not with the IRS, who was ridiculing conservative talk radio: "Well, you should hear the whacko wing of the GOP. The US is through; too many foreigners sucking the teat; time to hunker down, buy ammo and food and prepare for the end. The right wing radio shows are scary to listen to."
Lerner's response: "Great. Maybe we are through if there are that many assholes."
Her colleague says: "And I'm talking about the hosts of the shows. The callers are rabid."
Wrote Lerner: "So we don't need to worry about alien terrorists. It's our own crazies that will take us down."
Great. Wacko wing. Rabid. Crazies. This isn't exactly nuanced criticism.
Now even a federal official is entitled to private opinions, although putting them in emails in this digital age is, well, dumb. It doesn't mean that person broke the law in carrying out her job.
But since Lois Lerner has remained silent, it looks bad, to say the least—and is more than worthy of serious coverage.