Lawyer for Wasserman Schultz' ex-IT aide: Fraud count might be 'placeholder' for more charges
The attorney for a House IT staffer arrested this week as he was trying to leave the country fired back at the feds in an interview with Fox News, while also speculating that the bank fraud count he faces could be a "placeholder" for more charges.
Imran Awan -- a former IT aide for Rep. Debbie Wasserman Schultz, D-Fla., who had kept him on the payroll for months -- has been at the center of a congressional computer equipment scandal. Law enforcement officials from multiple federal agencies were involved in his arrest at Dulles International Airport on Monday, as he was set to fly to Pakistan.
But attorney Christopher Gowen told Fox News that federal authorities have no evidence of misconduct by Awan relating to his IT duties.
Awan, 37, of Virginia, pleaded not guilty on Tuesday to the single count of bank fraud, which focused on loan application filings he and his wife made and was unrelated to computer services he and his family performed for House Democrats.
FEDS ARREST IT STAFFER TRYING TO LEAVE COUNTRY
Gowen speculated the charge "could be a placeholder" designed to secure Awan's arrest, with the intention that it will be supplemented, or supplanted, by additional bank fraud-related charges. But the attorney said six months of federal investigation into the IT work in the House had "turned up nothing on procurement."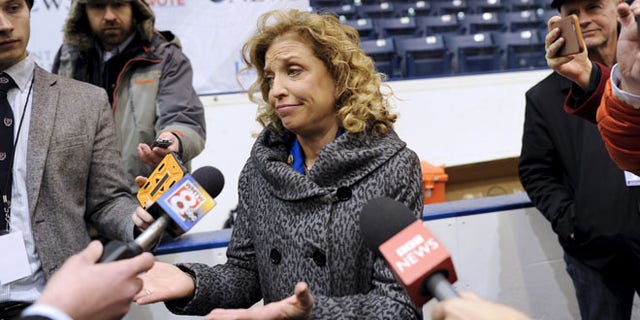 Law enforcement authorities for months have been looking into how Awan may have double-billed the House for equipment like computers, iPads, monitors, keyboards and routers.
The case nevertheless has put additional scrutiny on Wasserman Schultz, who kept Awan on staff for months even as relatives of Awan who worked for House Democrats were fired.
After Awan was arrested, Wasserman Schultz announced she had let him go.
"Mr. Awan previously served as a part-time employee but his services have been terminated. No charges, evidence or findings from the investigation have been formally shared with our office, so we cannot comment on them," spokesman David Damron said Tuesday in a statement.
The criminal complaint and affidavit said Awan had bought a ticket to fly Monday to Doha, Qatar, and then Lahore, Pakistan, with a return flight booked for early January.
But Gowen said Awan had bought that ticket two weeks ago after securing assurances that the government had no objections to, and was placing no restrictions on, his travel abroad.
A statement from the law firm, Gowen Rhoades Winograd & Silva, PLLC, also echoed some Democrats' claims that the attention on Awan is tied to bias over his Pakistani ethnicity.
"The attacks on Mr. Awan and his family began as part of a frenzy of anti-Muslim bigotry in the literal heart of our democracy, the House of Representatives," the statement said. "… Now we have the Justice Department showing up with a complaint about disclosures on a modest real estate matter. To an extent, the situation speaks for itself."
The statement said Awan, in buying the plane ticket, was trying to see his family and not trying to "flee" the country. "[W]e are confident that Mr. Awan will soon be able to clear his name," the statement said.
Fox News' James Rosen and Chad Pergram contributed to this report.