Lawmakers Call for U.S. to Cut Off Aid to Palestinians After Hamas-Fatah Announcement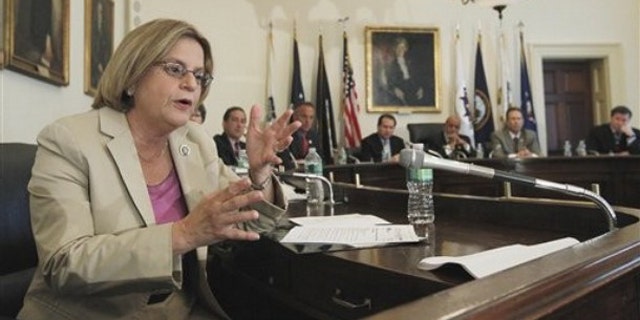 NEWYou can now listen to Fox News articles!
Lawmakers on both sides of the aisle are calling for the U.S. government to cut off aid to the Palestinians after the government in the West Bank reached a tentative unity agreement with Hamas, a U.S.-designated terror group.
The calls from top-ranking members of Congress were laced with warnings that the U.S. risks financing terrorist operatives if aid continues. Significantly, House Foreign Affairs Committee Chairwoman Ileana Ros-Lehtinen, R-Fla., noted that a 2006 law conditions U.S. aid on the requirement that its Palestinian recipients renounce violence and recognize Israel's right to exist.
Those requirements were fulfilled when aid was going to the Palestinian Authority, controlled by the West Bank-based Fatah. But rocket-firing Hamas, which controls the Gaza Strip, does not abide by those conditions.
Ros-Lehtinen and others said a sudden partnership between the two halves of the divided Palestinian government would mean U.S. assistance must cease.
"U.S. taxpayer funds should not and must not be used to support those who threaten U.S. security, our interests and our vital ally, Israel," she said in a written statement. "According to existing U.S. law, such a hybrid government cannot be a recipient of U.S. taxpayer funds because the law stipulates that the PA government must recognize the Jewish state of Israel's right to exist, among other things.
"Therefore, in order to implement existing law, the U.S. must end assistance to the Palestinian Authority," she said.
That's not a small amount of money. The president's 2012 budget request calls for $513 million in aid to the Palestinian Authority, an increase over past years.
Rep. Gary Ackerman, D-N.Y., agreed that the assistance should be withheld, calling the deal "a recipe for failure, mixed with violence, leading to disaster."
"The United States will be compelled by both law and decency to withhold any assistance that could fall into the hands or control or even partial control of anyone reporting to, or belonging to a terrorist entity, as is Hamas. And in the current political climate, even assistance that would otherwise have gone to parts of the Palestinian Authority untainted by terrorism may no longer be salvageable," he said.
Rep. Nita Lowey, D-N.Y., top Democrat on the House foreign aid subcommittee, similarly said the funding is now "at risk."
Israeli leaders already have rejected the prospect of a unity government. With peace talks on the skids as it is, Israelis do not want to negotiate with a Hamas-infused Palestinian contingent.
It's unclear exactly what the unity deal will entail. The Obama administration said Wednesday it was still "seeking more information" about the agreement.
Tommy Vietor, a spokesman for the National Security Council, stressed that the U.S. "supports Palestinian reconciliation on terms which promote the cause of peace." He urged Hamas to change its ways.
"Hamas ... is a terrorist organization which targets civilians," he said. "To play a constructive role in achieving peace, any Palestinian government must accept the Quartet principles and renounce violence, abide by past agreements, and recognize Israel's right to exist."
Ros-Lehtinen said an alliance between Fatah and Hamas would mean the Palestinian Authority would be "standing with those who want only death and destruction for Israel."