Latina Magazine breaks with tradition and endorses Hillary Clinton for president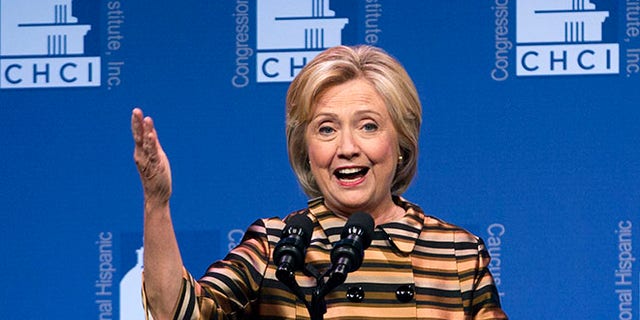 NEWYou can now listen to Fox News articles!
Latina Magazine on Friday became the latest of several publications that have broken with tradition and endorsed Democrat Hillary Clinton for U.S. president.
The magazine, which launched in 1996, announced that it is endorsing Clinton, the first woman ever to be nominee for U.S. president for one of the two major political parties.
"This is no ordinary year," the magazine's editorial board said in its announcement. "After enduring a targeted onslaught on our community by [Republican candidate] Donald Trump for the past 16 months, the stakes for Latinas has never been greater."
"Which is why we are joining forces with fellow leaders in media and business, artists, activists and influencers, to stand together to officially endorse Hillary Clinton for president," the magazine board said.
The 2016 presidential election has prompted several publications to make endorsements for the first time, including Foreign Policy, which officially urged people to vote for Clinton.
The Arizona Republic and San Diego Union-Tribune, which have never endorsed a Democrat for president, broke with that tradition in this election. The Cincinnati Enquirer, which said it had not backed a non-Republican it about 100 years, also endorsed Clinton.
The Latina Magazine endorsement also carried the signatures of prominent Hispanics such as actress Eva Longoria, actor John Leguizamo, "The Real" co-host Adrienne Bailon and civil rights activist Dolores Huerta.
"Let us be clear: The true disaster for our community is Donald Trump," the statement said.
"Donald Trump's insults, including calling a former Miss Universe [Venezuelan Alicia Machado] 'Miss Housekeeping' and 'Miss Piggy,' has already set off ripples of bigotry and violence: Hate crimes against Latinos have risen 69 percent in Los Angeles alone. Other states have reported attacks directly linked to Trump's rhetoric."
The editorial board urged Latinos to vote on Nov. 8.
"A vote for Hillary Clinton is not only a rebuke against Donald Trump's xenophobic attacks," the editorial read, "it is a better choice on the vital issues that matter most to us."
Like us on Facebook
Follow us on Twitter & Instagram