Kerry arrives in Iraq amid threat of widening sectarian war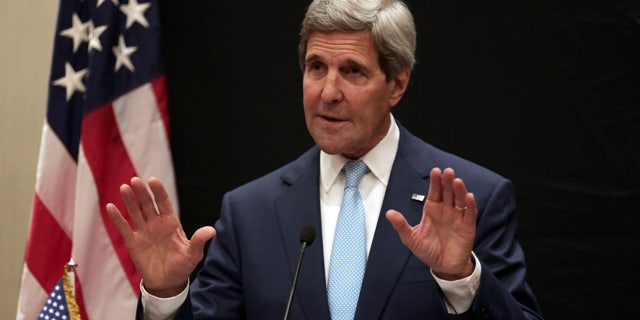 Secretary of State John Kerry arrived in Iraq Monday to try and prevent the country from descending into sectarian civil war fewer than three years after the departure of American forces.
Kerry was scheduled to meet with Iraqi Prime Minister Nouri al-Maliki as well as senior Kurdish and Sunni leaders. Kerry was expected to personally urge the Shiite al-Maliki to give more power to political opponents in an attempt to defuse a Sunni insurgency that has captured large amounts of territory in the north and west of the country, including several key border crossings between Iraq and Syria.
"This is a critical moment where, together, we must urge Iraq's leaders to rise above sectarian motivations and form a government that is united in its determination to meet the needs and speak to the demands of all of their people," Kerry had said a day earlier in Cairo.
Kerry arrived in Baghdad just a day after the Sunni militants from the Al Qaeda-inspired Islamic State in Iraq and the Levant (ISIS) captured two key border posts, one along the frontier with Jordan and the other with Syria. Those militant successes followed the fall on Friday and Saturday of the towns of Qaim, Rawah, Anah and Rutba, all of which are in Sunni-dominated Anbar province, where the militants have since January controlled the city of Fallujah and parts of the provincial capital, Ramadi.
The meeting between Kerry and al-Maliki was not expected to be friendly, given that officials in Washington have floated suggestions that the Iraqi premier should resign as a necessary first step toward quelling the vicious uprising.
However, a senior State Department official said that Kerry would not ask al-Maliki to resign Monday because "it's not up to us."
Currently, Baghdad is operating under a lame-duck government, as a new parliament that was elected in April has not yet selected its Cabinet ministers. It took more than nine months to seat a new government the last time Iraq underwent the process, in 2010. This time around, the State Department official said, al-Maliki and other Iraqi officials cannot risk exacerbating the political instability, and further inflaming the insurgency, by stalling a new and more inclusive government.
Both President Barack Obama and Iraq's top Shiite cleric, Grand Ayatollah Ali al-Sistani, also have urged al-Maliki to quickly form an inclusive government that promotes the interests of all of Iraq's ethnic and religious groups.
The senior State Department official said the insurgents' recent march on Baghdad has been slowed, although concerns remain that ISIS will attack the golden-domed Shiite shrine to the Imam al-Askari in Samarra. That city, in Sunni territory in north-central Iraq, was the site of a 2006 bombing that triggered the worst of the war's sectarian fighting. Last week, Senate Majority Leader Harry Reid declared that Iraq is currently in a civil war.
Adding to the country's fragmentation is the role of Kurdish fighters, who seized the strategic oil city of Kirkuk in northern Iraq earlier this month. Control of the city has long been a point of contention between leaders of the autonomous Kurdish region and the government in Baghdad.
The senior State Department official acknowledged Monday that the Kurds may hold Kirkuk for the foreseeable future, saying, "I mean, if you just look at where the [Kurdish forces are] now compared to where they were two weeks ago, not so much out of a deliberate move but out of just the exigency of the situation. Some facts on the ground can be created that might not be reversed."
The official briefed reporters on condition of anonymity because he was not authorized to be named in discussing the negotiations. He described al-Maliki and other Iraqi officials as anxious about what, if any, additional help the U.S. might provide to help curb ISIL after Obama this week said he would send about 300 special forces troops to Baghdad to advise and train local security forces.
Obama did not rule out the possibility of also launching airstrikes against the insurgents, but that is not expected anytime soon, if ever, and he has adamantly said he will not send combat forces back to Iraq.
Fox News' James Rosen and The Associated Press contributed to this report.