Kansas gubernatorial hopeful calls out 'snowflake meltdown' after riding jeep with replica gun at parade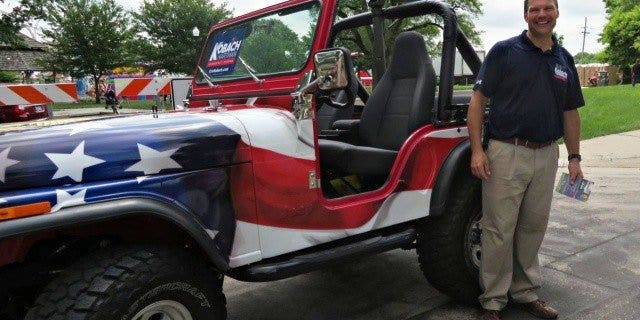 Republican Kansas governor hopeful Kris Kobach said he won't "back down in the face of a snowflake meltdown and outrage culture" after being criticized for riding in a jeep mounted with a replica of a large gun at a parade on Saturday.
Koback, the state's secretary of state, raised eyebrows on social media over the weekend after he attended the Old Shawnee Days parade, named after the Kansas City-suburb.
"Had a blast riding in the Old Shawnee Days Parade in this souped up jeep with a replica gun," he tweeted. "Those who want to restrict the right to keep and bear arms are deeply misguided. The only thing that stops a bad guy with a gun is a good guy with a gun."
But many criticized the politician for riding a vehicle equipped with a large replica gun at the event attended by young children.
Pastor Johnny Lewis of Shawnee Community Christian Church criticized the candidate in a Facebook post, saying his six-year-old child "worries constantly about school shootings."
"Why was that necessary, sir? My child didn't need that today. Don't care what your position is on second amendment that is completely unnecessary," he said.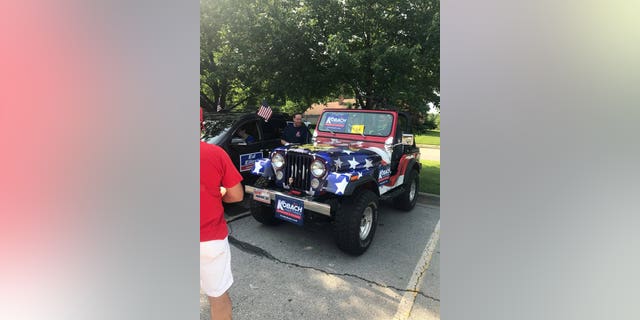 Lewis also told the Kansas City Star that his concern wasn't about Kobach's support for gun rights, but rather about the potential upset he caused to young children who came to watch the parade.
"My greatest concern today was not Kris Kobach's political position… It was that in a world where our children… live with anxiety about school shootings and do intruder drills regularly that any politician thought it was OK to drive through a crowd of children with an automatic weapon pointed at the crowd," the pastor said.
Despite the backlash, Kobach remained defiant.
"The outrage over the replica gun on the back of a patriotic jeep is the left trying to attack guns and your #2A rights. I will not back down in the face of a snowflake meltdown and outrage culture," he tweeted.
The city of Shawnee has since issued an apology for having Kobach to attend the event and causing upset over the display of a large replica gun.
"Please know that the safety of our residents is always our highest priority and we apologize if this made anyone feel unsafe or unsettled. We will be taking steps in the future to try to ensure something similar does not happen again," the statement said.