Kamala Harris halts travel after 2 involved in campaign test positive for coronavirus
Harris was not in close contact with the two people and does not need to quarantine, campaign says
Democratic vice presidential nominee Sen. Kamala Harris' communications director and a "non-staff flight crew member" involved in the campaign have tested positive for the coronavirus, Joe Biden's presidential campaign announced Thursday morning.
Biden campaign manager Jen O'Malley Dillon said that all in-person campaigning by the senator from California -- including stops planned for today in the crucial battleground state of North Carolina -- have been canceled for the rest of the week and weekend.
Dillon said the campaign learned late Wednesday night that both Liz Allen, Harris' communications director, and a non-staff flight crew member tested positive for COVID-19.
"Senator Harris was not in close contact, as defined by the CDC, with either of these individuals during the two days prior to their positive tests; as such, there is no requirement for quarantine," Dillon announced in a statement.
MELANIA TRUMP CONFIRMS NEGATIVE COVID-19 TEST, SAYS SON BARRON TESTED POSITIVE BUT IS NOW NEGATIVE
But she emphasized that "regardless, out of an abundance of caution and in line with our campaign's commitment to the highest levels of precaution, we are canceling Senator Harris's travel through Sunday, October 18th, but she will keep a robust and aggressive schedule of virtual campaign activities to reach voters all across the country during this time."
Dillon said that Harris tested negative for COVID on Wednesday and would be tested again on Thursday. She added that Harris would return to in-person campaigning on Monday.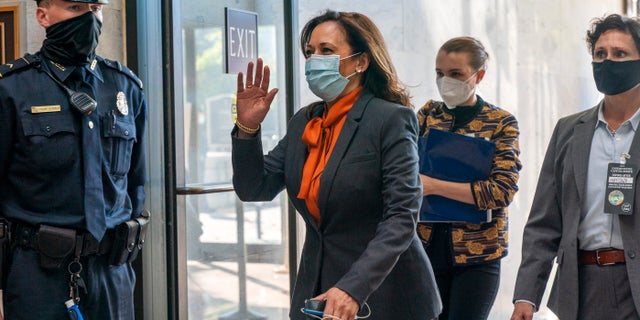 She stressed that "neither of these people have had contact with Vice President Biden, Senator Harris or any other staffers since testing positive or in the 48 hours prior to their positive test results."
BILL GATES MAKES ALARMING PREDICTION ABOUT CORONAVIRUS
And Dillon emphasized that Biden will continue with his schedule Thursday. The campiagn announced that the former vice president tested negative again for COVID-19 on Wednesday evening.
Harris wrote on Twitter Thursday morning that she's had "2 netative tests tihs week & am not showing symptoms."
And she vowed to "be transparent with you about any test results that I do receive."
Two weeks ago, President Trump, first lady Melania Trump, as well as top White House and Trump re-election campaign officials tested positive for coronavirus.
The president was hospitalized for treatment for three days at Walter Reed National Military Medical Center and was briefly sidelined from the campaign trail.
But the president has resumed holding rallies with large crowds of supporters tightly packed together and many not wearing masks, which goes against the warnings of national and local public health officials.
NFL HALL OF FAMER DIES AFTER CORONAVIRUS BATTLE: REPORTS
Biden and Harris, as well as their surrogates, have been holding small-scale campaign events with supporters socially distanced and wearing masks.
Dillon said that the news surrounding Harris "shows how seriously we take COVID, how we have since March done everything in our powers as a campaign to ensure the safety of our staff and our volunteers and voters and will continue to do so."
And she highlighted that "we access this each and every day and very mindful that every state, every community, looks a little bit differently. As we look to our travel schedule, as we look at what we're doing in our states, we're very mindful of the COVID numbers, we're very mindful of local guidelines. We always follow local guidelines in any kind of activity that we do."
The campaign said that Allen and the non-staff flight crew member attended personal, non-campaign events in the past week.
TRUMP SAYS HE'S CONSIDERING CORONAVIRUS STIMULUS PROPOSAL ABOVE $1.8T AMID IMPASSE
"Under our campaign's strict health protocols, both individuals had to be tested before returning to their work with the campaign from these personal events," Dillon said. "These protocols help protect the campaign, the staff, and anyone who they may have contact with."
And she added that before their time off, both individuals were on a flight with the senator on Oct. 8.
"During the flight, Senator Harris wore an N95 mask, as did both individuals. She was not within 6 feet for more than 15 minutes with either of them. As such, she does not meet the CDC definition of "close contact" for exposure. In addition, both before and after the flight both individuals tested negative," Dillon explained.
CLICK HERE TO GET THE FOX NEWS APP
At last week's vice presidential debate between the senator and Vice President Mike Pence, Harris lambasted the Trump administration's handling of the federal response to the pandemic.