John Walsh sworn in as new Montana senator to replace Baucus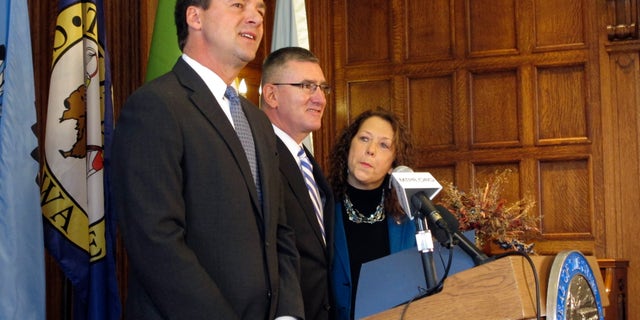 WASHINGTON – John Walsh became the newest member of the U.S. Senate on Tuesday and faces the challenge of making his appointment more permanent.
The Montana Democrat was sworn in by Vice President Joe Biden at a midday ceremony witnessed by family, a fellow Iraq War veteran and a handful of Democratic senators. Walsh replaces Max Baucus, the former senator who was tapped by President Barack Obama to serve as U.S. ambassador to China.
"Look forward to working with you, pal," Biden told Walsh after a second, ceremonial swearing-in in the Old Senate Chamber.
The question is for how long.
Walsh, 53, spent less than a year as Montana's lieutenant governor before announcing last year that he would run for the Senate seat after Baucus announced that he would retire at the end of his six terms. The Senate appointment gives Walsh greater name recognition in his bid for the seat.
Walsh spent 33 years in the Montana National Guard, and he commanded more than 700 troops in Iraq in 2004 and 2005. He became the state's adjutant general in 2008, resigning from that post in 2012 to run with Gov. Steve Bullock.
"His military background will be received well as it should be and now as an incumbent senator he'll be able to point to actual experience," said Sen. Dick Durbin, D-Ill., who added that he hoped Walsh will have some "achievements that will help him get elected."
He likely will face Republican Rep. Steve Daines, the first-term House member who is seeking the Senate seat.
Republicans said Senate experience could work against Walsh, who now will be saddled with a voting record open to scrutiny and days spent Washington instead of campaigning in Montana.
"He's been running as an outsider, this kind of makes him an insider," said Sen. Orrin Hatch, R-Utah, who argues that Montana is ready to replace a Democrat with a Republican.
Montana is a top target for Republicans, who need a net gain of six seats to grab majority control of the Senate. Democrats currently have a 55-45 edge but are defending 21 seats this November, including open seats in Republican-leaning West Virginia and South Dakota.