Iraqis to get American F-16s – but can they fly them?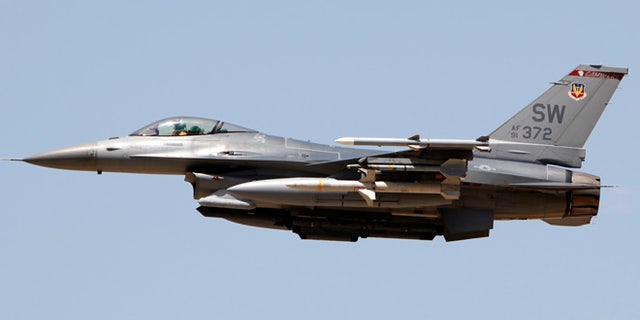 NEWYou can now listen to Fox News articles!
The Iraqis are getting a batch of American F-16 fighter planes to run combat missions against the Islamic State, but questions remain over whether they can fly them.
According to officials, the first batch of the much-awaited jets is set to arrive in the war-torn country this summer. The Iraqis purchased 18 in 2011 for $3 billion, and another 18 for $830 million two years later, for a total of 36 aircraft.
To date, there have been numerous delays in getting the F-16s to Iraq, mostly because of the deteriorating security situation there, Pentagon spokesman Col. Steve Warren told reporters on Friday. "We remain committed to fulfilling the delivery of those aircraft," he added.
He said there are 36 Iraqi pilots in the U.S. Air Force training "pipeline," with 30 at the Davis-Monthan Air Force Base in Arizona, and the other six at language school. "These will be the first pilots to use Iraq's F-16s in the fight against ISIL," said Warren, adding that the first batch of jets delivered this summer will number "less than 10."
How prepared they will be remains to be seen, said defense-aviation experts who spoke to FoxNews.com.
"It takes an entire culture to make a fighter pilot," said Pierre Sprey, a defense analyst who helped to design the concept that led to the original F-16 in the 1970's. "Here we go starting these guys off on F-16s, and there is not a chance that in the next 20 years they will be able to fly them effectively."
The delivery has been a rocky process. Instead of going to Iraq, the purchased planes were diverted to the Arizona base in Tucson in November 2014 because of the security situation in Iraq, where ISIS fighters were gaining ground. The plan, according to a Pentagon statement at the time, was for planes to gradually arrive in Arizona until May 2015. Iraqi pilots, who have been using training aircraft, would be able to train in their own planes starting in January, according to the Pentagon.
That would only leave a few months training on the new F-16s. But the timeline is unclear. According to Iraqi Lt. Gen. Anwar Hama Amin, in a statement posted Wednesday on the Defense Ministry website, the new F-16s would arrive in Iraq on July 12 with the pilots, and they would immediately begin carrying out operations. This date was not confirmed by the U.S. Embassy in Baghdad.
"This would seriously hurt their war effort," if they go up too quickly, said Sprey. "If they start operations with the pilots they have, it will create more enemies than victories."
The Pentagon did not have any additional comment on the fitness of the pilots on Friday, or on questions over how the security concerns on the ground may have changed since the decision to divert the planes to Arizona.
The Iraqi Army has been battling ISIS fighters in several key cities with help from U.S. airstrikes. While the military took back Tikrit earlier in the month with help from U.S. airstrikes -- and Iranian-backed militias -- it is still battling for Ramadi, the capital of Anbar province, and other strategic points in the country.
And Iraq's current air force is meager, still relying on U.S. planes to carry out airstrikes in the battle to dislodge ISIS militants from the north and west of the country.
Winslow Wheeler, who recently retired as a defense analyst for the Project on Government Oversight (POGO), called the sale of the F-16's "99.99 percent a political exercise to demonstrate support for the Iraqis," but there would be better aircraft to offer them that would be easier to fly and allow them to engage in the close air support operations necessary in this kind of conflict. "[The F-16 is] too fast, too delicate and it can't loiter around enough to provide support," he told FoxNews.com.
Not everyone agrees. Tyler Rogoway, who writes for the blog Foxtrot Alpha, said the Block 52 F16-D models produced by Lockheed Martin are an advanced, "survivable fighter." Despite a limited payload, he said, the jet is "usable for internal counter-insurgency operations, surveillance and air defense against lower-end threats like Iran and Syria," Rogoway wrote in May last year.
But no one knows if the pilots are ready to use them effectively. "We don't know if these planes will be delivered and used for fighting, or just sit on the tarmac," said Wheeler. According to the website Defense Industry Daily in November:
"There's much more involved than just flying a plane. For starters, Iraq will also need to implement and stand up radar surveillance and command and control capabilities, in order to tie its fighters into a working system. Then there's the need for effective maintenance and support, something the Iraqis have had trouble executing with platforms that are much less complicated than an F-16. Not to mention training in an Iraqi environment so that everyone is on the same page, and effective parallel training of critical and difficult jobs like Forward Air Controller troops in the Army. Local efforts should be possible some time in 2015, but realistically, Iraq won't be able to enforce national air sovereignty before 2016 at the very earliest."
And there is always the chance they could fall into the wrong hands, just like any other weapon. ISIS may not be able to fly the planes, but their loss would equal billions in wasted money and technology, said Sprey.
"They could easily fall into the hands of someone else," he said, noting the instability of the government there, "if not ISIL, someone else."
FoxNews.com's Kelley Vlahos, Fox News' Lucas Tomlinson and The Associated Press contributed to this report.