Investigator Says No Crime Committed by Prosecutors Probing Late Sen. Stevens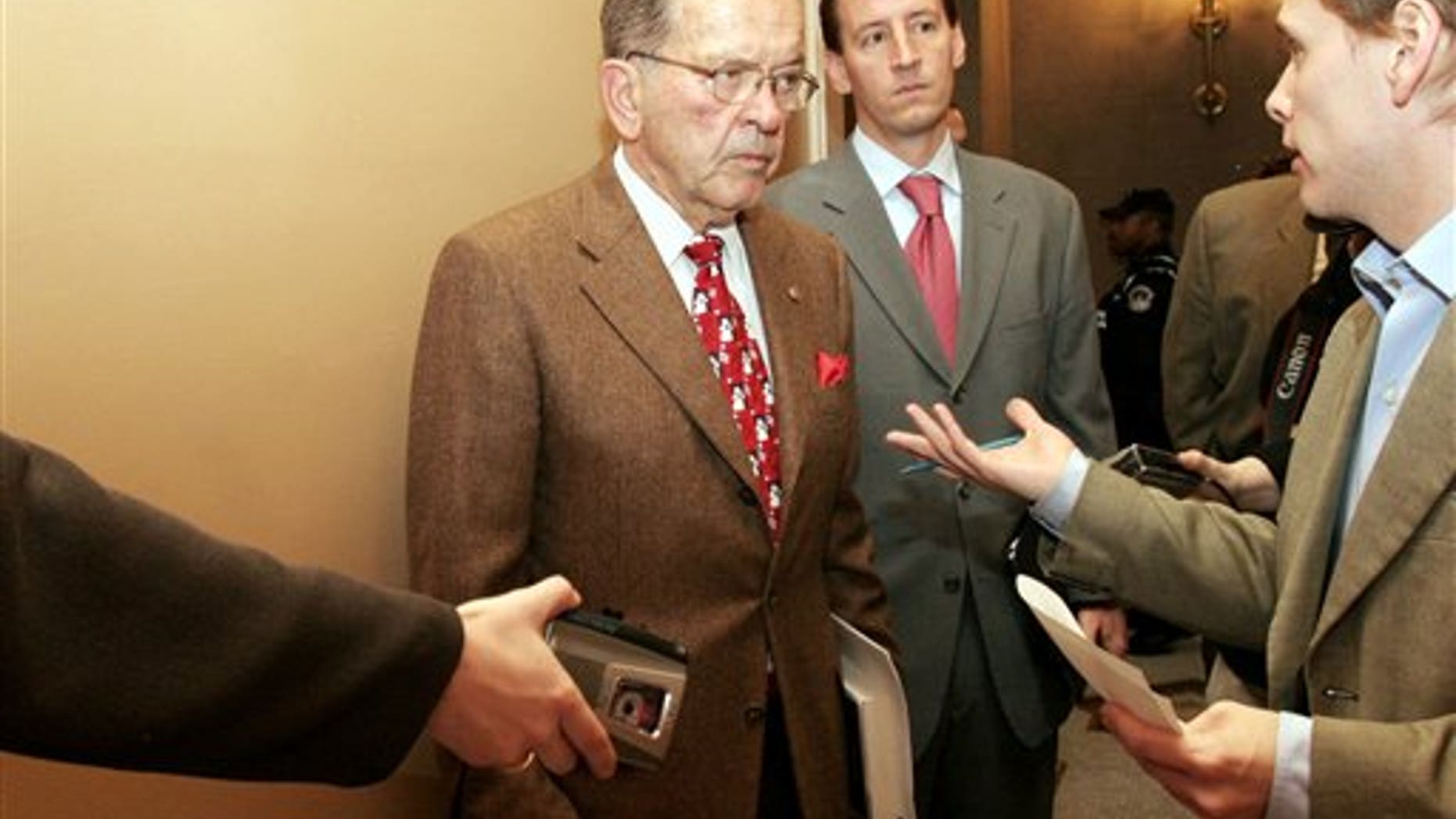 No crimes were committed by Justice Department lawyers leading a corruption case against the late Sen. Ted Stevens, R-Alaska, even though the prosecution's now-defunct case was "permeated by the systematic concealment" of "significant" evidence possibly favoring Stevens, a court-appointed investigator has concluded.
The outside probe, led by Washington attorney Henry Schuelke III, found that "at least some of the concealment was willful and intentional." Further, "evidence of concealment and serious misconduct that was previously unknown ... almost certainly would never have been revealed" without the court-ordered investigation into Justice Department prosecutors, U.S. District Court Judge Emmet Sullivan said in an order Monday.
Still, for a crime to have been committed, prosecutors must have willfully disobeyed an order that is sufficiently "clear and unequivocal at the time it is issued." No such order existed, the outside probe found.
In his order, Sullivan said he didn't issue such an order because he "accepted the prosecutors' repeated assertions that they were complying with their (legal) obligations and proceeding in good faith."
In addition, Sullivan noted Schuelke's report said it "should go without saying that neither Judge Sullivan, nor any district judge, should have to order the government to comply with its constitutional obligations, let alone that he should feel compelled to craft such an order with a view toward a criminal contempt prosecution, anticipating its willful violation."
In 2008, Stevens was charged and then convicted of lying to federal authorities over whether he tried to hide $250,000 in gifts from an oil company executive and friends.
During his trial, "serious allegations" over the prosecution's conduct began to surface that "called into question the integrity of the criminal proceedings" against Stevens, Sullivan said Monday. In April 2009, the Justice Department dropped the case against Stevens, who was 85 at the time.
Shortly thereafter, Sullivan appointed Schuelke, a former military judge and former federal prosecutor, to launch a criminal investigation into the conduct of the six Justice Department attorneys responsible for the Stevens case.
Stevens died in August 2010, when a small plane carrying him and several others crashed in Alaska.
After reviewing more than 150,000 pages of documents, interviewing many witnesses, conducting twelve depositions and looking at other corruption cases in Alaska, Schuelke concluded his investigation, now laid out in a 500-page report, Sullivan said Monday.
Republicans and Democrats alike have expressed displeasure over the Stevens case, with the chairman of the Senate Judiciary Committee, Sen. Pat Leahy, D-Vt., telling Attorney General Eric Holder two weeks ago the case was "badly handled" and there was "some serious misconduct on the part of the prosecutors in the Stevens matter."
At a committee hearing Nov. 8, Sen. Orrin Hatch, R-Utah, complained there hadn't been "much in the way of correction" for what he called "really offensive prosecutorial approaches" and the greatest "injustice" he's ever seen to a member of Congress.
"I don't see anything being done about it, to be honest with you," Hatch told Holder. "If we have prosecutors running wild like that and ignoring the law itself, something as important as exculpatory evidence that has to be given to the defendant in a criminal case, you can see why some people are losing confidence in what goes on."
Holder said he was "bothered" by the Stevens prosecution too, noting he's the one who decided to drop the case. Holder also noted that the Justice Department's Office of Professional Responsibility has been looking into the matter, in addition to Schuelke's investigation.
Holder said OPR is "at the last stages of their examination." But like Schuelke's report, it's unclear how much of the OPR report will be made public.
Two weeks ago, Leahy said that while he knows OPR does not usually make its findings public, he hopes "as much of that could be made public as possible."
"It doesn't right whatever wrongs were done then," Leahy said. "But let us hope that it might preclude future wrongs."
Sen. Dianne Feinstein, D-Calif., went further, saying she believes it is "very important that whatever happened be made fully public."
Holder said he wants to "share as much of it as we possibly can given the very public nature of that matter and the very public decision I made to dismiss the case."
As for Schuelke's report, Sullivan is waiting for the Stevens prosecutors in question, others at the Justice Department and Stevens' attorneys to review it and offer any objections before deciding how much of the report should be released.
-- Fox News' Trish Turner contributed to this report.