In Spanish interview, Kaine talks about introducing immigration reform in first 100 days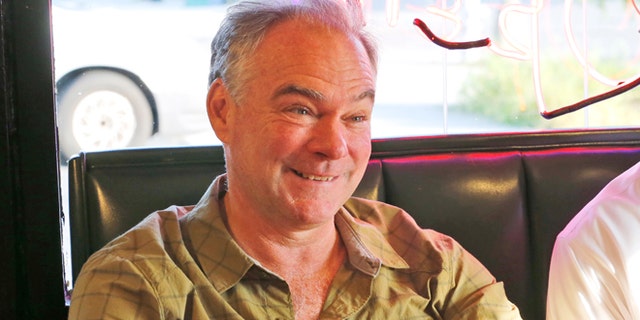 NEWYou can now listen to Fox News articles!
Wasting little time in exploiting his Spanish skills, the presumptive vice presidential nominee for the Democratic Party Sen. Tim Kaine told the two top Hispanic networks that a Hillary Clinton administration would tackle immigration reform within the first 100 days in office.
The senator from Virginia, who spent a year in Honduras as a young man, gave interviews in Spanish to Univision and Telemundo on Sunday in his hometown of Richmond. Both aired on Monday.
Kaine said that he would work hard to make Clinton's promise to make introducing an immigration reform bill in Congress a priority.
"Hillary will do that in the administration's first 100 days," Kaine said in Telemundo. "With my Senate background with colleagues and party officials, I will help with that effort."
"Senators are already talking about how, after January, if Hillary is president, we should work on immigration reform quickly," he told Univision.
Telemundo's Rebeka Smyth questioned the Democrats' record on immigration, noting that President Obama has deported record numbers of people and that Clinton has advocated the immediate return of unaccompanied minors. "Why should we trust Democrats?" Smyth asked.
"Because we're fighting every day for a reform of the system," Kaine answered and then brought up Clinton's Republican opponent. "In this campaign, Hillary Clinton wanted to reform the system in 2006. Donald Trump isn't just fighting reform … for him, Latinos are second-class people."
About the surge of unaccompanied minors coming here from Central America, Kaine told Smyth, "It's important to have a system to control the border, and so when we first started getting flooded with people it was difficult to decide what to do ... Many of the children who are traveling thousands of kilometers to come here are escaping from the consequences of illegal drugs. We in this country have a responsibility to work together to find a solution to this problem. These children should be able to have a secure future in their own countries."
Kaine got to witness a lot of the violence and poverty plaguing the region when he was in Honduras, working alongside Jesuit missionaries in El Progreso. And, he told Univision, he learned a lot from the experience.
"About faith and family and work – the values of the Latin community," he said. Best of all, he added, "I learned to listen in two languages."