In push to become president, Ted Cruz buys TV ads in early voting states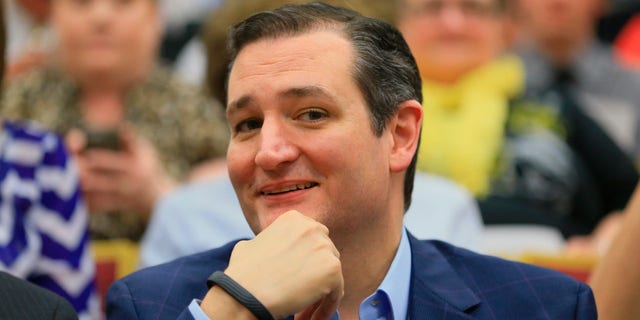 NEWYou can now listen to Fox News articles!
WASHINGTON (AP) – Republican Ted Cruz's presidential campaign is buying television advertising time on Easter Sunday in several early voting states, a Democrat who tracks television spending said Thursday.
Cruz has reserved ad time during NBC's "A.D.: The Bible Continues" that will reach most voters in Iowa and South Carolina, as well as Nevada's most populous media market. The advertising plan skips New Hampshire, the most secular state among the first four states that weigh in on presidential nominees.
Texas' junior senator officially joined the presidential race last week during a speech at the school founded by the late Rev. Jerry Falwell. The ad buy is the latest clear signal that Cruz plans a strong courtship for Christian voters, who have great sway in picking Republicans' presidential nominee.
Two Cruz spokespeople declined to comment about the advertising.
The Democrat who disclosed proprietary advertising data requested anonymity because he wasn't allowed to share that information on the record.
During his campaign's launch during a morning prayer service at Liberty University, Cruz vowed to stand with people of faith to change government and protect religious liberties.
"The answer will not come from Washington. It will come from only the men and women across this country, from men and women, from people of faith, from lovers of liberty, from people who respect the Constitution," Cruz said during his kickoff speech.
It was not immediately clear whether that was the message Cruz would promote in his Easter Sunday ads.
To reach voters in Iowa, the campaign booked time in Cedar Rapids-Waterloo-Iowa City and Dubuque and Sioux City markets, as well as the television market that covers both Davenport, Iowa, and Moline in eastern Illinois.
The campaign is also snagging time in Omaha, Nebraska; that market is on Iowa's western border.
The advertising will air in the South Carolina markets of Charleston, Columbia, Myrtle Beach-Florence, and in Las Vegas.
The size of the early advertising buy was modest, although stations in the early states were changing the size frequently as the campaign made adjustments and the full costs could grow.
Earlier Thursday, Cruz's campaign said it raised about $4 million in the eight days since his March 23 launch and the end of the fundraising quarter on March 30. The average donation was about $83.