Senators Marco Rubio and Ted Cruz endorse Indiana's religious freedom law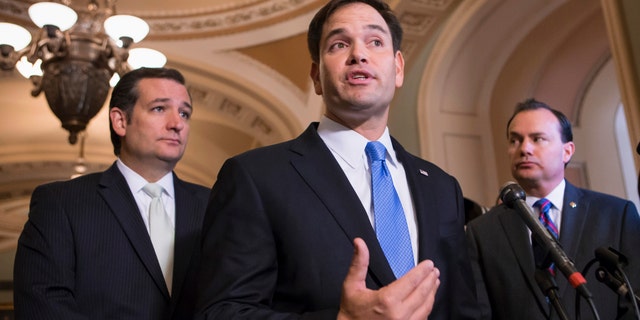 Indiana's law allowing businesses to deny service to gay and lesbian customers is under fire from all around the country, but Senators Marco Rubio and Ted Cruz said on Monday that they stand behind it.
Rubio, a Florida Republican who is expected to announce his presidential candidacy next month, said in an interview Monday on Fox News that people should not be forced to go against their religious views or face punishment.
Cruz, a Texas Republican who launched his presidential campaign last week, released a statement expressing support for Indiana Gov. Mike Pence, who signed the measure that has sparked nationwide calls for a boycott of the state.
Rubio said on Fox News Monday: "Nobody is saying that it should be legal to deny someone service at a restaurant or at a hotel because of their sexual orientation. I think that's a consensus view in America."
"The flip side is, should a photographer be punished for refusing to do a wedding that their faith teaches them is not one that is valid in the eyes of God?"
Rubio added that denying a person service because sexual orientation is not the same as denying it because of race or ethnicity.
"That's not the same thing," Rubio said. "Because here you're talking about the definition of an institution, not the value of a single human being. That's the difference between the civil rights movement and the marriage equality movement."
The Indiana law, which takes effect July 1, prohibits state laws that "substantially burden" a person's ability to follow his or her religious beliefs unless the government can show that it has a compelling interest and that the action is the least restrictive means of achieving it. The definition of "person" includes religious institutions, businesses and associations.
Many Indiana businesses have posted signs or stickers saying they serve everyone, and the home page for Visit Indy included a message that all are welcome and a link to an LGBT guide.
But other companies and organizations have canceled future travel to Indiana or halted expansion plans in the state. The Indianapolis-based NCAA says it is concerned about the law's impact on future Indiana events.
Hundreds of protesters filled Arkansas' Capitol on Monday to oppose that state's measure, holding signs that read "Discrimination is not a Christian Value" and "Discrimination is a Disease."
Chicago Mayor Rahm Emanuel has sent letters to more than a dozen Indiana businesses urging them to move to Illinois. The Rev. Jesse Jackson called the law "offensive." AFSCME, a public-employee union, announced it would relocate a women's conference scheduled for October in Indianapolis because of the law.
Rubio said on Fox: "I think people have the right to live out their religious faith in their own lives. They can't impose it on you in your life. But they have a right to live it out in their own lives. And when you're asking someone who provides professional services to do something, or be punished by law, that violates their faith, you're violating that religious liberty that they have."
Indiana is among about a dozen where measures aimed at preventing government from infringing on people's religious beliefs have been introduced this year. Arkansas is poised to become the second state this year to enact such a measure.
Cruz praised Pence "for his support of religious freedom, especially in the face of fierce opposition."
He added that Indiana is "giving voice to millions of courageous conservatives across this country who are deeply concerned about the ongoing attacks upon our personal liberties. I'm proud to stand with Mike, and I urge Americans to do the same."
Other presidential hopefuls who say they support Indiana's law are former Florida Gov. Jeb Bush, who said in a radio interview on Monday: "This is simply allowing people of faith space to be able to express their beliefs, to be able to be people of conscience."
He added: "I think once the facts are established, people aren't going to see this as discriminatory at all."
A few years ago, Rubio drew criticism from LGBT groups for being a keynote speaker at a fundraising dinner for an organization that supports converting gay people to straight ones.
Cruz has been an outspoken opponent of same-sex marriage. Last year, he introduced a bill in the Senate defending states' right to regulate marriage.
In a 2013 interview with the Christian Broadcasting Network, Cruz said: "If you look at other nations that have gone down the road towards gay marriage, that's the next step where it gets enforced. It gets enforced against Christian pastors who decline to perform gay marriages, who speak out and preach biblical truths on marriage."
Hillary Rodham Clinton, who is poised to launch her Democratic presidential campaign this month, voiced her opposition to the Indiana measure last week. She wrote on Twitter that it was "sad this new Indiana law can happen in America today."
The White House has denounced the law.
The Associated Press contributed to this report.
Like us on Facebook