In Puerto Rico, Bernie Sanders calls on Congress to pass island's debt bill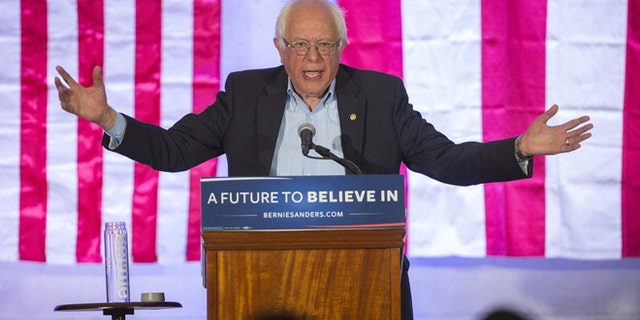 Speaking at a town hall event in San Juan on Monday, Vermont Sen. Bernie Sanders called on Congress and the Obama administration to act "as soon as possible" to resolve the island's debt problem.
"The people of Puerto Rico are experiencing enormous economic pain as a result of a depression that has now lasted more than a decade," the Democratic presidential candidate said. "At a time when the rich is getting richer, Puerto Rico now has more income inequality than any state in the United States."
Sanders added that Puerto Rico cannot pay back its debts and that the island needs to have its debt restructured
"Puerto Rico must be given the time it needs to grow its economy, to create jobs to reduce the poverty rate and expand its tax base so that it can pay back its debt in a way that is fair and is just," he said.
Puerto Rico has payments totaling nearly $2 billion due on July 1, including more than $700 million in general obligation bonds that are supposed to be guaranteed under the island's constitution. In an ominous warning to Congress and creditors that include U.S. hedge funds, Gov. Alejandro García Padilla said the outlook for the next payment is bleak.
Congress is currently working on a reworked bill to help the ailing island out but there are a number of issues still on the table that need to be hashed out.
The basic framework of the bill remains intact — it would create an outside fiscal control board on the island in return for allowing Puerto Rico to restructure its $70 billion in debt.
The main concern about the measure is a rider that would relinquish federal control of a national wildlife refuge on the island of Vieques, a 3,100-acre patch of land that is home to 16 endangered species and hosts hundreds of species of birds as they migrate across the Caribbean.
Arizona Rep. Raul Grijalva said last week that he is also concerned by the fact that the new bill locks in lower minimum wage to young Puerto Rican workers and cuts pension protection for about 10 percent of the island population.
"We've raised these issues over and over again," Grijalva told Fox News on Capitol Hill. "We're hopeful that now they'll be some consideration to these objections so that we can deal with the urgency and it is an urgency in Puerto Rico."
During his town hall on Monday, Sanders said he would alleviate Puerto Rico's economic woes in part by rebuilding local infrastructure to create jobs and establish a clean economy by harnessing the island's solar and wind resources. He also called for an independent audit of Puerto Rico's debt and said that if any of the debt violated the island's constitution, it should be immediately set aside.
He also rejected Congress' proposal to create a fiscal oversight board to help Puerto Rico manage its debt, calling it anti-democratic.
"When you establish a federal control board that says these unelected officials have the power to make major, major decisions impacting millions of people and they are accountable to nobody...that's wrong," he said to deafening applause.
Sanders said he also would create a clear, binding referendum to give Puerto Ricans the chance to determine the island's political future.
Sanders' visit comes one day before former President Bill Clinton arrives to campaign for his wife, Democratic presidential candidate Hillary Clinton. She released a statement on Monday saying that all U.S. citizens should have the right to vote for president regardless of where they live. She also said she supports a referendum to decide Puerto Rico's political future.
Puerto Ricans can vote in U.S. primaries but not in U.S. presidential elections. More than 200,000 Puerto Ricans have left the island in the past five years to escape a worsening economic crisis. The majority of them have moved to the U.S. mainland.
The Associated Press contributed to this report.