In Arizona, What's Left of Immigration Law May Be Enough to Aid Cause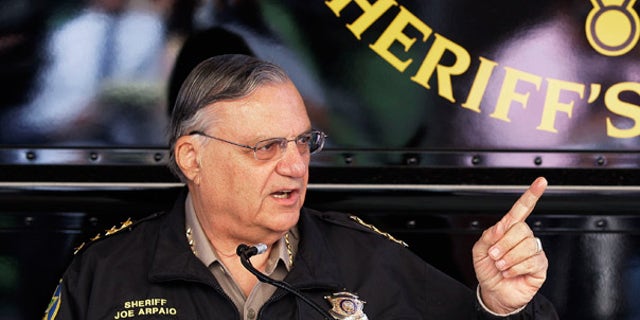 Supporters of Arizona's immigration law, who were dealt a blow this week when a federal judge blocked major parts of the law before it took effect Thursday, are still heartened by what's left of the legislation that may bolster the enforcement of federal immigration laws.
For example, Sheriff Joe Arpaio, the poster boy for local authorities enforcing federal law, says he doesn't know what the big deal is about the Arizona illegal immigration law since his partnership with federal immigration authorities has resulted in the deportation of 26,000 illegals from Maricopa County since 2007.
In fact, though Judge Susan Bolton struck down portions of the law Wednesday, arguing pre-emption, the rest of the law may help local and state law enforcement to use a stronger hand to enforce existing federal programs like Secure Communities and the 287(g) program.
The Secure Communities program, created in 2008, allows authorizes to check the immigration status of individuals they arrest through fingerprinting. The program is operational in 481 jurisdictions in 27 states with plans. The agency's most popular and successful initiative, the 287 (g) program, which was established in 1996, gives local police authority to initiate deportation proceedings against illegal immigrants linked to serious crimes. Immigration authorities say they have agreements with 71 law enforcement agencies in 26 states for the 287 (g) and have identified more than 160,000 illegals since 2006 – mostly at local jails.
One of the remaining parts of the new immigration law allows Arizona to block state officials from so-called "sanctuary city" policies limiting enforcement of federal law and require that state officials work with federal officials on illegal immigration.
"Striking down these sanctuary city policies has always been the No. 1 priority," said State Sen. Russell Pearce, the law's chief author.
He said that part of Bolton's ruling removes what he calls "political handcuffs" from law enforcement officers whose superiors put restraints on their enforcement of immigration laws.
But an official with Homeland Security told FoxNews.com that there is no link between Arizona's law and the U.S. Immigration and Customs Enforcement's (ICE) programs, which he emphasized were "voluntary."
"Linking SB1070 to 287(g) is sort of a nonstarter," the official said, explaining that the programs require local authorities to enforce the law within the parameters set by federal immigration authorities and they must be "willing to adhere to ICE policy as well as oversight."
Critics say the Secure Communities and 287(g) programs promote racial profiling, claims similar to those lobbed at the blocked portions of Arizona's law.
The federal General Accountability Office has blasted the Secure Communities program for failure to supervise participating agencies. But ICE boasts that, since Secure Communities was established in October 2008, 21,736 matches have identified illegal immigrants charged with or convicted of serious crimes, such as murder, rape and kidnapping. And the agency says the program has not received any complaints of racial profiling.
Sheriff Arpaio of Maricopa County, which includes Phoenix, has made a national name for himself by pushing the bounds of local immigration enforcement through the 287(g) program, leading a dozen crime and immigration sweeps, some in heavily Latino areas.
But Arpaio's efforts have also brought him troubles as he battles county officials challenging his crackdown on illegal immigrants.
The U.S. Justice Department is investigating Arpaio's office over allegations of discrimination and unconstitutional searches and seizures – a probe that the sheriff believes was prompted by his immigration efforts.
Last year, Arpaio was stripped of some of his special authority to make federal immigration arrests, though he retains some federal power that allows his jail officers to speed up deportations.