Huntsman Inches Toward White House Bid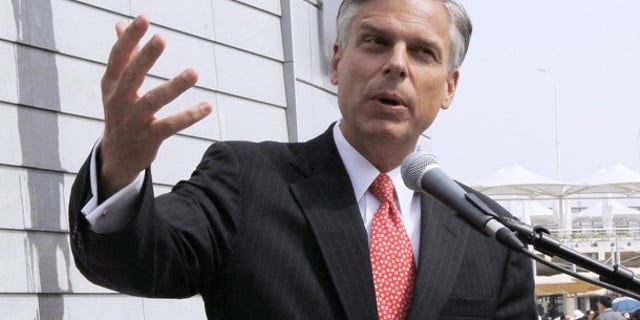 NEWYou can now listen to Fox News articles!
It's been a busy first week back in the United States for Republican Jon Huntsman.
President Obama's former ambassador to China no sooner stepped off the plane from Beijing than he was meeting with advisers in Washington, courting donors in New York and wooing lawmakers on Capitol Hill. He also swiftly set up a federal political committee and hired staff, all clear signs he's moving rapidly toward a White House run.
Huntsman made his first public appearance Saturday with a commencement address at the University of South Carolina in a state that holds the first-in-the-South primary in the race for the Republican nomination.
"Things are moving pretty quickly," Huntsman told reporters Friday after meeting privately with South Carolina Gov. Nikki Haley. He signaled that he'd decide sooner rather than later whether to run, adding: "Whatever timeline one is looking at can't be more than a couple months."
The former Utah governor said he and his family are "seriously considering our options and taking a good serious look at maintaining some level of activity in public service."
Huntsman's advisers say he hasn't made a decision if he will join the field for 2012. At age 51, he could afford to wait until 2016 if he perceives Obama as likely to be unbeatable.
Still, Huntsman's upcoming schedule reads like one of a full-fledged candidate: He's slated to deliver a commencement address on May 21 at Southern New Hampshire University -- another early nominating state that is expected to figure prominently in a Huntsman strategy. And he plans to join other GOP hopefuls at the Republican Leadership Conference meeting in New Orleans in June, a regular stop for those looking at White House runs.
Saturday's speech was serving Huntsman as a reintroduction of sorts after two years overseas and the unofficial start of what advisers anticipate will be a full-fledged campaign even though they say he's not likely to formally enter the race for another month. He was not expected to stake out political positions in the speech but rather planned to offer graduates advice and inspiration.
Huntsman, a conservative who has taken moderate positions on environmental issues and came out in support of same-sex civil unions, is among several Republicans still weighing bids as the GOP field takes shape at a much slower pace than in past campaigns. Huntsman's advisers say parts of his record could appeal to conservatives, moderates and independents alike.
More than a dozen people have expressed interest in running, though former Govs. Mitt Romney of Massachusetts and Tim Pawlenty of Minnesota and former Sen. Rick Santorum of Pennsylvania are the only three serious contenders to have taken the first official steps by forming exploratory committees. Former House Speaker Newt Gingrich was preparing to join the contest in the coming days.
Indiana Gov. Mitch Daniels is likely to announce a decision about running over the next few weeks after months of being prodded to run by fiscal conservatives hungering for more options in the field. And there are a slew of others leaving the door open: former Alaska Gov. Sarah Palin, the 2008 vice presidential nominee; former Arkansas Gov. Mike Huckabee, who won the Iowa caucuses that year; and reality TV star Donald Trump.
A Huntsman campaign began to take shape well before he left China.
Led by strategist John Weaver, a group of presidential veterans put together a political team so that Huntsman could be ready to run if he returned home and was receptive to a presidential bid. Pollster Whit Ayres is the latest to join the team and if Huntsman runs would help him shape ads and messages against opponents.
For now, Huntsman's advisers are assembling in Washington, where Huntsman recently bought a $3 million mansion that housed contestants on Bravo's "Top Chef." No decision has been made on a location for a campaign headquarters.