How to Use FoxNews.com's Election Prediction Map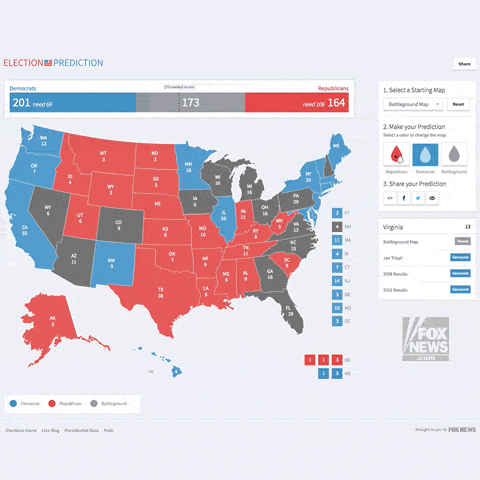 NEWYou can now listen to Fox News articles!
Ahead of November's election, FoxNews.com is giving you the chance to predict how the contest will play out across the states and what the final result will be come Nov. 8.
To test your prediction skills, go to the map.
Start by selecting an electoral map as a template. Choose from the 2008 map, the 2012 map, Fox News' battleground map as it stands now, or strategist Joe Trippi's prediction. Or start from scratch. Then, make your predictions for each state. Pick a color -- red (Republican), blue (Democrat) or gray (battleground). As you select each state with the paintbrush cursor, you will see how your choice compares with how that state leans in other maps.
Then share your map via email, Twitter or Facebook, or copy the link to your clipboard to share with your friends -- this will let you see how accurate you are when Nov. 8 rolls around.