House Scrambles to Make Copenhagen Climate Conference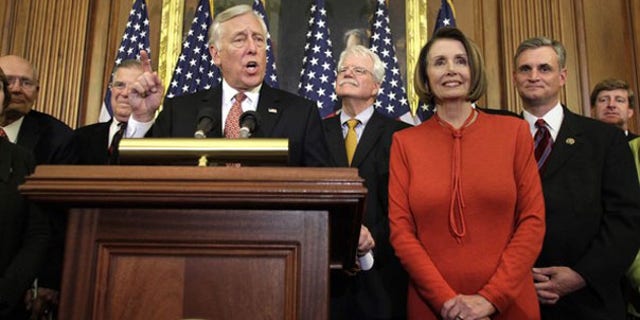 NEWYou can now listen to Fox News articles!
The House of Representatives waded through a marathon day on Capitol Hill Wednesday, trying to tackle a slew of big-ticket items all at once so they can make it to Copenhagen for the close of the international conference on climate change.
Though the conference is in disarray and the president of the meeting, Connie Hedegaard, just resigned, U.S. lawmakers are still hoping to make it to Denmark to be part of the scene. Nearly 20 House members, including a few Republicans, were tentatively planning to attend. President Obama also heads over Thursday night in hopes of joining other leaders in signing some form of an agreement to reduce greenhouse gas emissions.
But House members' participation is contingent on their ability to clear away several spending bills, and soon.
At least one congressman, Rep. John Culberson, R-Texas, is urging House Speaker Nancy Pelosi to cancel the flight and give the bills the attention they deserve.
"What is more important -- ensuring that members of Congress and the American people have a chance to read these bills or attending a climate change conference?" he said in a statement. "I urge the speaker to cancel her flight so members can stop voting blind."
But House Majority Whip James Clyburn, D-S.C., said there's no "rush" and that lawmakers have already been in Washington way longer than anticipated. He said many lawmakers are just trying to make it home for the holidays -- not Copenhagen.
"This is no rush at all," Clyburn told Fox News. "I'm not going to Copenhagen. I'm going to hang out with my grandchildren and spend Christmas with my family and friends ... and most of the members here are very anxious to do that."
He said he expects the House to finish its business on Wednesday all the same.
After Congress passed a $1.1 trillion spending bill over the weekend, the House on Wednesday voted to pass a $636 billion defense bill. The bill covers costs for the wars in Iraq and Afghanistan, but also includes extensions of jobless benefits and health insurance aid.
Hours later, the House voted to approve a temporary hike in the $12.1 trillion debt ceiling. Though House Majority Leader Steny Hoyer last week pitched an increase of up to $1.9 trillion, Democrats went with a stopgap increase of $290 billion to get the government through February.
The House is also planning to consider a new $150 billion jobs-creation package -- the kind of proposal Obama is now calling for but Republicans are decrying as a wasteful stimulus sequel.
The measure would contain $50 billion for infrastructure spending, and billions more for unemployment benefits and state aid.
"It is a bill that creates jobs, that meets the needs of those who are unemployed, and puts us on a path to prosperity," Pelosi said.
Hoyer said he's "confident" it will pass the House and hopes the Senate will take it up shortly.
The Senate, which is waist-deep in the health care reform debate, is not expected to consider the jobs legislation until next year. Any changes made to any of the bills on the Senate side will have to be reconsidered on the House side.
The full plate of bills could put the House in session well past midnight.
Among those tentatively planning to attend the Copenhagen meeting were Pelosi, Hoyer and a number of committee chairmen. At least four Republican House members were also hoping to join. Pelosi is fighting a cold, though, so her attendance is not a sure thing.
On the Senate side, far fewer lawmakers were making travel plans. Sen. John Kerry, D-Mass., is already in Denmark and Sen. Barbara Boxer, D-Calif., is scheduled to go. Republican senators had been planning to attend, but their plans were unclear with the Senate scheduling a slew of votes on health care reform.
Fox News' Chad Pergram contributed to this report.