House Republican to Obama: Stop Tweeting About the Debt Ceiling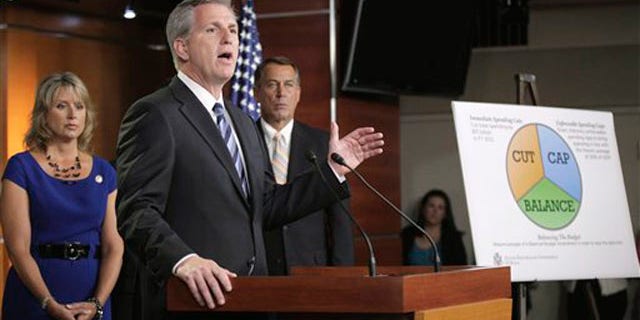 NEWYou can now listen to Fox News articles!
A top House Republican mocked President Obama for trying to leverage his Twitter bully pulpit to pressure Congress into approving a debt-limit deal.
The president took directly to Twitter on Friday to urge followers to inundate Congress with calls for a bipartisan compromise. The plan may have backfired -- while some followers indeed voiced their concerns to Congress, tens of thousands cut ties with the president's Twitter account after being inundated with his messages,
Rep. Kevin McCarthy, R-Calif., the House Republican whip, urged the president to take a different approach.
"You cannot be the leader of the free world and sit on the sidelines and tweet and think you're going to get the job done," he said on "Fox News Sunday."
McCarthy criticized the president after being asked about the performance of his own party's leader, House Speaker John Boehner. Boehner had to calm a revolt in his own caucus last week in order to narrowly approve a bill that would cut the deficit and raise the $14.3 trillion debt ceiling.
With a new compromise emerging which would roll back some of those provisions, Boehner could be compelled to seek Democratic support in the House. Asked whether that scenario could imperil his speakership, McCarthy said that Boehner has performed as a "leader" all along, insisting on significant spending cuts.
"We have been out front negotiating, "McCarthy said.